The Bungalows at Seagrove 114 - 2BR 2.5BA - (6)
30A Vacation Rental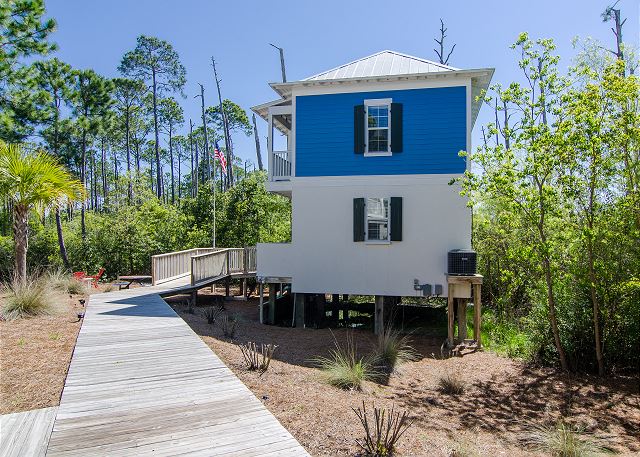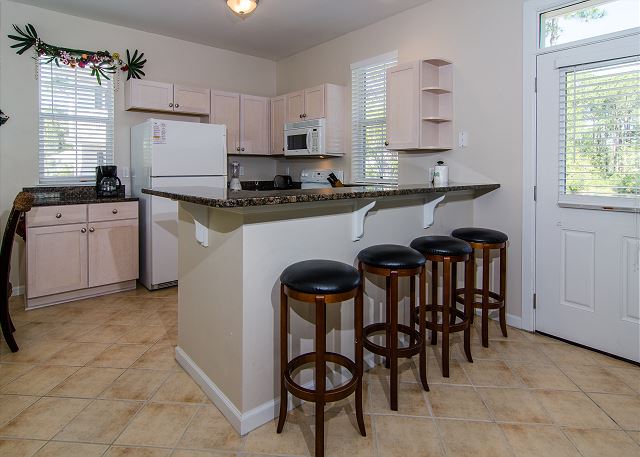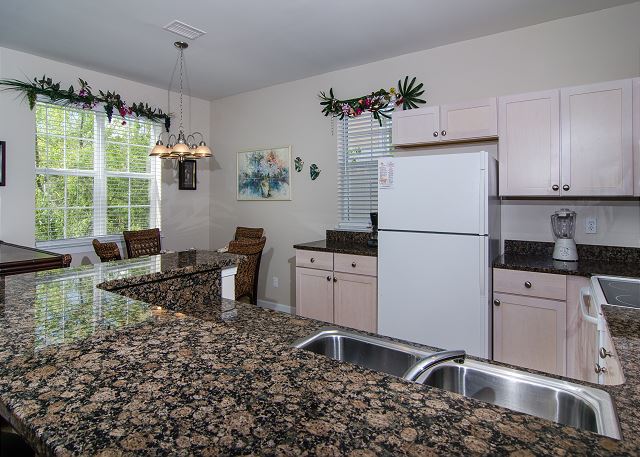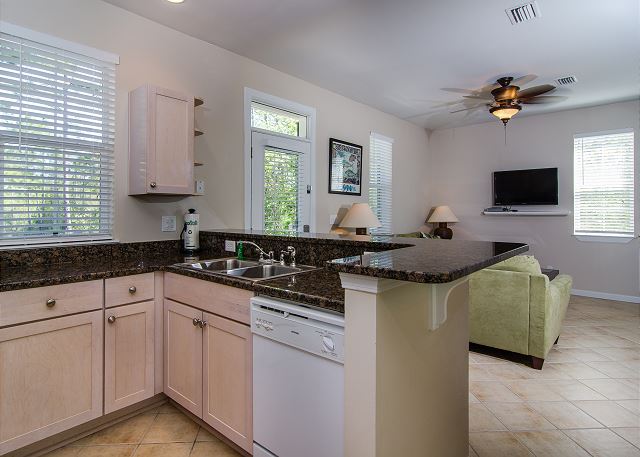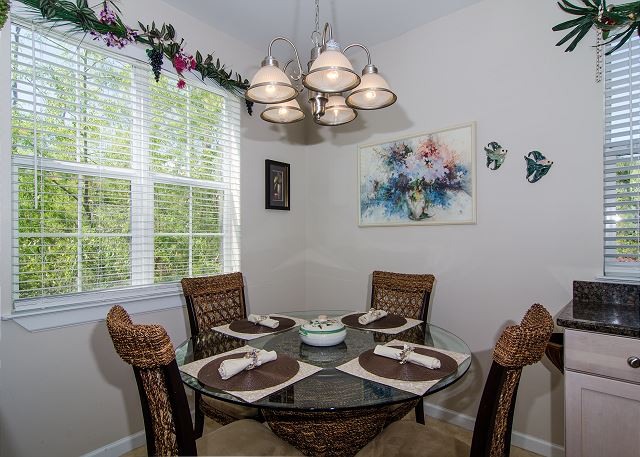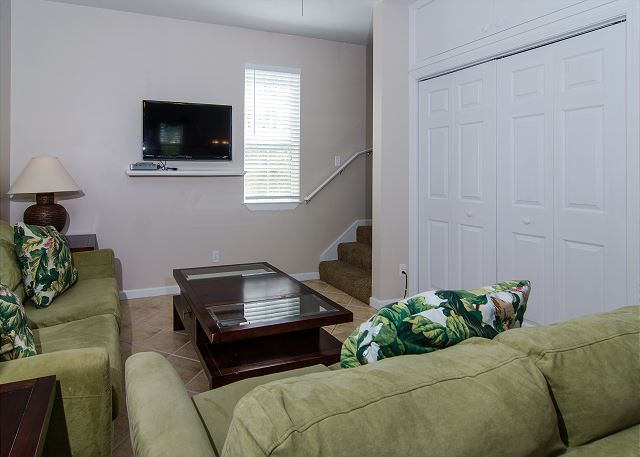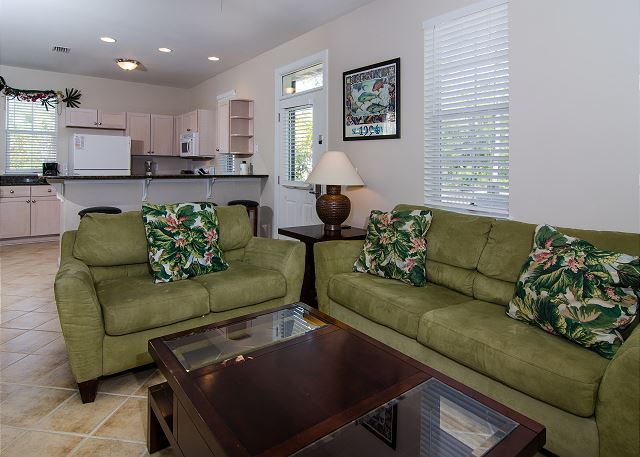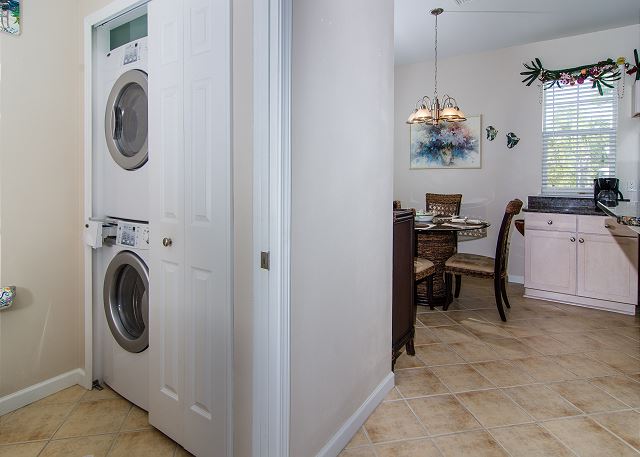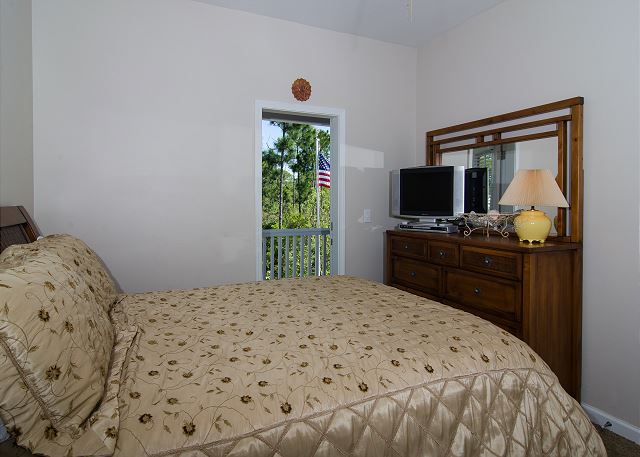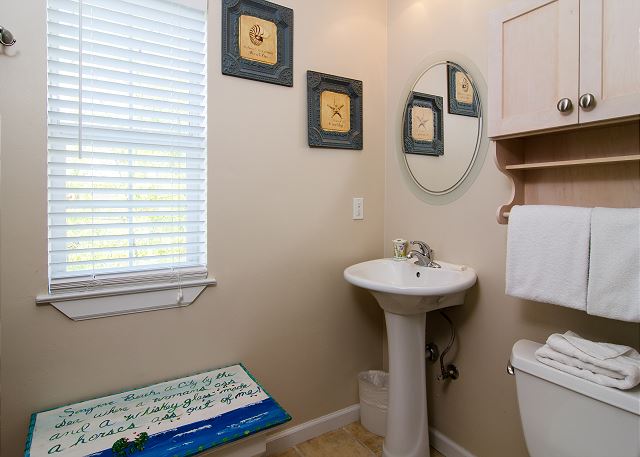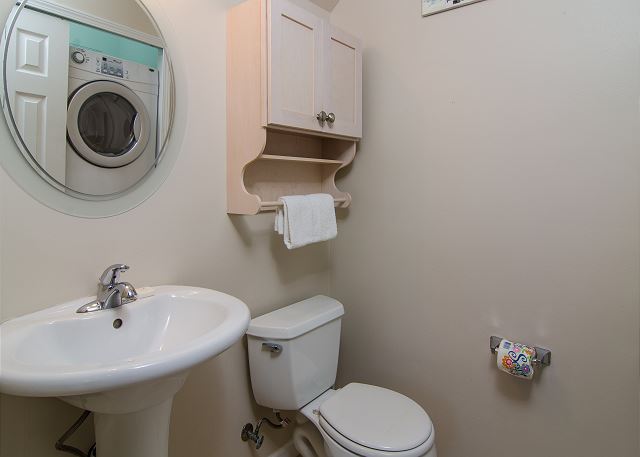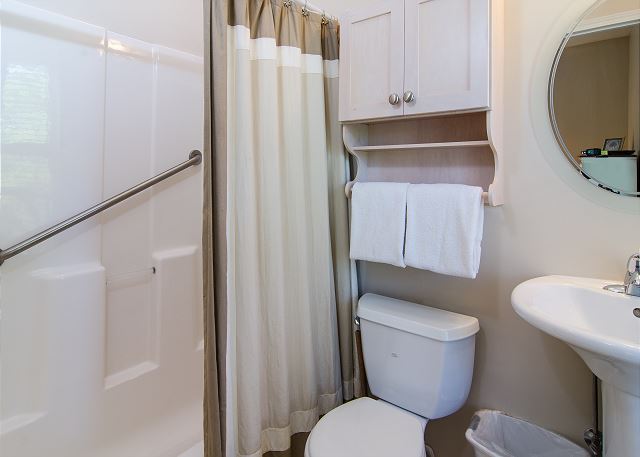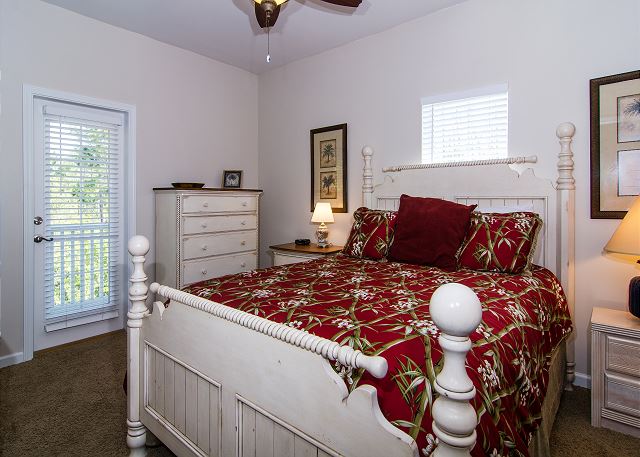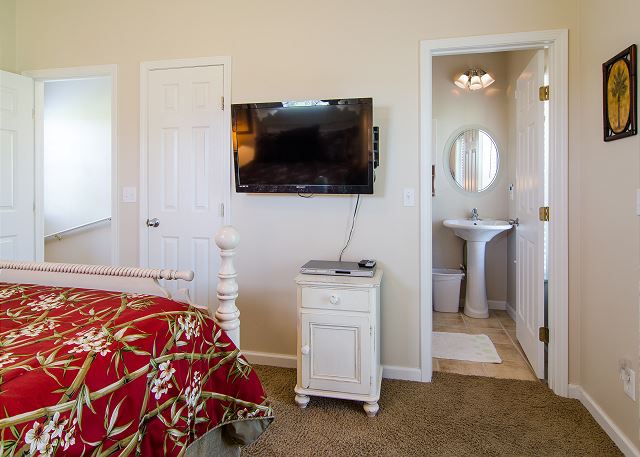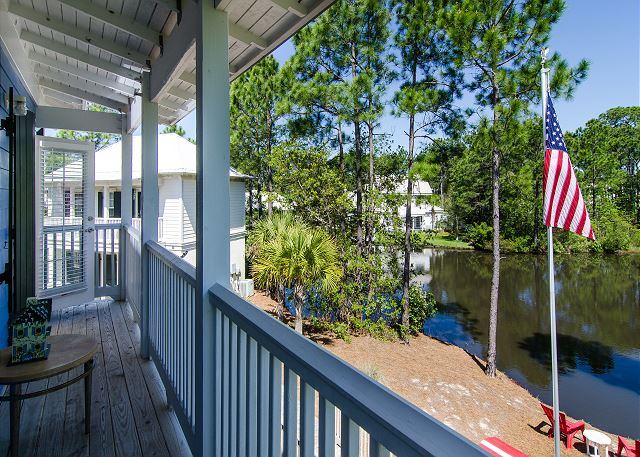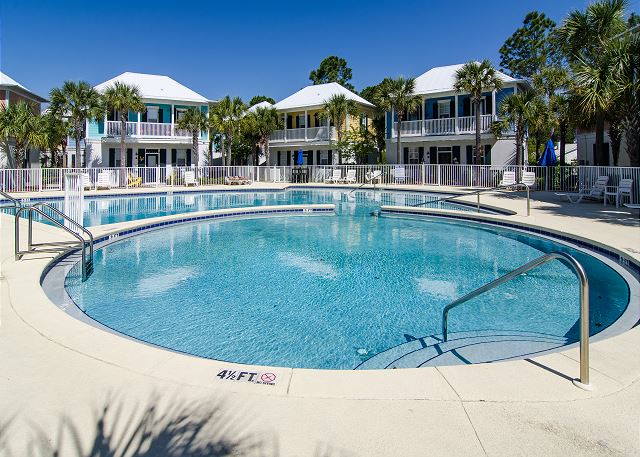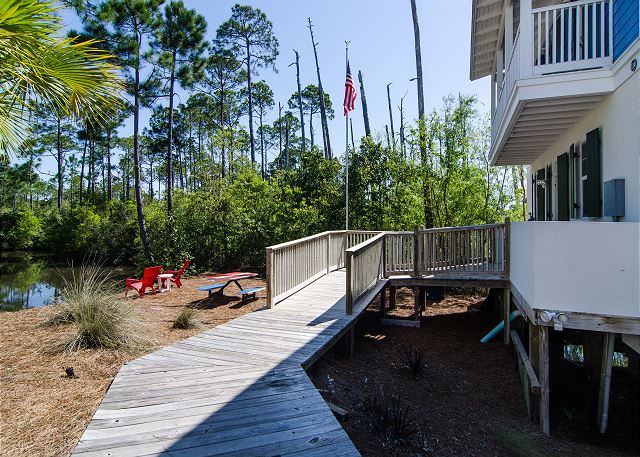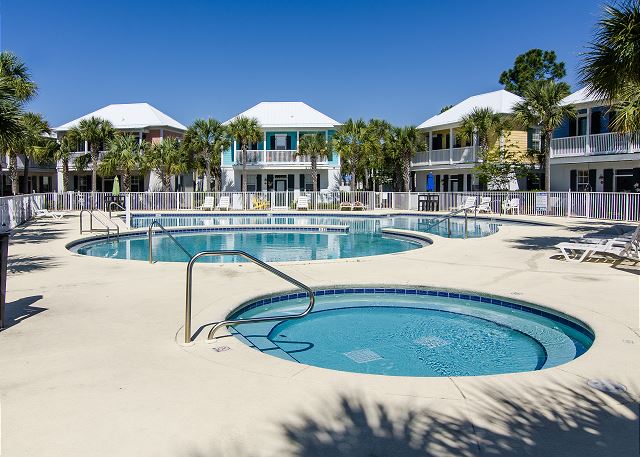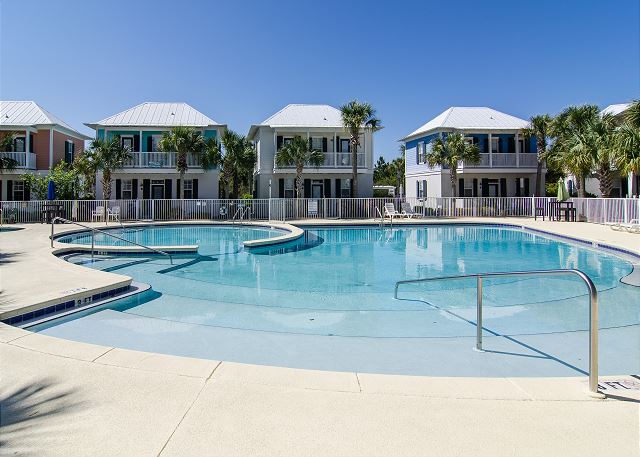 Sleeping Arrangements
2 Queen Beds | 2 Sofa Sleepers
Discover a new way to vacation at this Old Florida style, single family home tucked away in the heart of Seagrove Beach. Park your car and enjoy this bike friendly community. The 17-mile dedicated bicycle path runs along Scenic Highway 30A and offers you and your family an easier way to travel. Enjoy numerous nearby locally owned and operated restaurants, retail stores and hobby shops.

Comfortable with 2-bedrooms, 2.5 baths, this home welcomes you and your guests with its quaint neighborhood charm, spacious porch and second floor balcony that overlook a natural lake. Sip your first cup of the day and sit back and enjoy the views from your balcony or make that cup to go with a morning walk in the sugar white sands along the Gulf of Mexico. It's only a 5 minute walk to the beach!

Find your conveniences of home with a spacious, updated kitchen including coordinated appliances and granite countertops. Each member of your group can pull up a chair at mealtime with plenty of seating between the breakfast bar and dining table.

The two bedrooms are located on the second floor and both have queen-size beds with flat screen TVs and access to the home's shared balcony.

While venturing out on your bikes from one of our bike rental partners, take the path to nearby, noteworthy Seaside, on to Watercolor or into Grayton Beach – all within about 3 miles. Continue your bike adventure and head east on 30A into Watersound Beach, Alys Beach, Seacrest Beach and Rosemary Beach where more shopping and local merchants await.

The Bungalows at Seagrove is a quaint neighborhood tucked away in the heart of Seagrove Beach, one of Scenic Highway 30A's original beach towns. This single-family home community offers 1- and 2-bedroom, Old Florida styled homes complete with spacious porches and balconies, lap-board siding, metal roofing, large exterior shutters and of course palm trees. Enjoy access to two community pools, separate children's pool and hot tub, and lake views, all just steps the Gulf of Mexico and beautiful scenic highway 30A. Bikes are always welcome in Seagrove Beach, where a 17-miles of path along Highway 30A makes for a better way to travel, especially when dozens of locally owned restaurants, shops and markets are nearby.



The Bungalows at Seagrove community features include access to unique amenities like two community pools, a lake, private porches and balconies, and nearby access to dozens of locally owned restaurants and businesses found only in Seagrove Beach.

My Vacation Haven Added Fun

As a My Vacation Haven guest you will have access to Complimentary Beach Chairs, Umbrella, Boogie Board & Sand Toys (stored in the vacation rental for your use).



My Vacation Haven has partnered with several local restaurants and merchants to offer you discounts on activities, dining and more during your stay. When you book with My Vacation Haven, you'll receive a host of free coupons for discounts on everything from bike rentals to beach portraits. So, book now and enjoy more!



An Incredible Beach Vacation is Awaiting Your Arrival.

Book online now or call!

My Vacation Haven. YOUR Vacation Spot!

Additional Rental Requirements

Must be 25 years of age or older (renter and guests) unless accompanied by guardian.

No Smoking. Violators will be fined $750.00.

No Pets. Violators will be charged a fine of $750. If a pet causes damage in a non-pet friendly property the Vacation Rental Damage Protection Plan is voided and you will be held responsible for the cost of any damage caused by a pet.

All information provided is deemed to be correct but is subject to change.
| Begin Date | End Date | Minimum Nights |
| --- | --- | --- |
| 2017-09-30 | 2017-10-20 | 3 |
| 2017-10-21 | 2017-11-03 | 3 |
| 2017-11-04 | 2017-11-17 | 3 |
| 2017-11-18 | 2017-11-25 | 3 |
| 2017-11-26 | 2017-12-28 | 3 |
| 2017-12-29 | 2018-01-01 | 3 |
| 2018-01-02 | 2018-03-09 | 3 |
| 2018-03-10 | 2018-03-23 | 3 |
| 2018-03-24 | 2018-04-06 | 3 |
| 2018-04-07 | 2018-05-18 | 3 |
| 2018-05-19 | 2018-06-01 | 3 |
| 2018-06-02 | 2018-06-22 | 3 |
| 2018-06-23 | 2018-06-29 | 3 |
| 2018-06-30 | 2018-07-06 | 7 |
| 2018-07-07 | 2018-07-27 | 3 |
| 2018-07-28 | 2018-08-03 | 3 |
| 2018-08-04 | 2018-08-17 | 3 |
| 2018-08-18 | 2018-09-03 | 3 |
| 2018-09-04 | 2018-09-28 | 3 |
| 2018-09-29 | 2018-10-19 | 3 |
Minimum Age Limit for Renters

The Bungalows at Seagrove
Thank you for entering your review. The review will become available to the system shortly.
Wonderful place to stay with kids
Rating:
Review Date: 06/25/2017
The two master suites were nice size with their own master baths. Cute little walk out to second floor porch. We have 2 eight year old girls that loved to picnic by the lake and feed the fish and turtles. We also enjoyed the GIANT pool for several hours a day. It was very clean and we met a lot of other families. Out was a nice walk to the beach, gas station, and souvenir store. No doubt about it, we would stay here again.
Manager Response: 07/18/2017
Response from My Vacation Haven
Thanks, Susan! We are so glad you enjoyed your stay and would be honored to host your next trip to the area!
Perfect little hide away
Rating:
Review Date: 06/20/2017
We thoroughly enjoyed our stay in this bungalow tucked away on the pond in Seagrove. We will be back as soon as possible!!!
Manager Response: 06/21/2017
Response from My Vacation Haven
Thanks, Autumn! We are so glad you enjoyed your stay and would be honored to host your future trips to the area! Come back to see us soon!
Wonderful Experience
Rating:
Review Date: 05/23/2017
We truly enjoyed our stay at 114. This was our second stay at the Bungalows, and while our first visit was wonderful, I enjoyed 114 more. The home décor and layout was ideal. The provided supplies were convenient. From the stairs up, the unit is carpeted, which is a pro in my opinion. Beds were COMFORTABLE. Overall, wonderful stay.
Manager Response: 05/23/2017
Response from My Vacation Haven
Thank you, Tate! We are so glad you enjoyed your stay and would be honored to host you in the future! Come back to stay with us soon!
Great vacation stay
Rating:
Review Date: 04/17/2017
We had a great vacation. We really liked the house except it was missing a lot of essentials in the kitchen. No spatula for the tiny grill which we were a bit disappointed about. There was no Tupper ware for leftovers or small glasses for my kids we had to buy some at walmart. Besides that it was great!
Manager Response: 04/20/2017
Response from My Vacation Haven
Hi, Michelle! We will keep these suggestions in mind and touch base with our owner. We are so glad you enjoyed your stay and would love to host you again!
spring break 2017
Rating:
Review Date: 04/09/2017
The best located unit in the complex. Everyone loved the pond and the privacy.the home was perfect for our needs.
Manager Response: 04/10/2017
Response from My Vacation Haven
Thanks, Mark! We are so glad you enjoyed your stay and hope to host you again, soon!
Great Seagrove vacation
Rating:
Review Date: 01/20/2017
My children and I stayed here the week after Christmas and we loved the place. It is in a great location, not far from the beach and an easy bike ride to Seaside. The house is in its own little corner of a neighborhood of similar bungalows and feels more secluded than it is. There is a little lake right outside the front door and it's pleasant to sit on the porch or upstairs balcony and just relax and watch the birds or listen to the surf in the distance.

The interior is well-appointed and comfortable with excellent wi-fi. The beds were awesome. Everything was clean and in good working order. I'd stay here again in a heartbeat.
Manager Response: 02/06/2017
Response from My Vacation Haven
Thank you, Chris! We are honored to host your vacation and hope you choose our home for future stays!
Wonderful accommodations!
Rating:
Review Date: 06/03/2016
We had a great time! The bungalow was very comfortable and in a great location. It was very clean, and we really appreciated the privacy it offered. The bungalow was well-stocked with dishes, laminate, and towels. The wifi was a bit spotty, but that was our only complaint. Thank you for making our trip so enjoyable!
Very private
Rating:
Review Date: 05/23/2016
We loved the location of the Bungalow. It was set back from the others and had a great view of the lake. The only reason I gave it a 4 was the carpeting is worn and we had some problems with the plumbing. Other than that it is a perfect getaway.
Great Quiet Location Near the Beach
Rating:
Review Date: 10/29/2015
When we arrived, the toilet paper holder in the master bath fell out of the wall. Also the pocket door for this bathroom didn't slide on the track properly. We reported these 2 items right away and they were put on a repair list. The glass coffee carafe was cracked, so we were given a new one immediately. The wi-fi wasn't connected, so we did that. These are things that could happen anywhere. Service was quick with a smile. So, no complaints. Otherwise, the bungalow is very attractive, extremely clean and well furnished, including the kitchen. Chairs on the balcony would be appreciated, and the owner needs to replace the flag, which is in tatters. The location at the very back of the complex is nice if you want quiet surroundings. And the view of the pond is very relaxing. It's a walk of just a couple minutes to the beach if you take the shortcut instead of the road. Would definitely recommend to friends.
Perfection - Across the board
Rating:
Review Date: 08/11/2015
This was our first family of 5 vacation to this area and I can't imagine it being any better. To begin with, My Vacation Haven made this, by far, the simplest process ever. The App is a brilliant concept and made life easier. As a travel agent, we travel a lot and I have never been as impressed with a management company (or hotel for that matter)from the time of booking through the time of departure. An A+ is deserved. Next, the property was fantastic. This bungalow was placed perfectly in the community and the walk to the beach was done 2 times a day. We could walk from the beach to the house for lunch/nap or enjoy the beach again later that night with a classic sunset. And this is coming from a husband and wife who are in their 40's and 50's and not in the best physical shape! The bungalow was spotless, everything worked and all needed items provided. The beds, linens and pillows were cozy. We enjoyed grilling fresh shrimp outside one night and ate on the picnic table by the pond and there was *not 1* mosquito or fly bothering us. Coming from Texas, that is impossible to believe or comprehend, but its true. The best part was that it was NOT in the traffic and touristy area of Destin. Great getaway-great price, can't wait for next year!
Perfect family vacation!
Rating:
Review Date: 06/02/2015
I rented bungalow #114 for vacation for my husband, myself and our children along with my parents. The kids slept on the sofa sleeper and we took the upstairs rooms. Perfect size house and fully equipped for nights that you choose to stay in and cook/grill dinner. Only issue was the walk to the beach with our things and our kids was a bit far. It was a long walk to carry beach stuff, I recommend finding a place to park closer to the beach. Still a fabulous vacation!
Best Girls' Trip Ever
Rating:
Review Date: 04/23/2015
We had such a wonderful time while in Seagrove even with the rain and tornado warnings! The condo was lovely! My only suggestion would be better towels and to leave some dishwasher detergent and maybe coffee filters! We'll be back for sure!!
Your request has been sent. We look forward to meeting all your vacation needs!