Fairways 264 - 3BR 3BA+loft - (6)
Sandestin / Miramar Beach Vacation Rental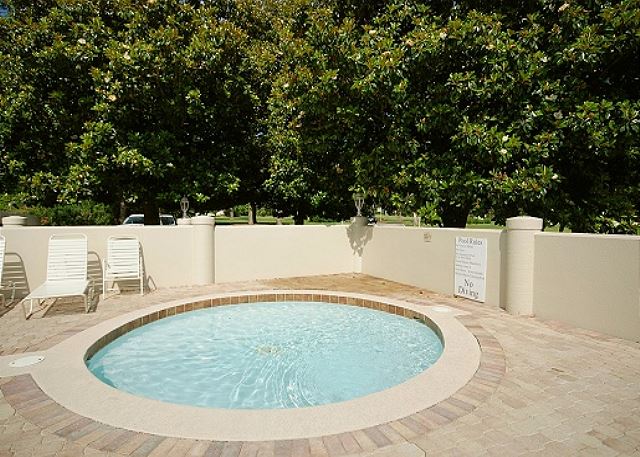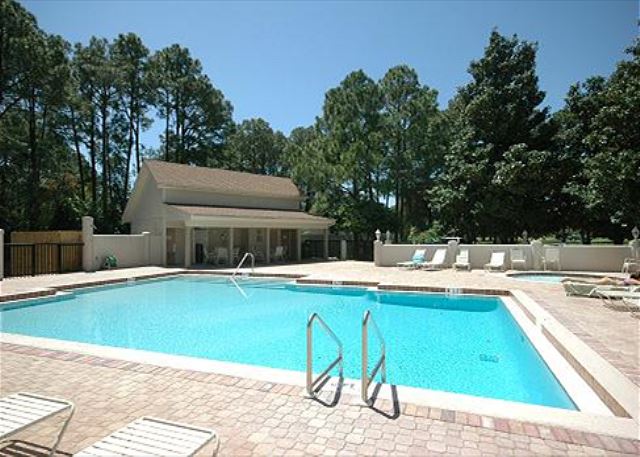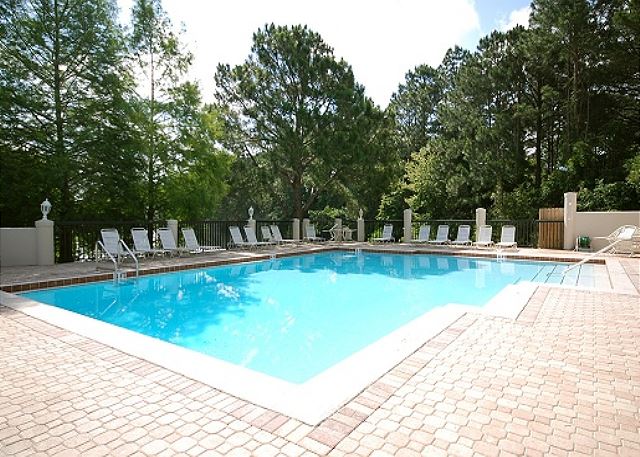 Sleeping Arrangements
1 King | 1 Queen | 2 Twins
This two-story townhome located on the bayside of Sandestin® Golf and Beach Resort is all about choosing your view – lake views, golf views and bay views! This property brings together all of the best assets of the Fairways community. The three-bedroom townhome ties in subtlety and fun with a tropically inspired décor of soft beiges pleasantly balanced with vibrant pops of reds, browns and black. The fully-equipped kitchen and three bathrooms scream luxury with brand-new granite countertops. The living area offers cozy accommodations along with a 46-inch flat-panel television, cable, DVD player and iPod dock. Whether your idea of relaxing is lounging on the couch or watching the sun set from a deck, this Fairway unit provides the calming spot for you.

The townhome's three bedrooms plus loft sleep six comfortably. The master bedroom is an escape unto itself with a king-size bed, flat-panel television, double vanities and granite countertops in the bathroom. The first guestroom features a queen bed, and the second bedroom located upstairs has two twin beds. An added bonus to this property is the entertainment loft. The upper level, open-air room showcases a leather sofa, chair, flat-panel television, DVD player and stereo. The loft is ideal for hanging out watching a movie or kicking back with a good book.

A quick trip across the resort gives you easy access to the breathtaking Gulf of Mexico and its inviting sugar sand and turquoise waters. To help you make the most of your days at the beach, My Vacation Haven provides beach chairs, an umbrella, a boogie board and sand toys for you to use at no cost. And, they are stored in the townhome's courtyard area, so you don't have to wait in lines. You can focus on soaking up the sun. When you head "home" from the beach, the townhome's outside shower offers convenient, carefree cleaning and sand removal before coming inside from a day outdoors.

Choose your view today with this spacious Fairways townhome.

Fairways is located on the bayside of the Sandestin® Golf and Beach Resort. This community has quaint two-story townhomes and single family homes with views of the Links Golf Course and some have views of the Choctawhatchee Bay.



Convenient guest parking in front of townhome, two resort pools for your use - located at Fairways and Heron Walk, trash pickup is curbside.



My Vacation Haven Added Fun

As a My Vacation Haven guest you will have access to Complimentary Beach Chairs, Umbrella, Boogie Board & Sand Toys (stored in the vacation rental for your use).



My Vacation Haven has partnered with several local restaurants and merchants to offer you discounts on activities, dining and more during your stay. When you book with My Vacation Haven, you'll receive a host of free coupons for discounts on everything from bike rentals to beach portraits. So, book now and enjoy more!



An Incredible Beach Vacation is Awaiting Your Arrival.

Book online now or call!

My Vacation Haven. YOUR Vacation Spot!

Additional Rental Requirements

Must be 25 years of age or older (renter and guests) unless accompanied by guardian.

No Smoking. Violators will be fined $750.00.

No Pets. Violators will be charged a fine of $750. If a pet causes damage in a non-pet friendly property the Vacation Rental Damage Protection Plan is voided and you will be held responsible for the cost of any damage caused by a pet.

All information provided is deemed to be correct but is subject to change.
| Begin Date | End Date | Minimum Nights |
| --- | --- | --- |
| 2017-11-26 | 2017-12-28 | 3 |
| 2017-12-29 | 2018-01-01 | 3 |
| 2018-01-02 | 2018-03-09 | 3 |
| 2018-03-10 | 2018-03-23 | 3 |
| 2018-03-24 | 2018-04-06 | 3 |
| 2018-04-07 | 2018-05-18 | 3 |
| 2018-05-19 | 2018-06-01 | 3 |
| 2018-06-02 | 2018-06-22 | 3 |
| 2018-06-23 | 2018-06-29 | 3 |
| 2018-06-30 | 2018-07-06 | 7 |
| 2018-07-07 | 2018-07-27 | 3 |
| 2018-07-28 | 2018-08-03 | 3 |
| 2018-08-04 | 2018-08-17 | 3 |
| 2018-08-18 | 2018-09-03 | 3 |
| 2018-09-04 | 2018-09-28 | 3 |
| 2018-09-29 | 2018-10-19 | 3 |
| 2018-10-20 | 2018-11-02 | 3 |
| 2018-11-03 | 2018-11-16 | 3 |
| 2018-11-17 | 2018-11-24 | 3 |
| 2018-11-25 | 2018-12-26 | 3 |
Minimum Age Limit for Renters

Sandestin / Miramar Beach
Thank you for entering your review. The review will become available to the system shortly.
One week stay
Rating:
Review Date: 07/18/2017
We had a great as we always do when we visit Miramar Gl, this was our 4 year staying in San Destin Golf and Beach Resort. The only problem we had with our stay is the pots and pan and no room. We are a family that come for a week stay so we grocery shop and cook dinner the whole week. There was only a small skillet, a big skillet and a medium size pot. We had to cook one thing at a time. Real inconvenience. There was no broom to sweep the sand up. And we could not get the grill to work. All in all we had a wonderful time.
Manager Response: 07/18/2017
Response from My Vacation Haven
Thank you, Davalyn! We are so glad you enjoyed your stay and would be honored to host your future trips to the area!
Best home away from home
Rating:
Review Date: 07/10/2017
My family and I loved this place! Very clean and spacious for us all to stretch out. I will definitely be back! I had to call the property management once for the wifi code, it was after hours and they returned my call by 8am the next day. Thank you.
Manager Response: 07/18/2017
Response from My Vacation Haven
Thank you, Lasundra! We are so glad you enjoyed your stay and would be honored to host your future trips to the area!
Very nice accomodations.
Rating:
Review Date: 06/07/2017
The area was beautiful; the unit was clean, spacious and ready for enjoyment. I liked the electronic access. We did experience a maintenance issue. I phoned it in and we went to dinner and the issue was fully addressed before we returned. A door hanger was left and the issues were resolved. We loved feeding the turtles in the lagoon behind the facility as well as watching the little garter snake that lived below the wood walk in the front.
Manager Response: 06/08/2017
Response from My Vacation Haven
Thanks, Rebecca! We are so glad you enjoyed your stay and that we could respond to your issue promptly! We would be honored to host your future stays in the area!
Nice Place
Rating:
Review Date: 08/12/2016
My wife, son, mother in law, and I stayed here a week. The location was great. The view was spectacular. The home was very neat and clean. The only issue I saw was the bbq tank was not filled and the stove did not get to temperature consistently. It seemed like an older stove so it probably needs to be replaced. Other than that the place was great. I would stay here again.From My Vacation Haven Team/: Please keep in mind, we do offer 24/7 customer help line for any issues that may occur during your stay. We will get the issues mentioned taken care of right away.
Great stay
Rating:
Review Date: 07/31/2016
Nice accommodations but it's extremely difficult to hear the tv in the living room while the TV in the loft is on. Would be better to have a tv in all 3 bedrooms.
Things that need attention
Rating:
Review Date: 07/28/2016
Hi, We enjoyed our stay so much! I just wanted to let you know about a couple of things that we saw while we were here. The doorknob on the upstairs bedroom door comes off every time you try to pull the door closed.Also, the front door lock has the be "wiggled" to get the door to close. The back door requires a hard push to get it to close as well. These little things did not distract from our fun at all but I thought you should know. Thanks so much.Malissa Flowers
Rating:
Review Date: 06/21/2016
The condo was everything it was listed as. Very clean, quiet atmosphere and the proper security on the grounds. The only recommendation(very minor) I would have is for the television in the main bedroom. You are only able to turn it if you stand up with the remote and stand closely to TV. The lighting in the upstairs bedroom next to the loft is also dim even though there are two lamps; I would maybe add a lighting fixture to the ceiling fan in that bedroom. Other than that, I would DEFINITELY STAY here again. Awesome experience.
Wonderful vacation
Rating:
Review Date: 06/15/2015
We had such a great time staying in this house. It was plenty spacious and the kitchen was stocked well enough that we could make every meal there the whole time we stayed. We loved cooking hot dogs on the grill and sitting on the back porch enjoying the beautiful view of the golf course and water while we ate our dinner. A few things you may want to know:The doors could use some WD-40 because they're all very squeaky. The door handle in the master bedroom fell off but my husband was able to fix it. All the light switches in the house are backwards and upside down. The couch in the living room IS a sleeper sofa which we didn't find out until the last night of our stay. There were only 3 beach chairs and one small umbrella for the 6 of us to use. And no boogie boards were available unlike as stated. I would suggest putting some fans on the back deck because not much wind comes through there and we had to set up the box fans. I would also suggest including a large golf cart with the rental so that it's easier for guests to get around. Other than those minor things our stay was wonderful and we would definitely stay again.
Your request has been sent. We look forward to meeting all your vacation needs!