Villa Lago 1892 (S) (2G) - 4BR 4BA - (12)
Sandestin / Miramar Beach Vacation Rental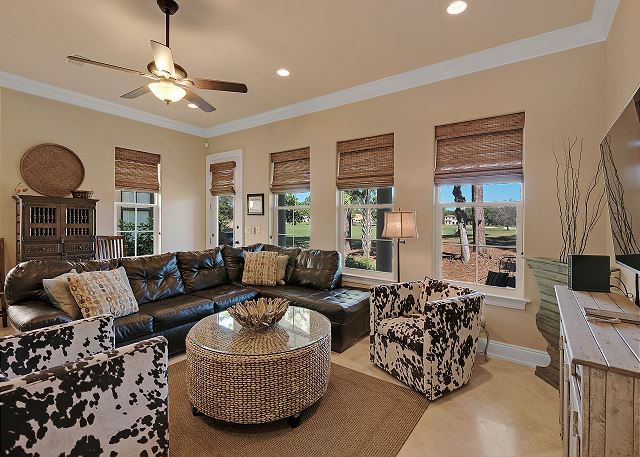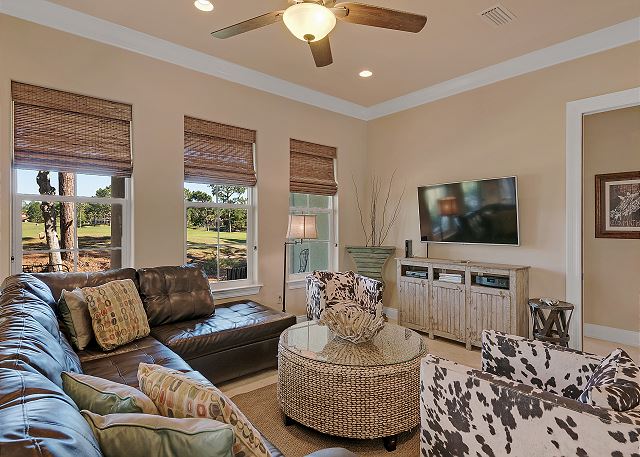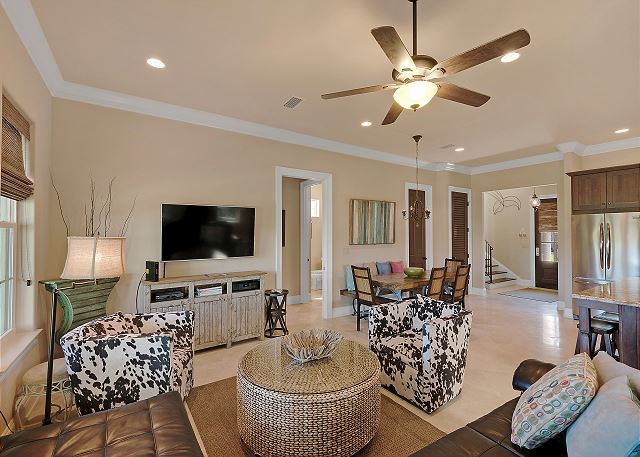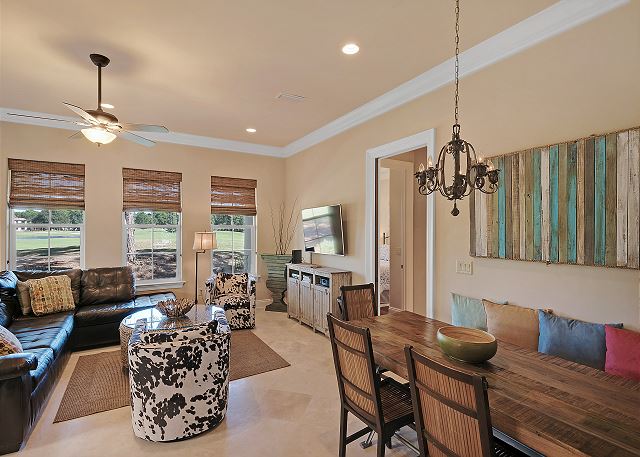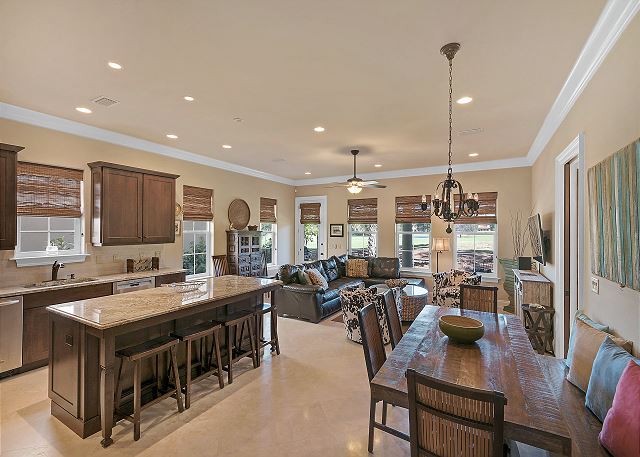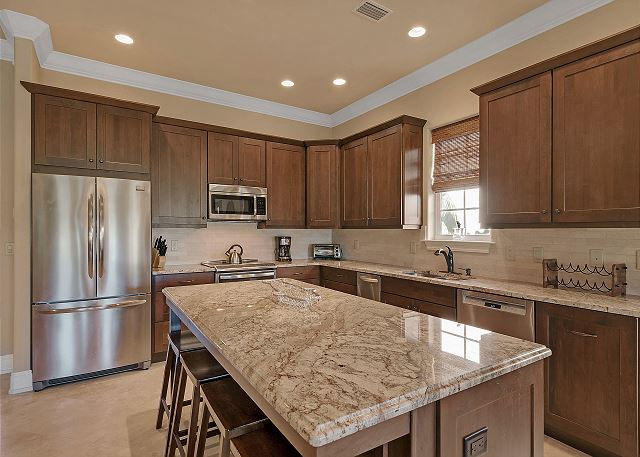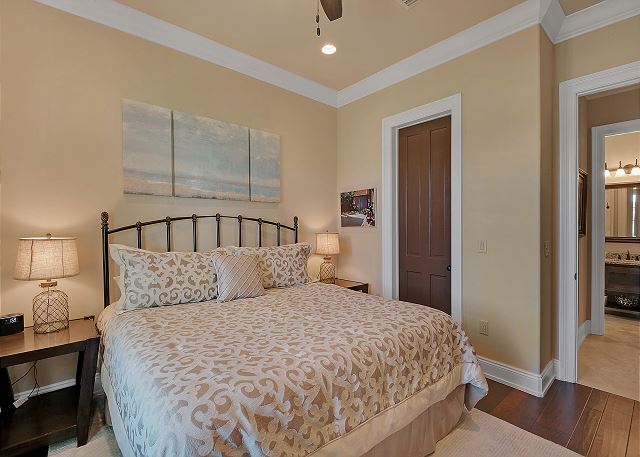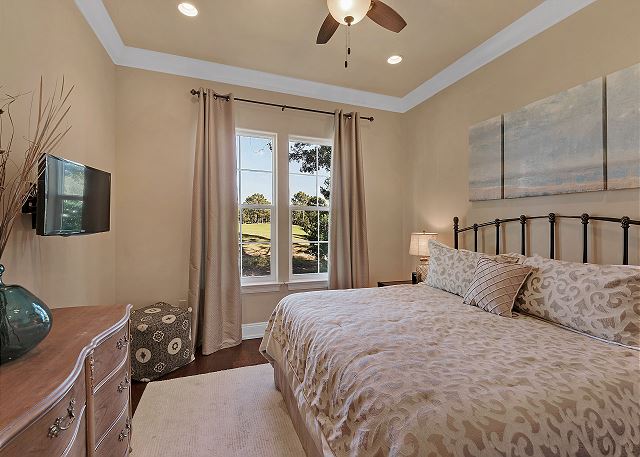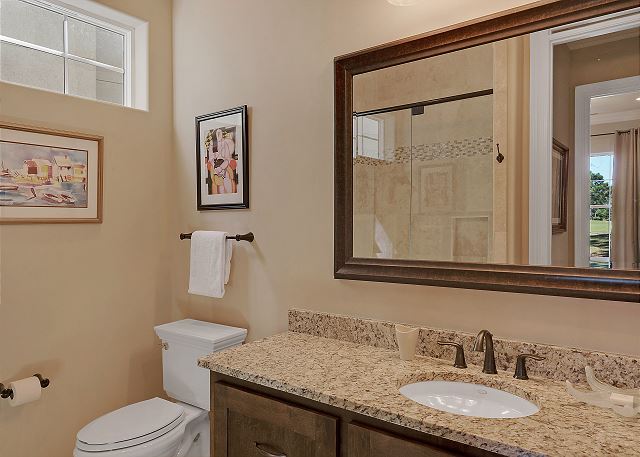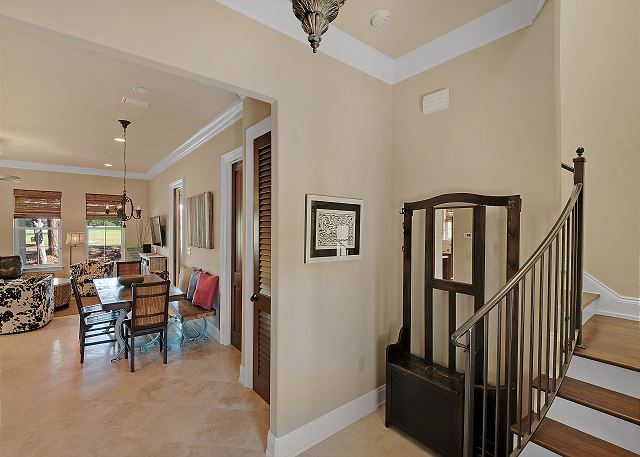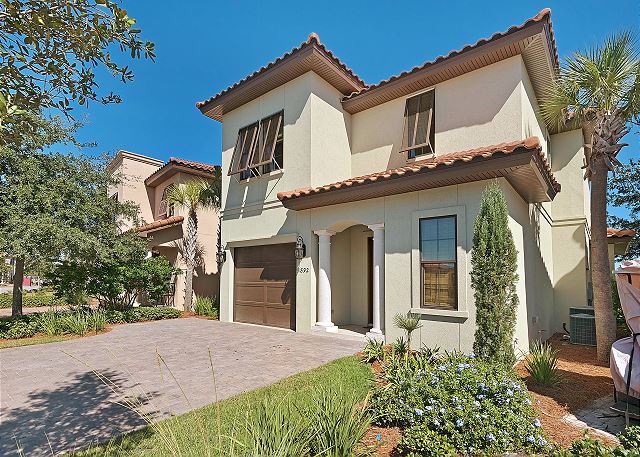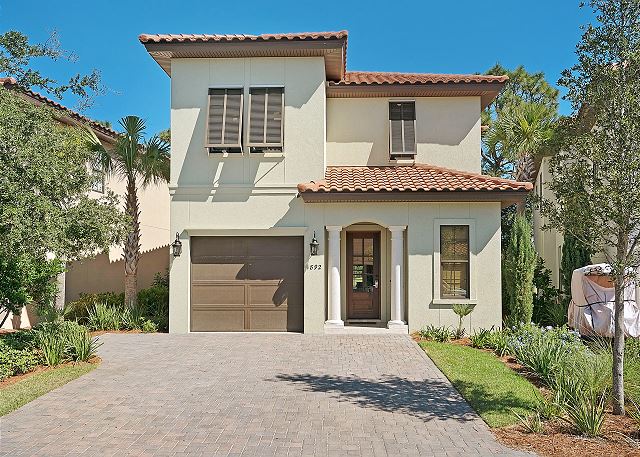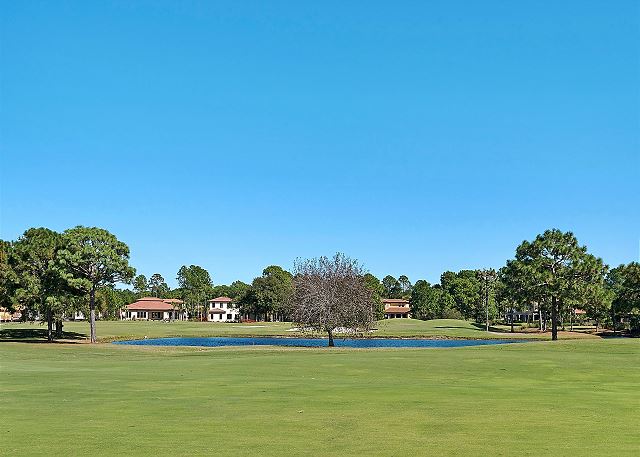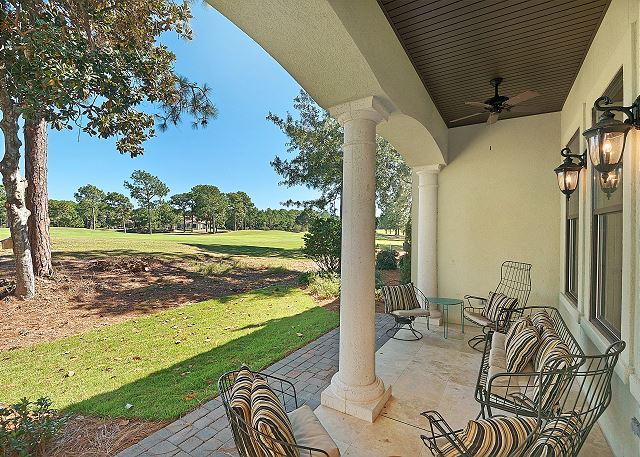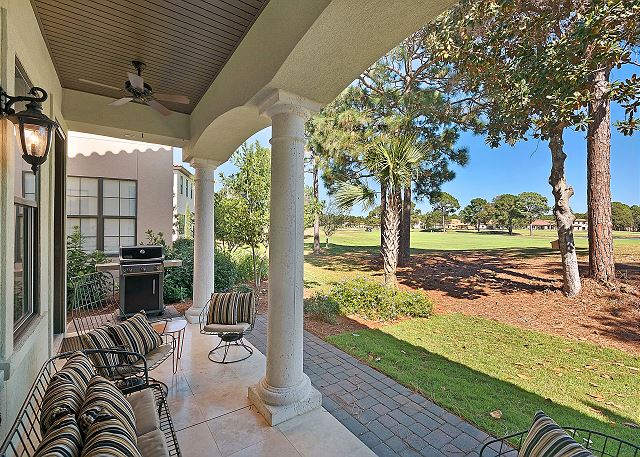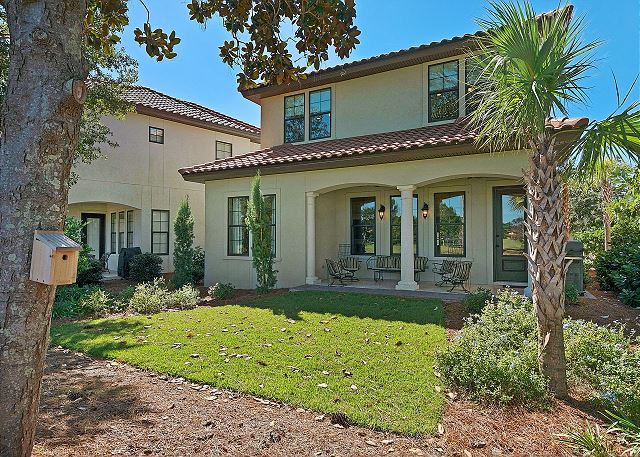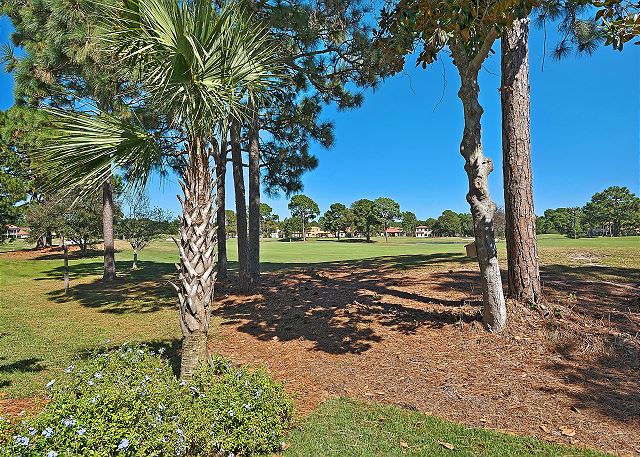 Sleeping Arrangements
3 King Beds | 4 Twin Bunk Sets
Beach? Golf? Tennis? Shopping? Dining out? Grilling? Fishing? Boating? Golf Cart cruising? Concert? Cocktails?

Dolphin House is right in the middle of all the fun that is Sandestin. A stay here is guaranteed to improve your "vacationing" self. Maybe you've tried those stress-filled, traffic clogged, line-too-long holidays? We all have. Dolphin House is located in a quiet cul de sac surrounded by lakes, trees and green space. Here, you have the option of JUST DOING NOTHING and we have the comfortable sofa, chairs and loungers to facilitate that.

We love big extended families, golf groups, tennis teams and church groups and provide TWO GOLF CARTS to take your crew wherever they're headed.

Need your space? We've got that with four comfortable bedrooms (one is a six-sleeper bunkroom), EACH WITH ITS OWN EN SUITE BATH.

Dolphin House sits on the fairway midway between the tee box and green at Hole #2 of the Baytowne Golf Course, one of three public courses located here. The OVERSIZED PORCH faces east, meaning during the heat of the day, you can sit in the shade under the fans and read or watch live golf. Our porch is also a wonderful spot to enjoy the twilight and evening hours. Villa Lago's design and the broad expanse of the course makes it feel like you're the only group around.

Villa Lago has its own PRIVATE POOL, for those times you just want a quick dip.

You're within walking distance of the marina, tennis center (hard and soft courts), pool, Jolee Island and popular, kid-friendly Baytowne Village. Take the golf carts to the beach, the grocery store, the movie or shopping. Take a spin around the big circle and through the beautiful neighborhoods of Sandestin. Once you're here, there's really NO NEED TO GET BACK IN THE CAR.

Like new? Dolphin House is only two years old! The SPACIOUS GOURMET KITCHEN is a cook's dream and comes with everything you'd expect, plus an EXTRA ICE MAKER for coolers and frozen drinks.

Did you just say to yourself, "Wow, that sounds like a lifestyle of fabulous options?"

We thought so. And while we could go on telling you about Dolphin House (the view, the artwork, the five tvs, the floats, tents and chairs), we'd rather let you hear what a few of our visitors wrote in our little brown guestbook recently (verifiable exclusively at Dolphin House.)

"Thank you for a wonderful beach vacation. Four adults and seven kids and this house accommodated us beautifully. We are officially beach-goers because of this amazing home!"

"Thank you for giving us memories we will cherish for many years. Anyone who comes is in for a treat!"

"The golf carts made easy access to everywhere in Sandestin."

"We had a fantastic time enjoying all Sandestin has to offer with four adults and five kiddos. Thanks for sharing your amazing home with us. We had a blast!"

"Your beautiful home allowed our (spread out family) to spend a week together golfing, sunning and eating in Florida. We will be back again!"

"We loved it here! There is so much to do and see!"

"House very comfortable and inviting. Will return."

This is just a sample of the kind of feedback we are getting at Dolphin House. People love us! We invite you to come and share your own story in our little brown guest book. What are you waiting for? Pick your posse and pack your bag. Our BIG DOLPHIN is waiting to meet you.

Additional Rental Requirements

Must be 25 years of age or older (renter and guests) unless accompanied by guardian.

No Smoking. Violators will be fined $750.00.

No Pets. Violators will be charged a fine of $750.

All information provided is deemed to be correct but is subject to change.
| Begin Date | End Date | Minimum Nights |
| --- | --- | --- |
| 2017-11-26 | 2017-12-28 | 3 |
| 2017-12-29 | 2018-01-01 | 3 |
| 2018-01-02 | 2018-03-09 | 3 |
| 2018-03-10 | 2018-03-23 | 3 |
| 2018-03-24 | 2018-04-06 | 7 |
| 2018-04-07 | 2018-05-18 | 3 |
| 2018-05-19 | 2018-06-01 | 3 |
| 2018-06-02 | 2018-06-22 | 3 |
| 2018-06-23 | 2018-06-29 | 7 |
| 2018-06-30 | 2018-07-06 | 7 |
| 2018-07-07 | 2018-07-27 | 7 |
| 2018-07-28 | 2018-08-03 | 3 |
| 2018-08-04 | 2018-08-17 | 3 |
| 2018-08-18 | 2018-09-03 | 3 |
| 2018-09-04 | 2018-09-28 | 3 |
| 2018-09-29 | 2018-10-19 | 3 |
| 2018-10-20 | 2018-11-02 | 3 |
| 2018-11-03 | 2018-11-16 | 3 |
| 2018-11-17 | 2018-11-24 | 3 |
| 2018-11-25 | 2018-12-26 | 3 |
Minimum Age Limit for Renters

Sandestin / Miramar Beach
Thank you for entering your review. The review will become available to the system shortly.
Guys Weekend
Rating:
Review Date: 09/11/2017
This property was amazing. The house is huge and had plenty of room for our group of friends that traveled in for the long weekend. The best part was the 2 golf carts that came with the property. The location allows for everything (grocery store, dining, entertainment, marina, pool, beach, etc.) to be easily accessed via golf cart. I highly recommend My Vacation Haven for rentals and will definitely rent through them again.
Manager Response: 09/18/2017
Response from My Vacation Haven
Thank you for staying with us, Will! We are so glad you enjoyed your stay and would be honored to host your trips to the area in the future!
Beautiful Beach Getaway
Rating:
Review Date: 08/16/2017
Wonderful rental for families! We loved our stay here and look forward to going again soon!The property management team were very attentive and helpful!
Manager Response: 08/21/2017
Response from My Vacation Haven
Thank you for staying with us, Maureen! We are so glad you enjoyed your stay and would be honored to host your future trips to the area!
Great week!
Rating:
Review Date: 06/01/2017
Loved this rental ! The den is very comfortable. The back yard is a nice area to hang out late afternoon. Loved having Two golf carts allowing our family to go places at different times or different places at the same time.
Manager Response: 06/01/2017
Response from My Vacation Haven
Thanks, David! We are so glad you enjoyed your stay and would love to host you in the future!
Spring Break 2017
Rating:
Review Date: 04/10/2017
We loved Villa Lago 1892. My husband and I took our three children. His sister, her husband and their 2 children joined us, along with his parents. Total of 6 adults and 5 kids. There was plenty of room for all of us! Kids loved the bunk room. The place is very nice and was very clean. Lots of shelving and space. The golf carts are fantastic and made it possible for us to not use our cars at all on the trip other than the short drive to Publix upon arrival. The beach seems far from the house but with the carts we could just load up and have a quick fun ride to the beach. Golf cart parking at the beach was never a problem. The neighborhood pool is very nice but it is not heated which surprised us. Temperatures were in the mid 70s and the kids had chattering teeth in the pool. Bay Towne was very fun with a nightly free activity for the kids Sun-Thurs. Overall we had a great stay!
Manager Response: 04/14/2017
Response from My Vacation Haven
Thanks, Margot! We are so glad you enjoyed your stay and LOVE your review! We would love to host you again as a Beach Bonus member!
Hillard & McCoy Family Vacation
Rating:
Review Date: 08/16/2016
We had a great week!! I know you have no control of the weather, but other than the on and off again rain all week, we all had a blast!! The only thing that we couldn't find was a small broom to sweep up the floors to keep things tidy during our stay. Looking forward to renting from My Vacation Haven again in the future.Sincerely,Andrew Hillard
Great House
Rating:
Review Date: 04/10/2016
7 adults shared this beautiful home for our vacation. It was the perfect layout for our group. We found it to be comforably furnished, nicely decorated, and it had many amenities included. Wonderful week in Miramar Beach, Florida.
Incredible House
Rating:
Review Date: 05/28/2015
The house was perfect for our party of 10! Clean, spacious, and every room got their own bathroom. The golf carts were very useful as well for getting around the property. My only complaint was the parking situation. It is unrealistic to have a house that holds 12 people and only allow 2 cars per driveway. Without some type of guaranteed parking availability for overflow, I'm not sure I would stay here again.
Your request has been sent. We look forward to meeting all your vacation needs!