Villa Lago 1888 (S)(2G) - 4BR 4BA - (12)
Sandestin / Miramar Beach Vacation Rental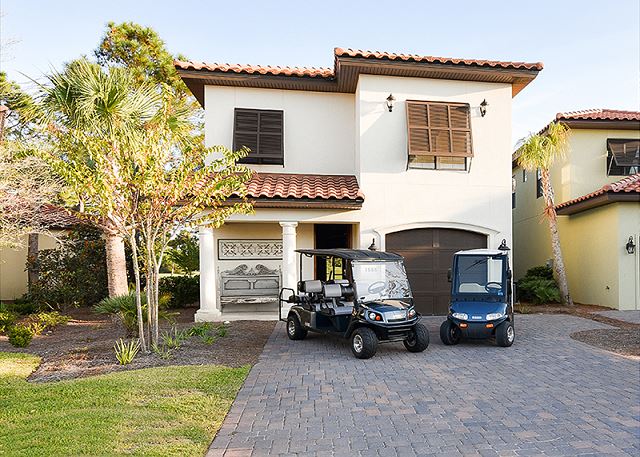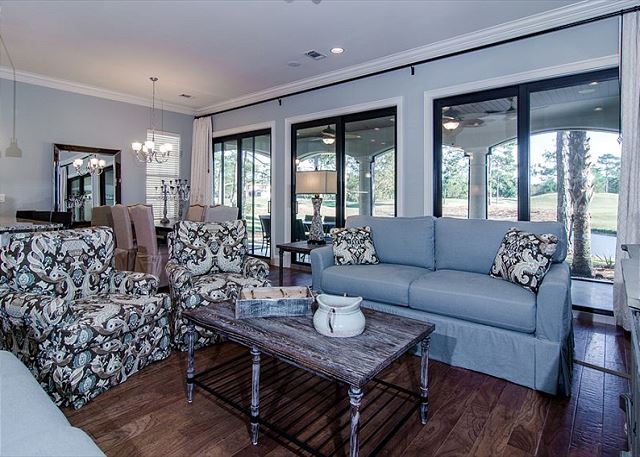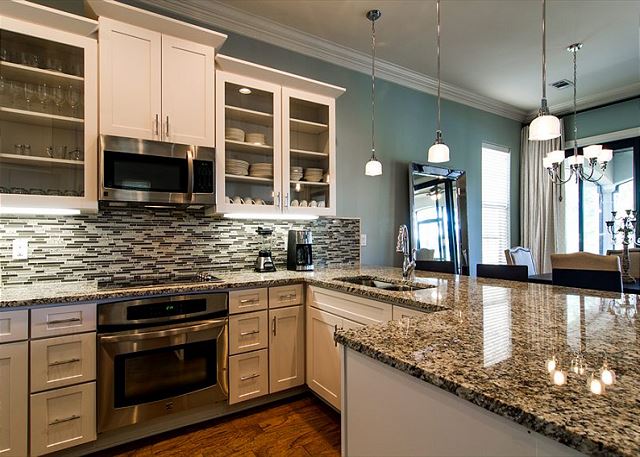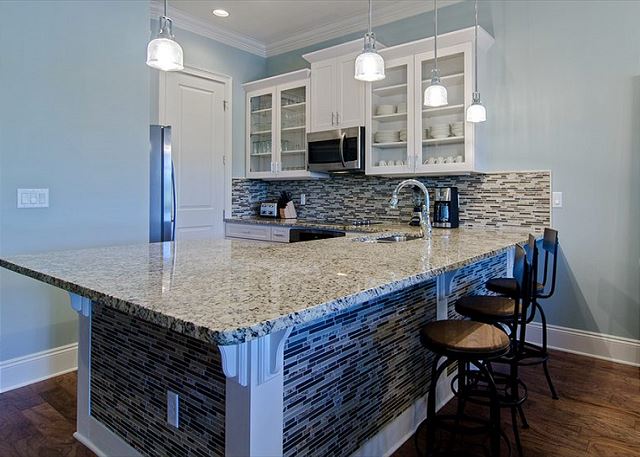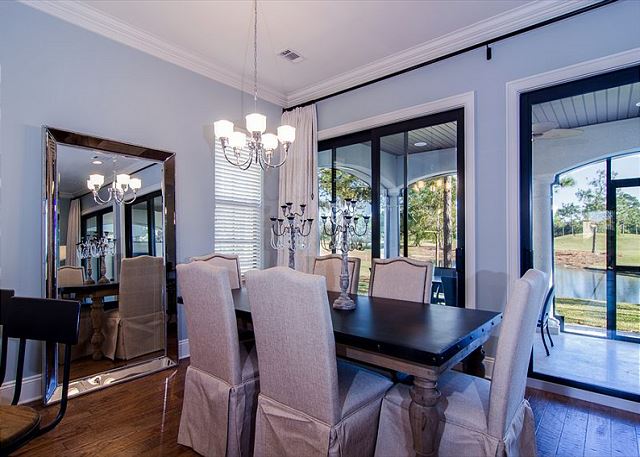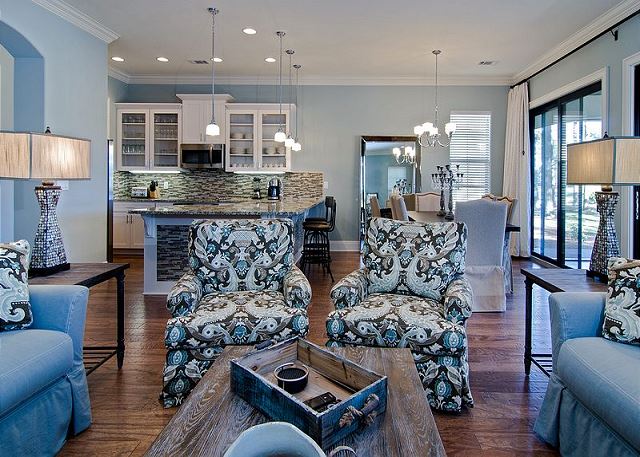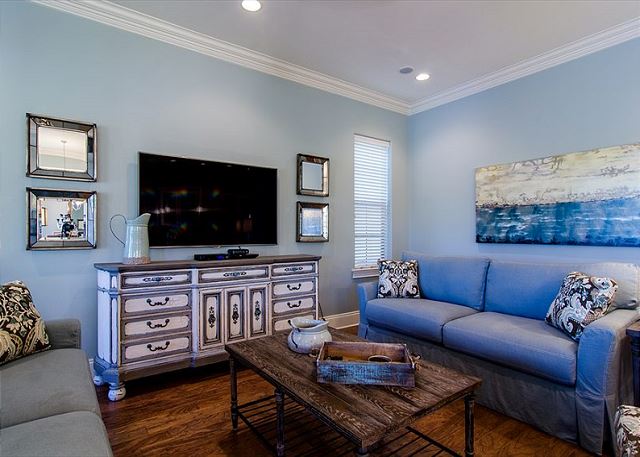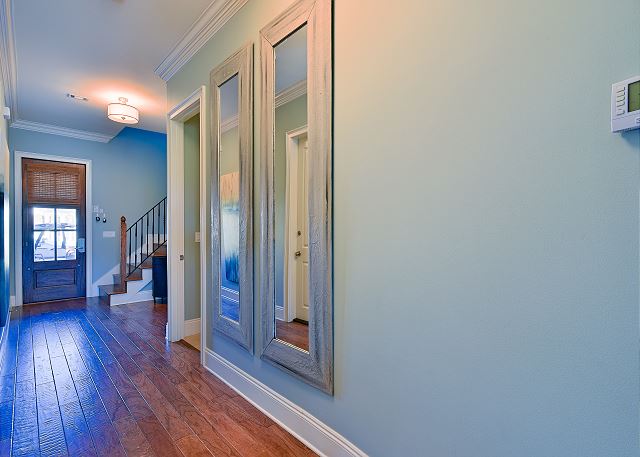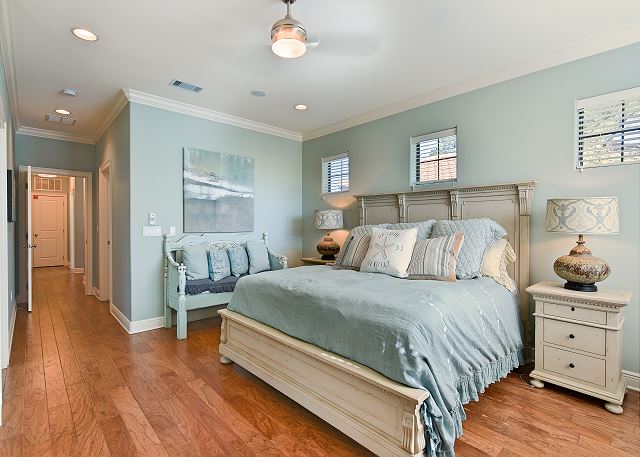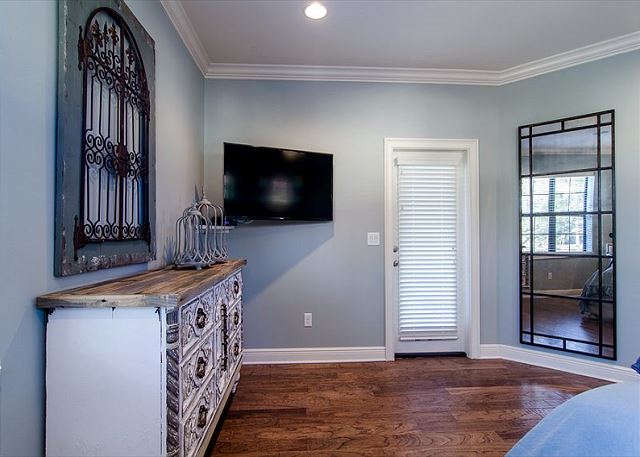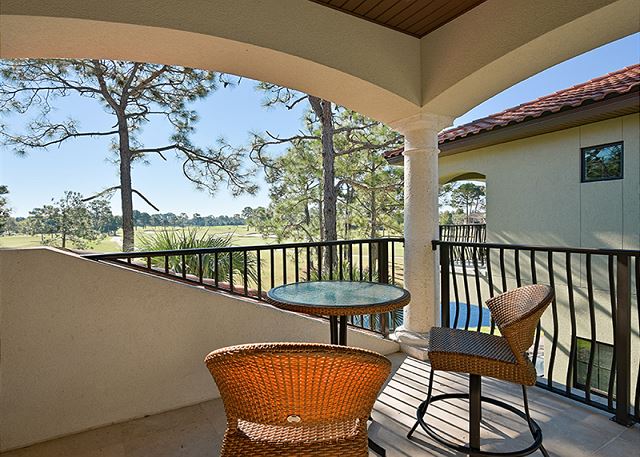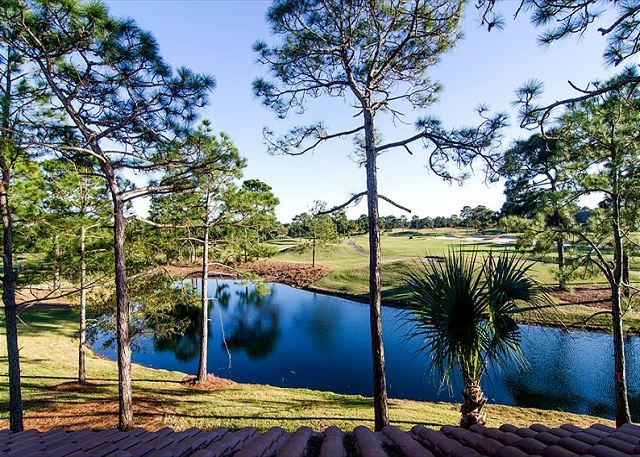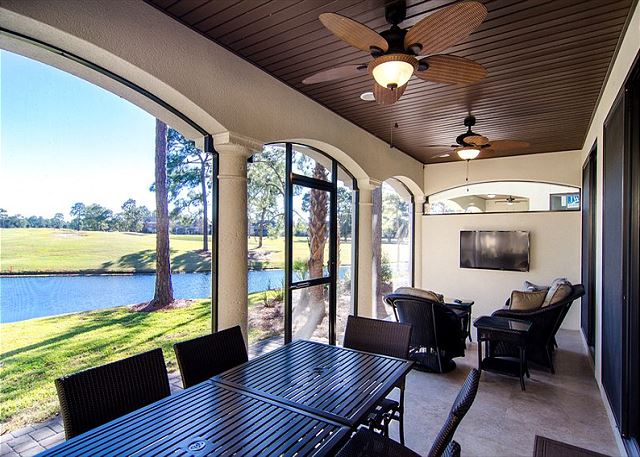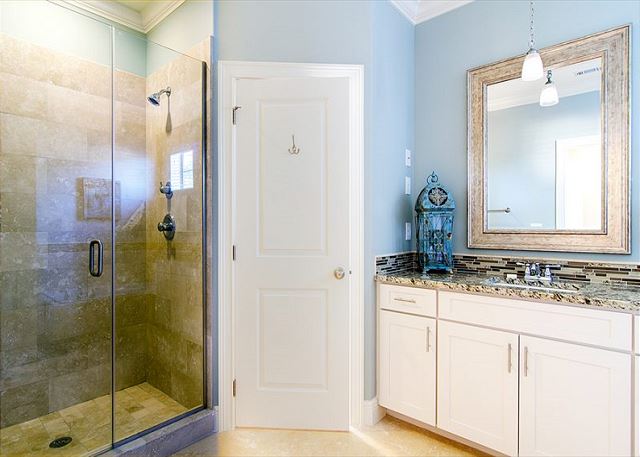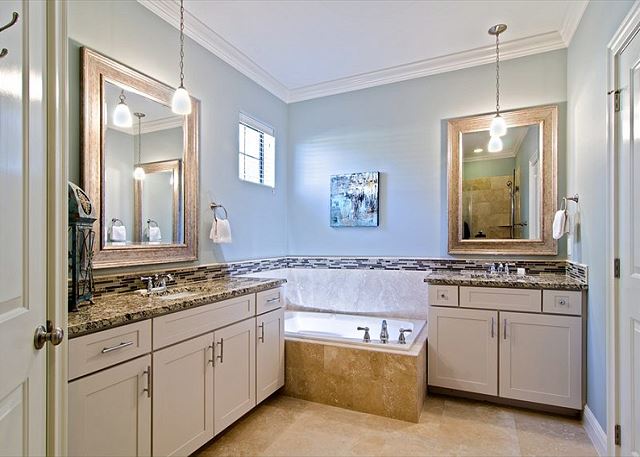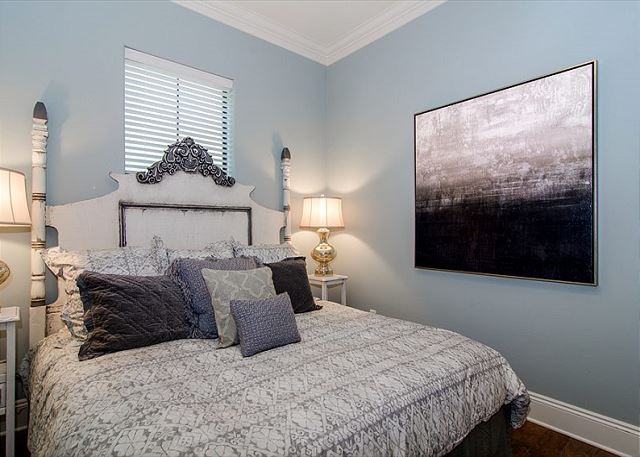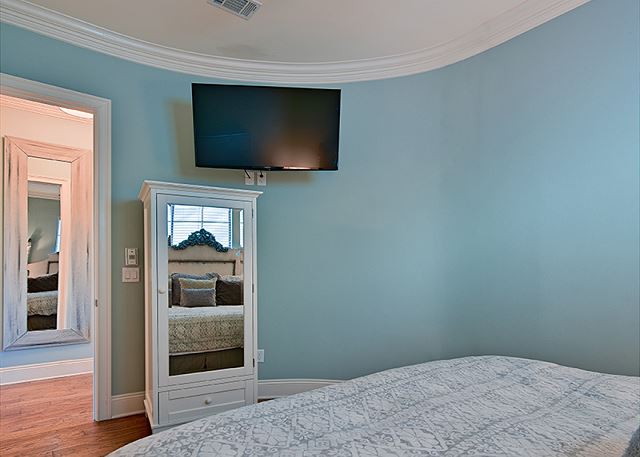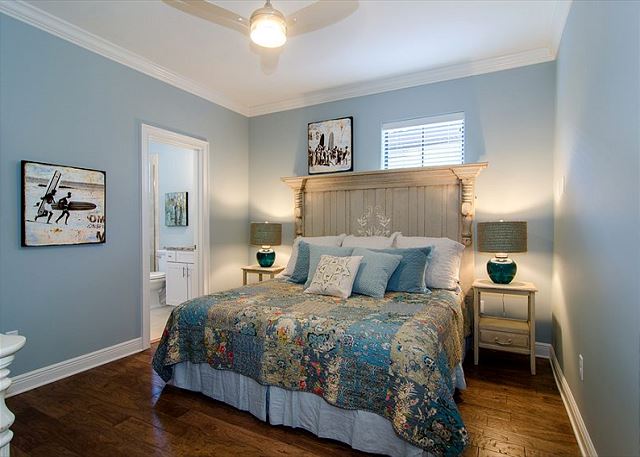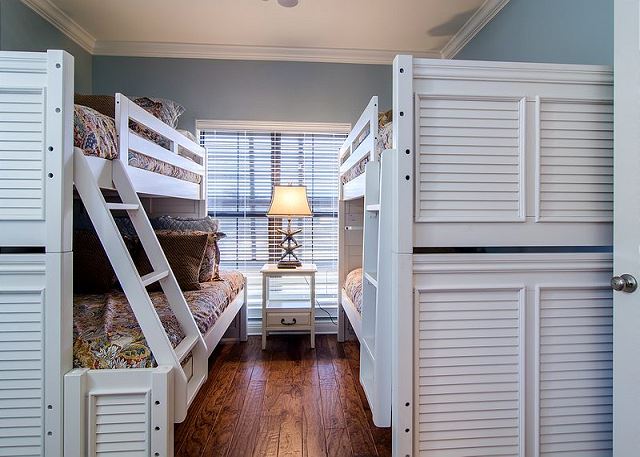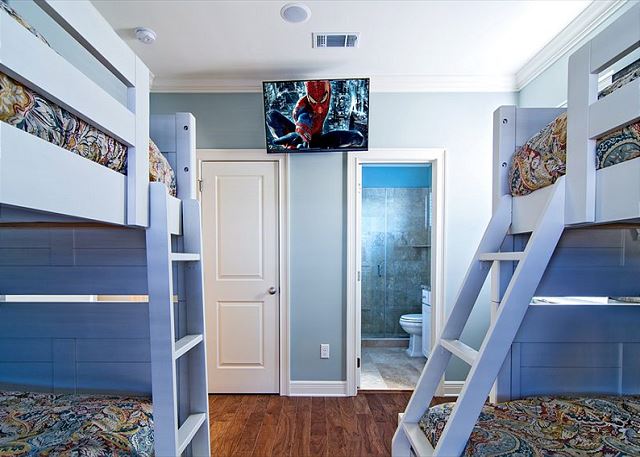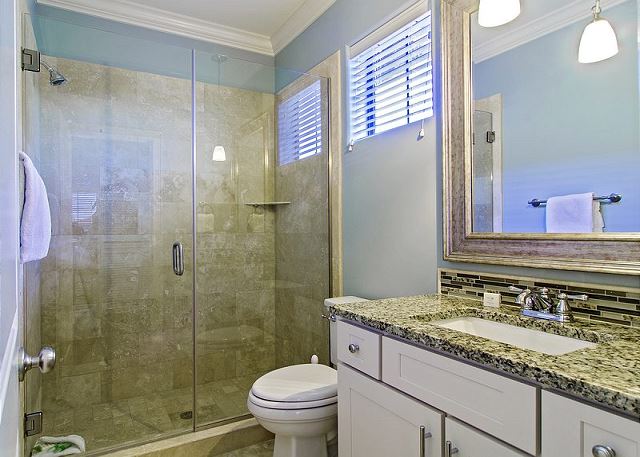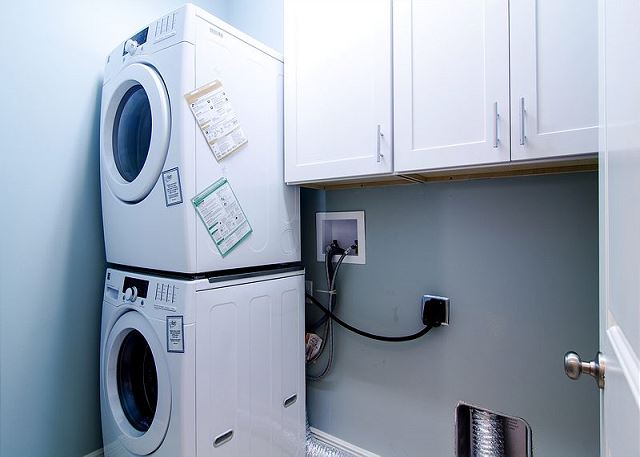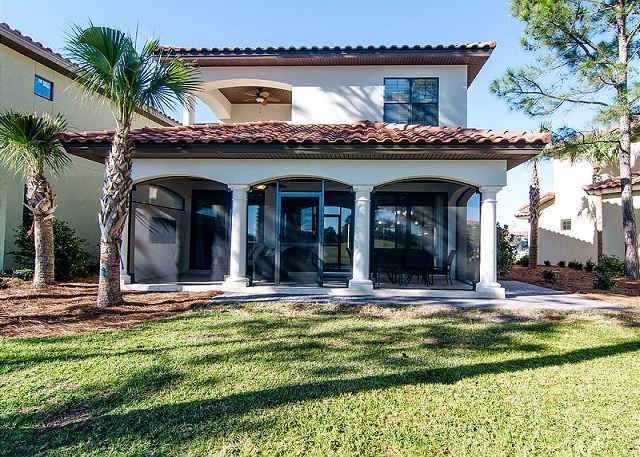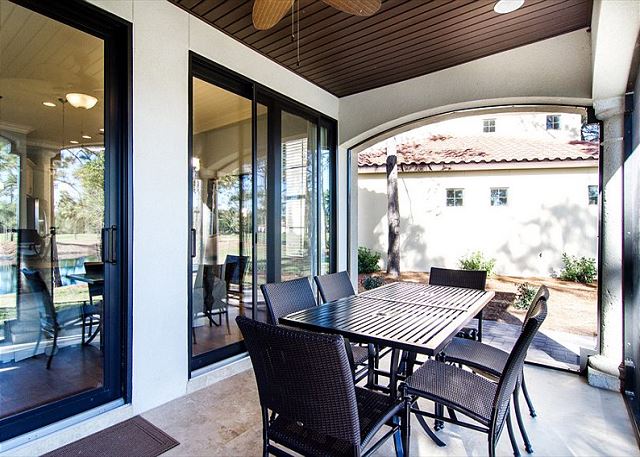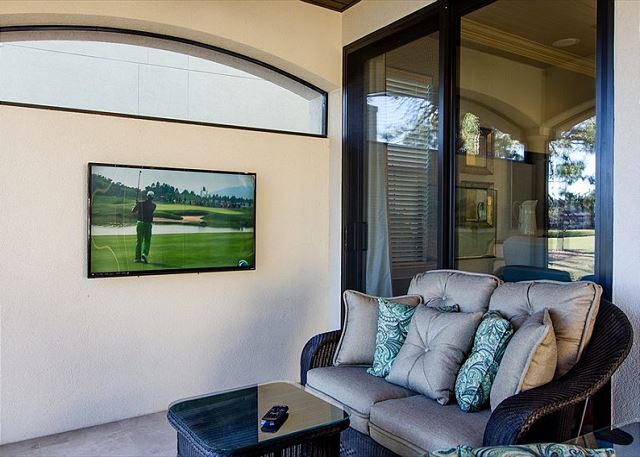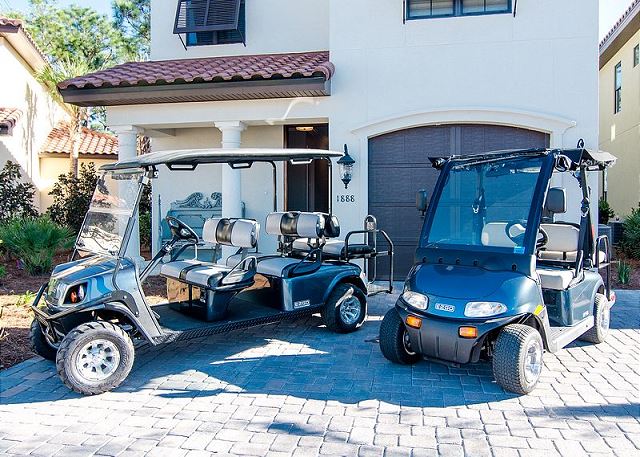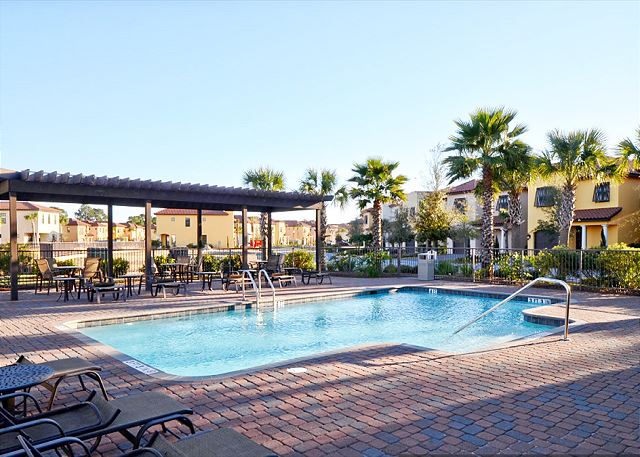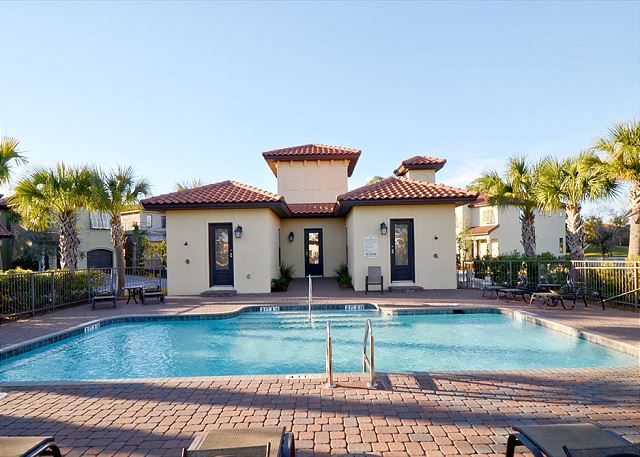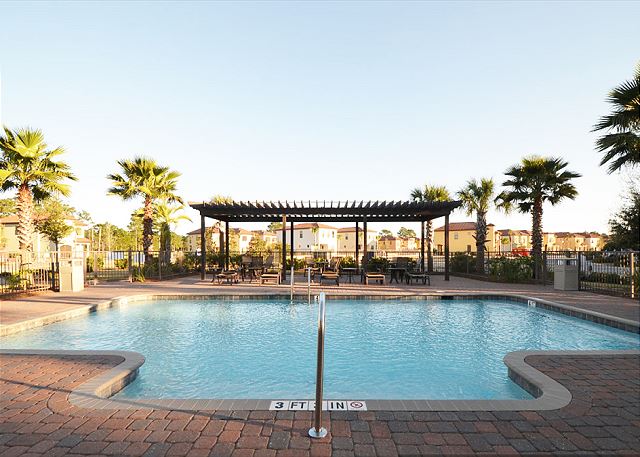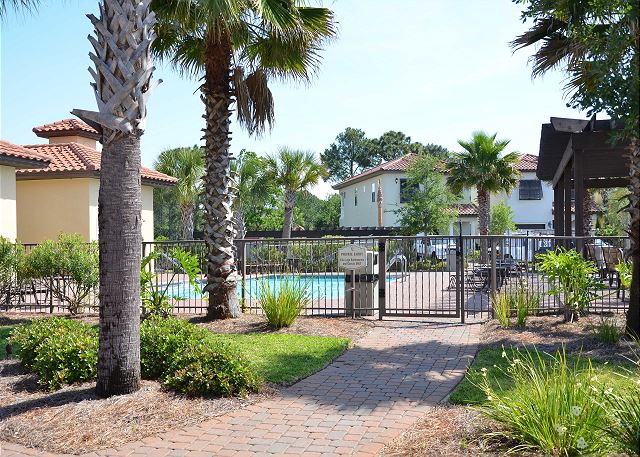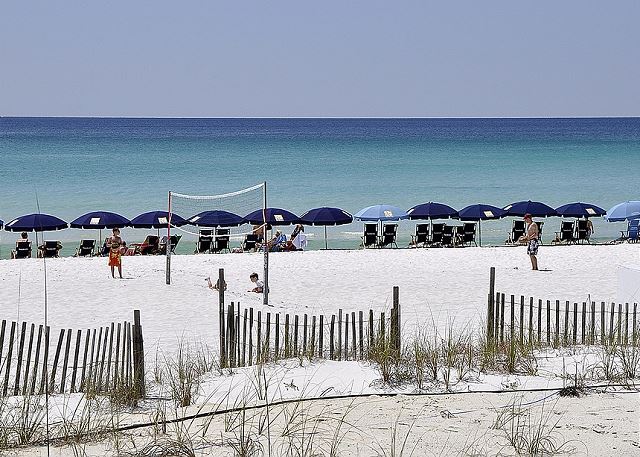 Sleeping Arrangements
3 King Bed | 1 Twin Bunk Set | 1 Sofa Sleeper
2 "NEW" GOLF CARTS included with this "NEW HOME" vacation rental! Vacationing in a sweeping world-class beach resort filled with endless amenities means there is something for everyone. One thing this delightful designer villa nestled near the scenic Choctawhatchee Bay should come with is a warning label. "Beware, it is so beautiful, you may be tempted to extend your stay longer than you expected!"

Awash in light and dark hues of misty sea blues, this gracious four-bedroom, four-bath villa is thoughtfully designed to make any day of the vacation variety. Sleeping 13 it is perfect for reconnecting with friends, family or several of your best pals. And with state-of-the-art TempurPedic mattresses, you are sure to face the day's adventures well rested. The sweeping balcony off the master offers up great views of the gorgeous golf course. The screened in porch off the living area is a breezy bonus featuring a flat screen TV and a comfortable sitting area perfect for when you want a respite from the Florida sunshine. Cook your fresh catch of the day on the new gas grill and enjoy your meal al fresco with a full dining table setup on the screened in porch!

If you make it to the two golf carts, good! That means there is a chance you'll make it out to one of the four championship golf courses. Good, because this home is also stocked chock full of beach toys waiting for you to fill your stay with play.



Villa Lago is latest addition to the Sandestin® resort offering new construction, single family three and four bedroom homes with Mediterranean-style and resort comfort. Villa Lago is situated in the heart of Sandestin® Golf and Beach Resort alongside the newly renovated Baytowne Golf Course. Enjoy the nearby resort amenities like the Villa Lago private pool and clubhouse and the first class dining and entertainment options of Village of Baytowne Wharf.



Villa Lago neighborhood features include at home parking, neighborhood pool, proximity to the Baytowne Conference Center and Baytowne Golf Club Course.



My Vacation Haven Added Fun

As a My Vacation Haven guest you will have access to Complimentary Beach Chairs, Umbrella, Boogie Board & Sand Toys (stored in the vacation rental for your use).



My Vacation Haven has partnered with several local restaurants and merchants to offer you discounts on activities, dining and more during your stay. When you book with My Vacation Haven, you'll receive a host of free coupons for discounts on everything from bike rentals to beach portraits. So, book now and enjoy more!



An Incredible Beach Vacation is Awaiting Your Arrival.

Book online now or call!

My Vacation Haven. YOUR Vacation Spot!

Additional Rental Requirements

Must be 25 years of age or older (renter and guests) unless accompanied by guardian.

No Smoking. Violators will be fined $750.00.

No Pets. Violators will be charged a fine of $750. If a pet causes damage in a non-pet friendly property the Vacation Rental Damage Protection Plan is voided and you will be held responsible for the cost of any damage caused by a pet.

Additional Amenities

2 New Golf Carts - 6 seater and a 4 seater

Beach Toys for the kids

Beach Chairs

Gas BBQ Grill

Keyless entry

All information provided is deemed to be correct but is subject to change.
| Begin Date | End Date | Minimum Nights |
| --- | --- | --- |
| 2017-08-19 | 2017-09-03 | 7 |
| 2017-09-04 | 2017-09-29 | 3 |
| 2017-09-30 | 2017-10-20 | 3 |
| 2017-10-21 | 2017-11-03 | 3 |
| 2017-11-04 | 2017-11-17 | 3 |
| 2017-11-18 | 2017-11-25 | 3 |
| 2017-11-26 | 2017-12-28 | 3 |
| 2017-12-29 | 2018-01-01 | 3 |
| 2018-01-02 | 2018-03-09 | 3 |
| 2018-03-10 | 2018-03-23 | 7 |
| 2018-03-24 | 2018-04-06 | 7 |
| 2018-04-07 | 2018-05-18 | 3 |
| 2018-05-19 | 2018-06-01 | 1 |
| 2018-06-02 | 2018-06-22 | 7 |
| 2018-06-23 | 2018-06-29 | 7 |
| 2018-06-30 | 2018-07-06 | 7 |
| 2018-07-07 | 2018-07-27 | 7 |
| 2018-07-28 | 2018-08-03 | 7 |
| 2018-08-04 | 2018-08-17 | 7 |
| 2018-08-18 | 2018-09-03 | 7 |
Minimum Age Limit for Renters

Sandestin / Miramar Beach
Thank you for entering your review. The review will become available to the system shortly.
Villa Lago 1888 review
Rating:
Review Date: 07/17/2017
Everything was very good. Only negative was we had to wait until almost 6pm to get into house because owners left late.
Manager Response: 07/18/2017
Response from My Vacation Haven
Thank you, Robert! We are so glad you enjoyed your stay and would be honored to host your future trips to the area!
A Family Favorite
Rating:
Review Date: 06/19/2017
Simply stunning decor, perfect in every way!!! Such a
Wonderful vacation! The Villa Lago was unbelievable
And the icing on the cake for our family vacation... thanks
For the MEMORIES!!!
Manager Response: 06/20/2017
Response from My Vacation Haven
Thanks, Martha! We are so glad you enjoyed your vacation and would be honored to host your future trips to the area! Come back to see us soon!
Great Family Vacay!!
Rating:
Review Date: 06/12/2017
We really enjoyed our family vacation.
My husband and myself and 3 children and their spouses and a 9 month old baby. There was plenty of room for everyone but we really enjoyed the screened back porch overlooking the golf course and the lake. Enjoyed the golf carts also! (Lighting in master bathroom could use some help)
Would definitely rent this unit again.
Manager Response: 06/13/2017
Response from My Vacation Haven
Thanks, Keith! We are so glad you enjoyed your stay and would be honored to host your future trips to the area! Come back to see us soon!
Great Family Vacation
Rating:
Review Date: 05/01/2017
1888 Villa Lago exceeded our expectations. We were very comfortable with our kids and grandkids. The place is decorated so beautifully but is also comfortable and cozy. It had everything we needed. The golf carts were so much fun and gave us so much freedom to explore the property. Would highly recommend this location.
Manager Response: 05/02/2017
Response from My Vacation Haven
Thank you, Nancy! We are so glad you enjoyed your stay and would be honored to host you again!
Totally a Relaxing Getaway!
Rating:
Review Date: 04/24/2017
We have done VBRO many times in the SanDestin resort and I think we have finally found a "fit" when it comes to staying there. This rental is decorated perfectly and don't let the size fool you! This is an airy and very comfortable place, decorated in relaxing tones, hard wood floors and super comfortable furniture, this is a rental that we will DEFINITELY rent again! A little far from the beach, but perfect quiet spot and the use of the golf carts was GREAT! Will definitely come back with friends and family next year!
Manager Response: 04/25/2017
Response from My Vacation Haven
Thanks, Matt! We are so glad you enjoyed your stay in our home and can't wait to host you again next year! Book now to lock in this year's rate!
Villa Lago Vacation
Rating:
Review Date: 04/17/2017
The house is beautiful and the location on the resort is great
Manager Response: 04/20/2017
Response from My Vacation Haven
Thanks, David! We are so glad you enjoyed your stay and hope to see you again!
GORGEOUS Home!!! Exceeded my expectations of a vacation rental!
Rating:
Review Date: 04/10/2017
We stayed at 1888 Villa Largo this past week April 2017. This home is immaculate. First and foremost, the furnishings and decor are amazing. It felt like so much more than a vacation home. Beautiful floors, furniture, & gorgeous style. It felt very luxurious. The bathrooms all had beautiful tile and granite! It was VERY clean. Nothing was dirty or old. Plenty of space for our group of 5 adults and 5 kids. The screened in porch with big flatscreen was the perfect place to catch March Madness games in between outings. I was thrilled with beach chairs and the amount of sand toys for the kids. Linens and towels were all nice and we had plenty! The golf carts were great and the extra cart and extra seats were perfect for our group of 10!! The kitchen was gorgeous and everything we needed. Again, I felt spoiled by the nice white matching dishes and granite countertops. Everything made us feel so spoiled - as it happened we had 2 full
rainy days, so the extra space and beautiful home was a bonus! This is our second time at San Destin. It is the only place my family has ever vacationed more than once. We come back because of the beautiful resort, rental bikes, fishing in the pond, golf carts and the wharf. We love the wharf. There is no getting away from the beautiful scenery, safety, and luxury of the resort. My ONLY complaint about San Destin - not this home - are the pools. They have them, but all are very small, shallow and plain. The Villa Largo pool was freezing and tiny. We also has access to another pool near the from of the resort. It was warm - but also very small. We are just continuously surprised that Sandestin doesn't have more pools or bigger pools with waterslides or a lazy river or something? It's Florida? The beach is awesome and easily accessible by tram or golf cart - but the kids do not want to go to the beach every day. Other than the pools - I highly recommend this resort and this home was fantastic!
Manager Response: 04/14/2017
Response from My Vacation Haven
Thanks, Stacie! We are so glad you enjoyed our home and hope to host you again, soon!
Great Holiday House
Rating:
Review Date: 03/20/2017
The house was beautifully decorated and very clean.Great lounge area with a big television. Great for nights relaxing after long days at the beach!! Loved the outside patio as well. It was cold when we were there but the fact that it is covered means you can relax out there bug free!!! Having two golf carts was fabulous. We used one for the beach and one for getting around the resort to the various attractions. Great week.......too bad the weather was not as good as the villa!!!!!!Would stay there again and would use My Vacation Haven to book.
Overall a great choice
Rating:
Review Date: 08/05/2016
The house is very clean and relaxing. The golf carts make getting around a breeze. Loved the master bedroom and screened in porch. The kitchen and living area are much less spacious than they appear in the photos. The dryer needs to run for 2 cycles to dry clothes. Also bring your own washcloths, they were not provided. The neighborhood pool is way to small for our group of 9 to enjoy, let alone any other people.
Fabulous Stay
Rating:
Review Date: 11/19/2015
The house we stayed in was lovely and perfect for our two families. The kids loved the bunk beds and there was plenty of room for all 8 of us. The golf carts are a super easy way of getting around the property, we took them to Baytowne, the beach and everywhere in between. We had a marvelous time and will definitely stay here again!!!
Best Vacation Ever!
Rating:
Review Date: 05/30/2015
My family had the most fantastic vacation at Villa Lago 1888. The property is breathtaking beautiful with every amenity you could think of and more! We took advantage of the beautiful screened in patio with the flat screen TV with an awesome view of the lake and golf course everyday.....Having the use of two golf carts was wonderful since not everyone wanted to do the same things all the time. All I can say is I can't wait to stay at this property again and the staff at My Vacation Haven is wonderful to deal with!
great
Rating:
Review Date: 04/06/2015
Very clean and staff was very helpful and efficient..Would consider renting this same house again.
Great House!
Rating:
Review Date: 10/21/2014
We used the house for a girls trip and it was wonderful! The house is absolutely gorgeous and an exact replica of what you see pictured. Not a single complaint from anyone, only praise. Baytowne Wharf is only a few minutes on the golf cart and the beach access turned with the underground tunnel was super easy. We will definitely be back and will stay here again!
Your request has been sent. We look forward to meeting all your vacation needs!