Pier Destin - 66 Pompano Street | Destin Luxury Beach Rentals
Destin Vacation Rental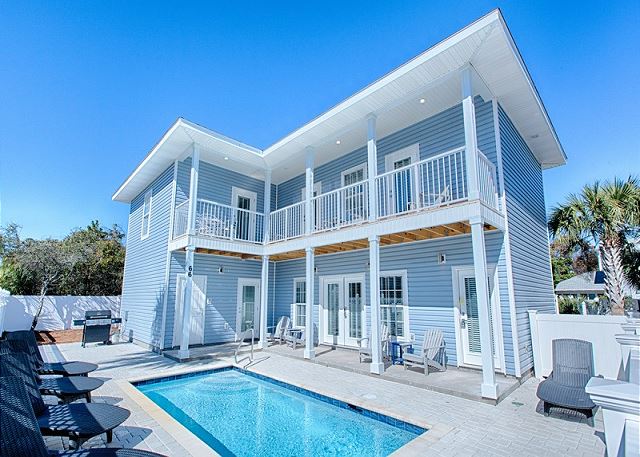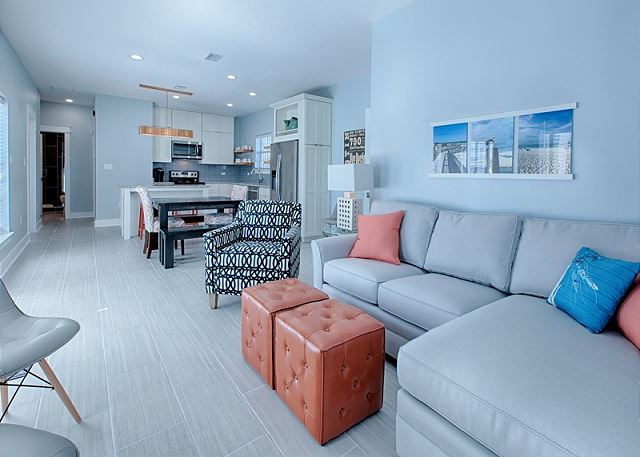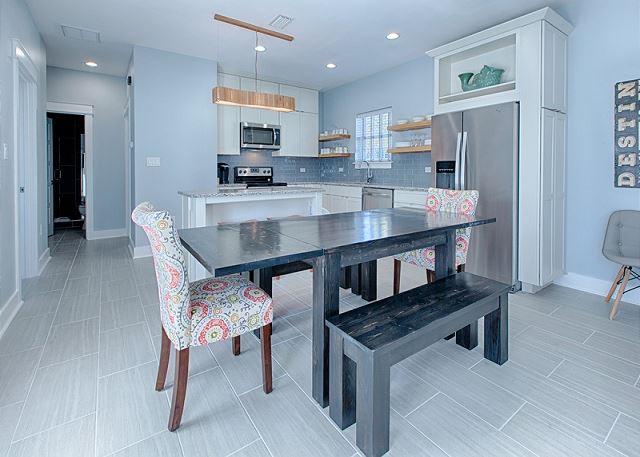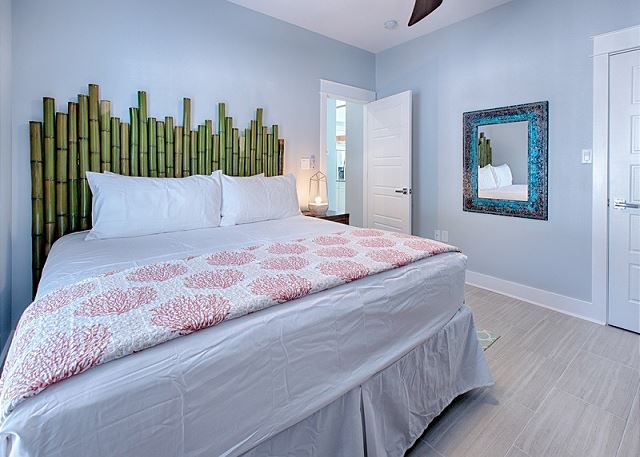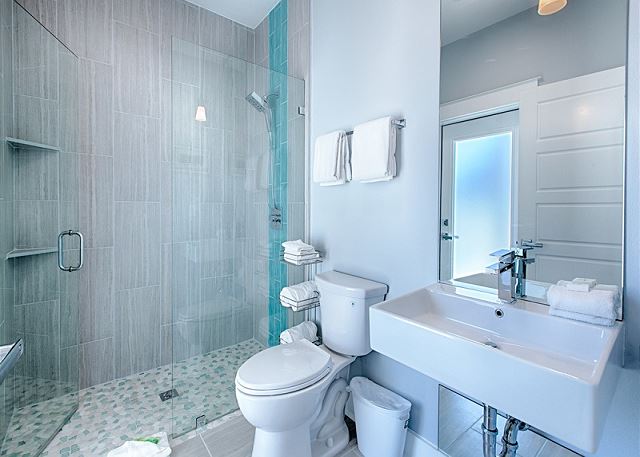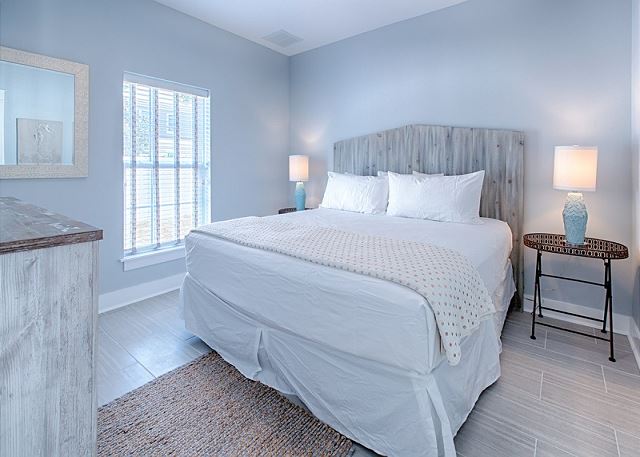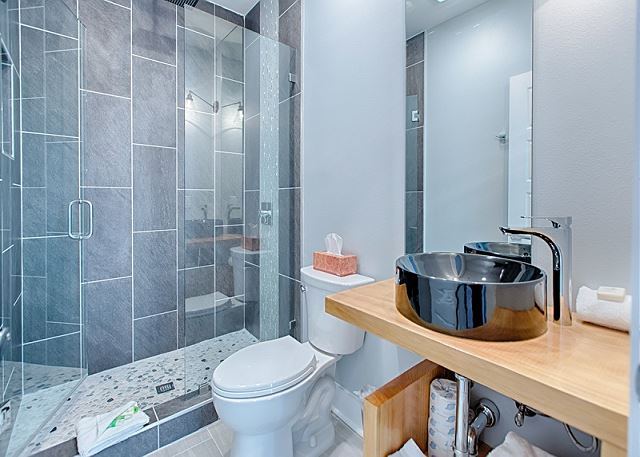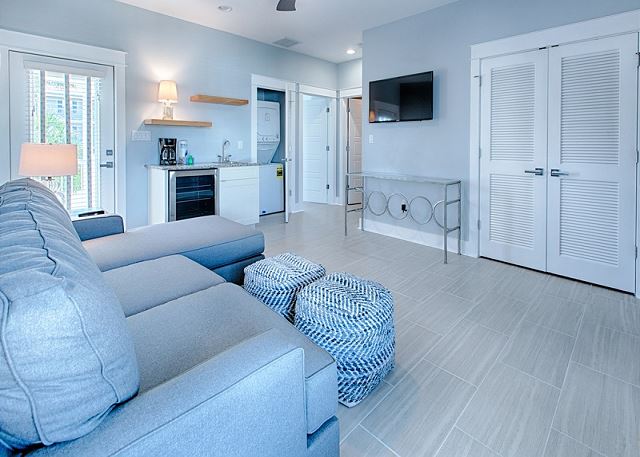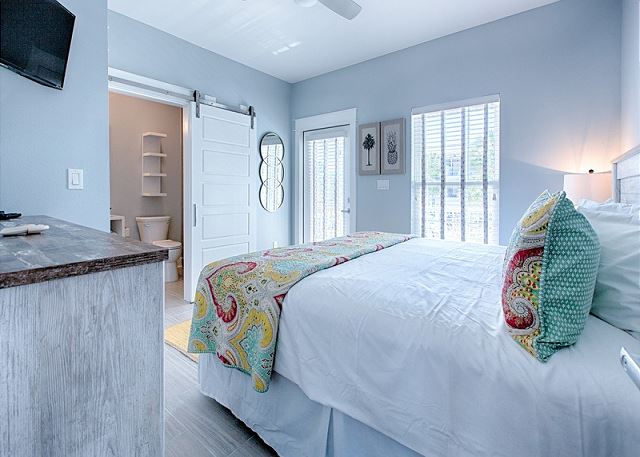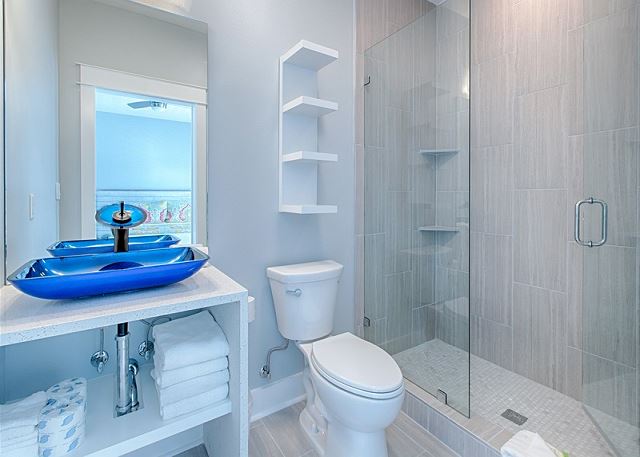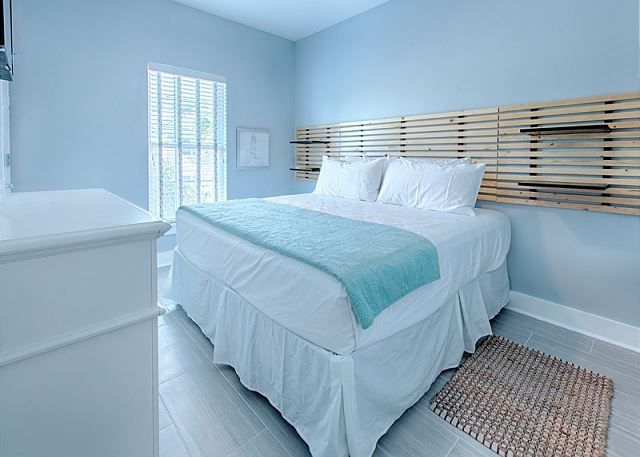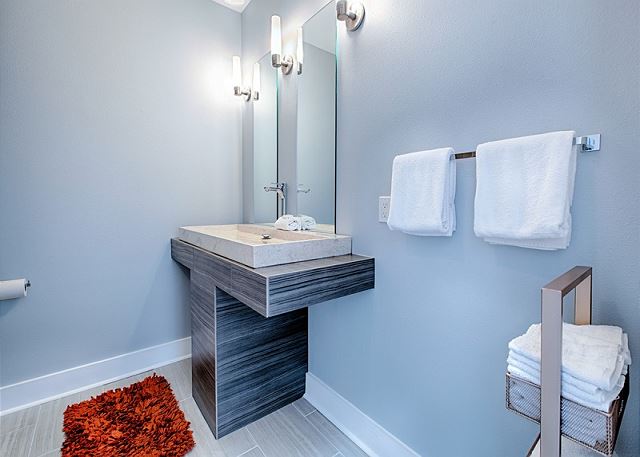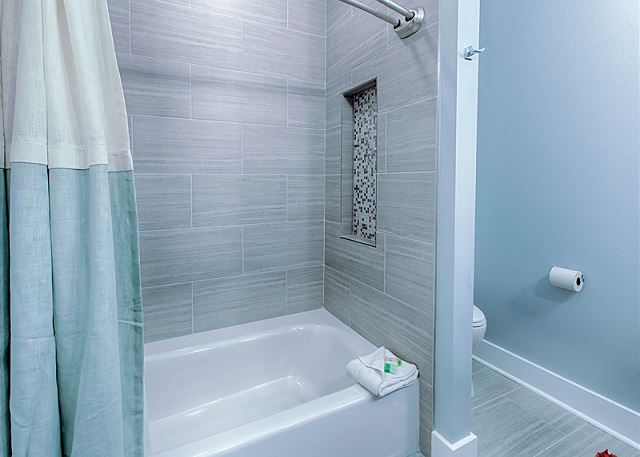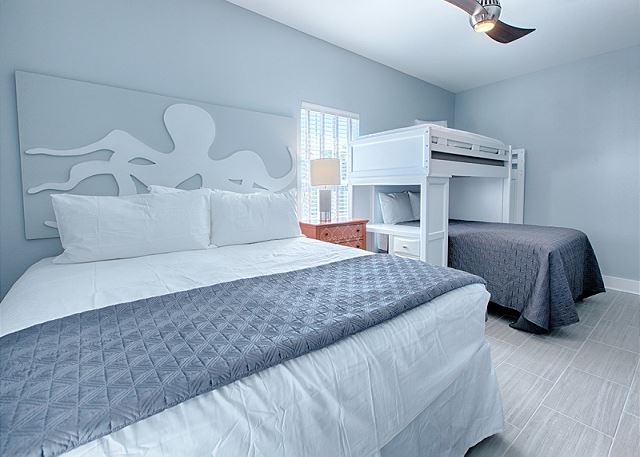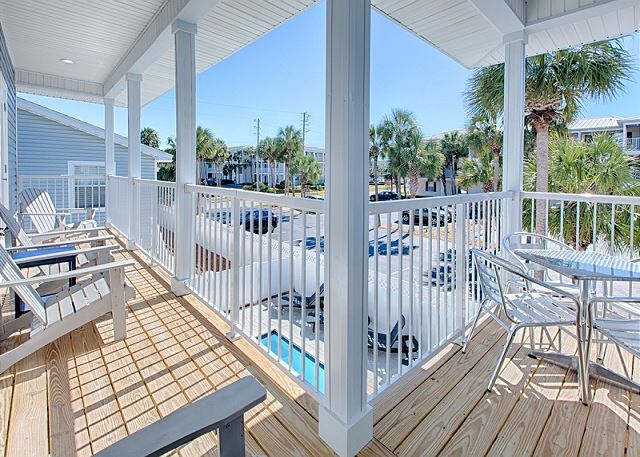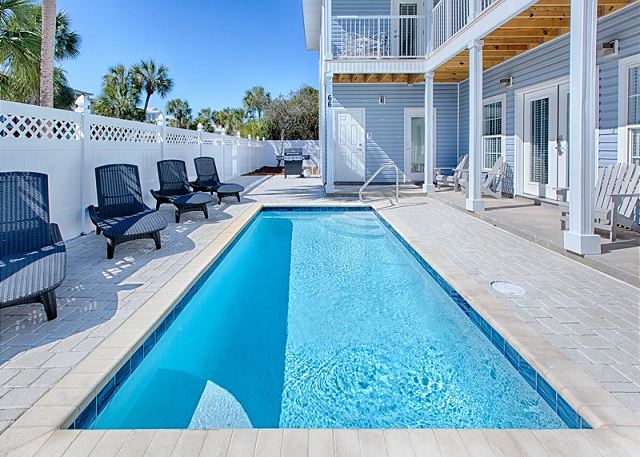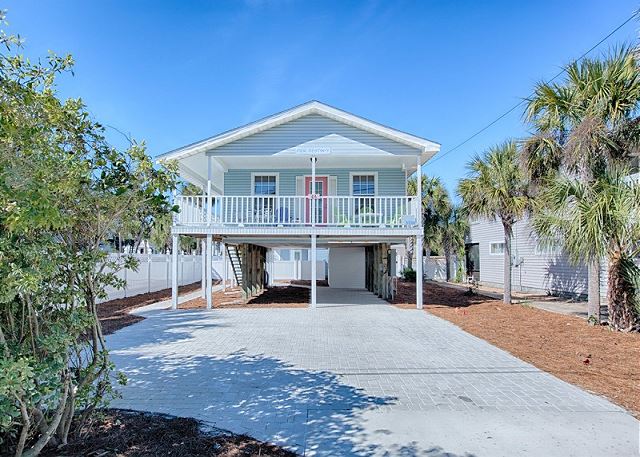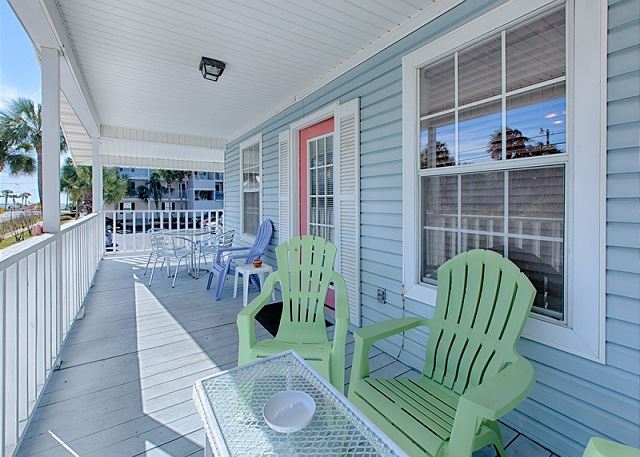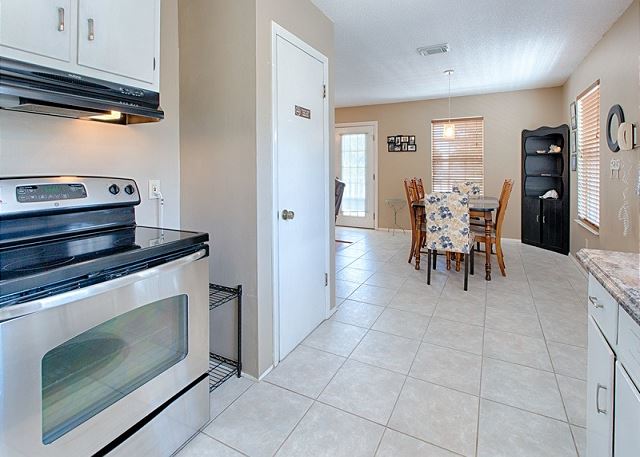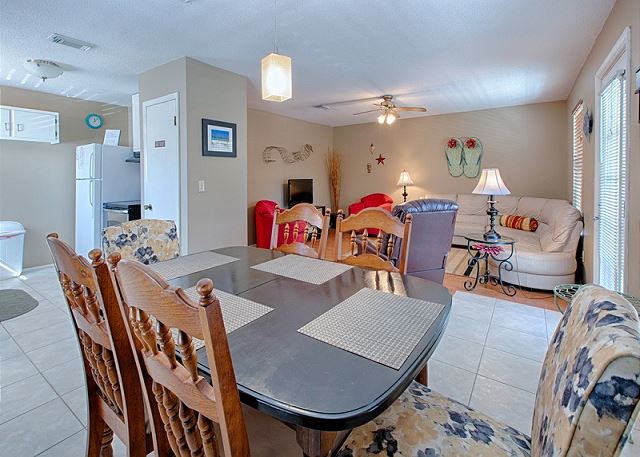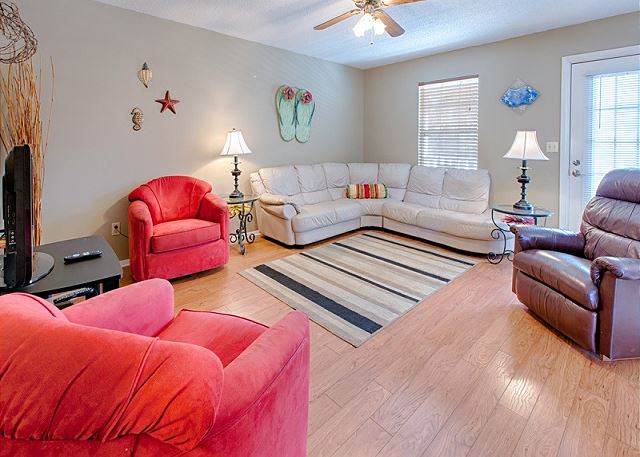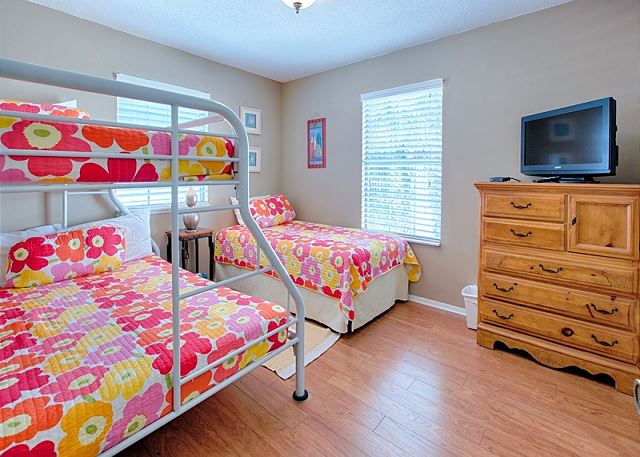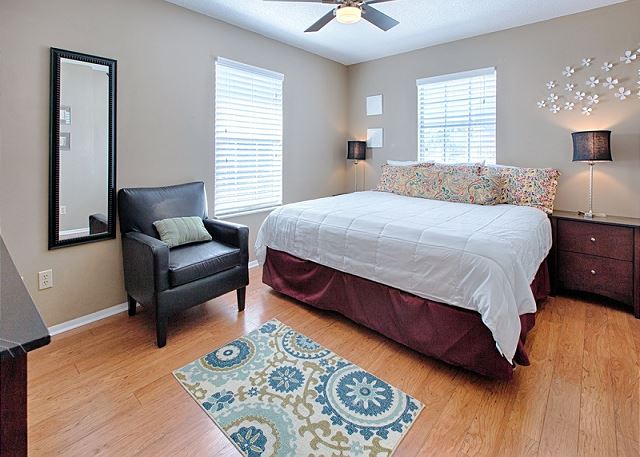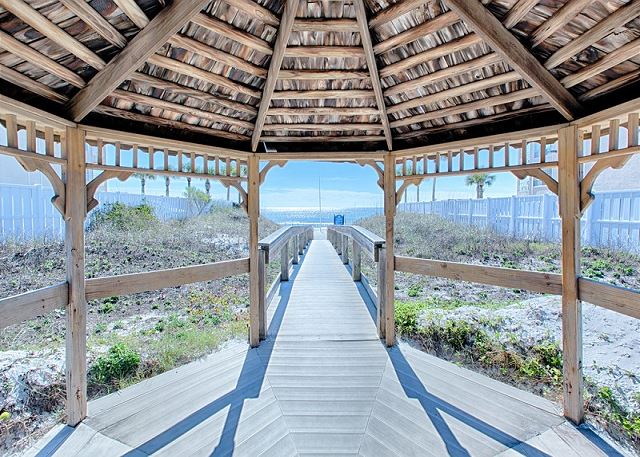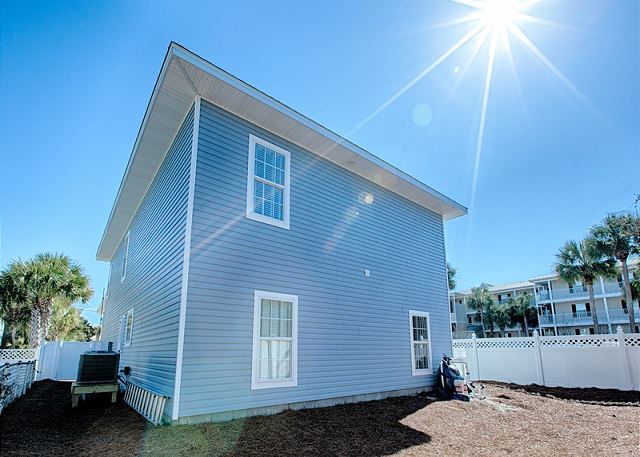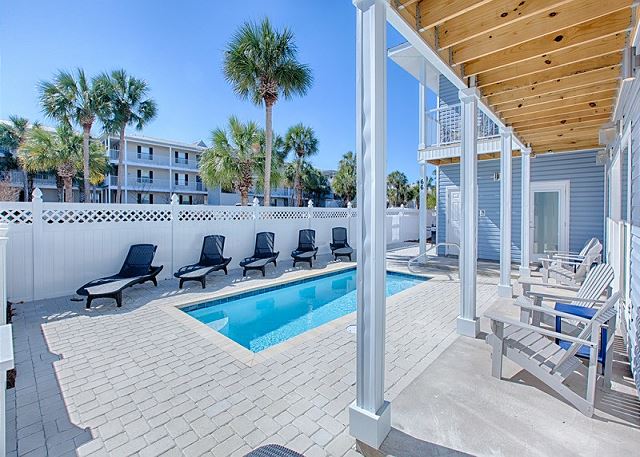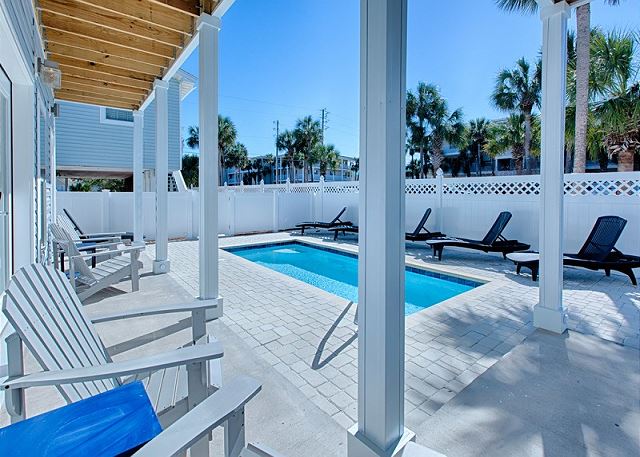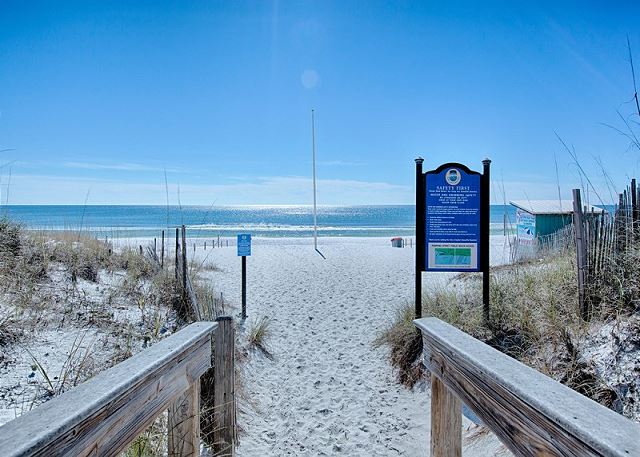 Mere steps from the beach in the gorgeous community of Crystal Beach is the perfect combination of old Florida and modern luxuries. This 5-bedroom, 4-bath Brand New Construction and 2-bedroom, 1-bath vintage "front house" comes with a private pool and large yard area perfect for pets. Renting as a pair, you can easily fit the entire family in this combination that sleeps 19… Fido can come, too!

The brand new home has an open-concept floor plan with large kitchen, living and dining area on the first floor. The kitchen area is garnished with granite countertops, stainless steel appliances and a breakfast bar perfect for accommodating overflow when the extendable dining table, complete with benches, gets a little too crowded.

The first floor hosts 2 bedrooms, both equipped with flat-screen TVs and king-size beds – a total of 6 kings in both homes! The custom bamboo and "seahorse" headboards are a tasteful touch. The first floor master bath has a zero-entrance shower with split showerhead handle, perfect for washing off the little ones right off the pool. The second downstairs bath hosts a corresponding spa-like walk-in shower with rainhead showerhead – truly relaxing!

Upstairs a second living room with a sectional sofa, flat-screen TV and wet bar area is the ideal spot for a relaxing movie night.

The third upstairs bedroom hosts a king-size bed, flat-screen TV with an en-suite bathroom done in bright, tasteful touches.

The fourth bedroom is decorated in coastal neutrals that dress up the king-size bed and large flat-screen TV nicely. This bedroom shares a shower/tub combination bathroom where the details truly make all the difference, including a beautiful double-trough marble sink and custom T-shaped vanity with tile accents.

The fifth bedroom hosts a king-size bed and loft-style, stair-access bunk set, a full bed on bottom and twin on top. The custom-designed octopus headboard is truly unique and a favorite with kids.

From the upstairs balcony with multiple access points, you can check out the private pool and patio below.

On the front vintage house, you have a direct view of the gulf from the balcony. The open-concept kitchen/living/dining area maximizes the space available, with a dining table that seats 6 and a new sectional sofa and chair as well.

The first bright, cheery bedroom hosts a twin bed as well as a full-size bed with a bunk-style twin bed and flat-screen TV. The second bedroom has yet another king bed and flat-screen TV.

The custom details of these homes are awe inspiring and truly make the difference. You'll want to return again and again!
Sleeping Arrangements:
6 King Beds | 2 Double Beds | 3 Twin Beds | 2 Sets of Bunk Beds
| Begin Date | End Date | Minimum Nights |
| --- | --- | --- |
| 2017-08-19 | 2017-09-03 | 3 |
| 2017-09-04 | 2017-09-29 | 3 |
| 2017-09-30 | 2017-10-20 | 3 |
| 2017-10-21 | 2017-11-03 | 3 |
| 2017-11-04 | 2017-11-17 | 3 |
| 2017-11-18 | 2017-11-25 | 3 |
| 2017-11-26 | 2017-12-28 | 3 |
| 2017-12-29 | 2018-01-01 | 3 |
| 2018-01-02 | 2018-03-09 | 3 |
| 2018-03-10 | 2018-03-23 | 7 |
| 2018-03-24 | 2018-04-06 | 7 |
| 2018-04-07 | 2018-05-18 | 5 |
| 2018-05-19 | 2018-06-01 | 3 |
| 2018-06-02 | 2018-06-22 | 7 |
| 2018-06-23 | 2018-06-29 | 7 |
| 2018-06-30 | 2018-07-06 | 7 |
| 2018-07-07 | 2018-07-27 | 7 |
| 2018-07-28 | 2018-08-03 | 7 |
| 2018-08-04 | 2018-08-17 | 3 |
| 2018-08-18 | 2018-09-03 | 3 |
Long Term Renters Welcome

Minimum Age Limit for Renters
Thank you for entering your review. The review will become available to the system shortly.
Amazing!
Rating:
Review Date: 08/15/2017
Modern home beautifully decorated and steps away from the beach!
July 2017 Destin Fl Reunion Visit
Rating:
Review Date: 07/31/2017
Really enjoyed the comforts of this vacation house, a home away from home, very spacious and detailed. Located close by the beach a plus. The house decor was awesome, clean and very neat. The size of the home was above my expectations. The outdoor pool was a plus for my family, not to mention the amenities and accessibility of beach and pool items were excellent. Notably, the guess house provided great additional living space. Overall, the house was excellent and I would stay there again and would recommend it to others. Lastly, the house was located centrally to restaurants, stores, etc.
Manager Response: 08/08/2017
Response from My Vacation Haven
Thanks for staying with us, Jacqueline! We are so glad you enjoyed your stay and would be honored to host your future trips to the area!
66 Pompano
Rating:
Review Date: 06/21/2017
Our stay in this property was fantastic. The house is new, clean and had everything we needed. The beds are wonderful! The pool was great for non-beach days. And the location was perfect, very close to the beach, restaurants and shops! Hope to stay again next year!
Manager Response: 06/21/2017
Response from My Vacation Haven
Thanks, Cindy! We are so glad you enjoyed your stay and would be honored to host your future trips to the area! Come back to see us soon!
Absolutely Wonderful!!!
Rating:
Review Date: 06/11/2017
The property is absolutely beautiful! You can park your car and walk a short distance to beach or you can jump into the pool for a quick dip! King size bed was very comfortable. Beautifully​ decorated and furnished! An Oasis away from home! Can\'t wait to return!
Beautiful updated Spacious Home Across from Crystal Beach
Rating:
Review Date: 05/24/2017
Beautiful Spacious Home. Updated with beautiful decor and everything you will need for your stay.
Manager Response: 05/25/2017
Response from My Vacation Haven
Thank you, Jeremy! We are so glad you enjoyed your stay and would be honored to host your future visits to Destin!
Can't Wait To Go Back
Rating:
Review Date: 03/16/2017
Have been down to Destin four or five times and have stayed in one of the two houses that are separated only by the pool. Together the two have 7 bedrooms and sleep up to 19. Every one of the group can independently or collectively enjoy the Destin experience with a short one block walk to the white sand beach. What a place for an extended family or group of friends. Flying down in June. Can't wait!
Pier Destin-Y Is the Place
Rating:
Review Date: 03/03/2017
great property, excellent location with a short walk to the beach - simple words can't describe - needs to be experienced would go back again tomorrow!
We would love to host you again, soon!
Simply incredible!
Rating:
Review Date: 03/03/2017
We went down to Destin for my daughter's 27th birthday week and Pier Destin-Y was a Godsend! So close to the water and with an unbeatable price. Having two houses on-site was ideal since the younger members of the group, who tended to stay up later, stayed in the newer second house while my husband, myself, and a couple of our friends stayed in the front house. The interiors were gorgeous! Very chic style made it feel very ritzy but for far less than the giant hotels would've charged for the same. Extremely clean and tidy which is a big priority for me. I can easily say we will be looking for any excuse to come and visit again!
Destin-Y is the destination.
Rating:
Review Date: 03/03/2017
Great location. Short walk to beautiful beach. Walking distance to many restaurants and shops. The accommodations were top notch. We will go back.
Dream vacation
Rating:
Review Date: 03/02/2017
The most beautiful destination paired with an amazing place to stay. Absolutely relaxing to walk to the beach and have easy access to anywhere in town. Highly recommend this to anyone wanting a place to relieve stress and get away.
Thank you for your wonderful feedback! We are so glad you enjoyed your stay and look forward to hosting you in the future!
Your request has been sent. We look forward to meeting all your vacation needs!