Leeward II #3 in Seagrove- 1BR+Bunks 1BA - (6)
30A Vacation Rental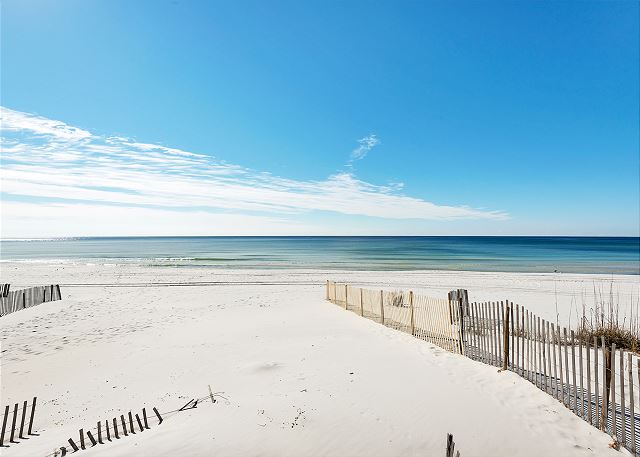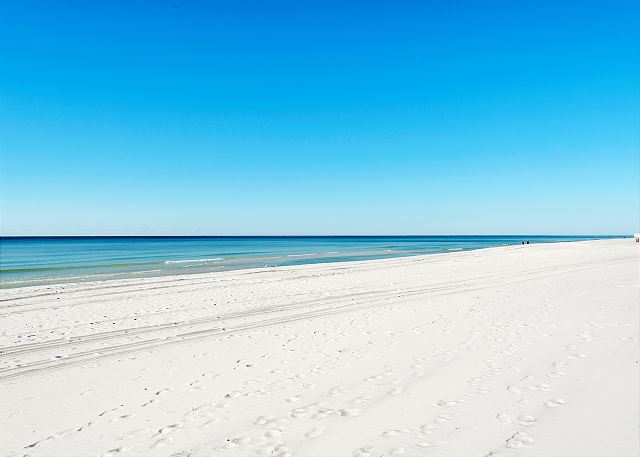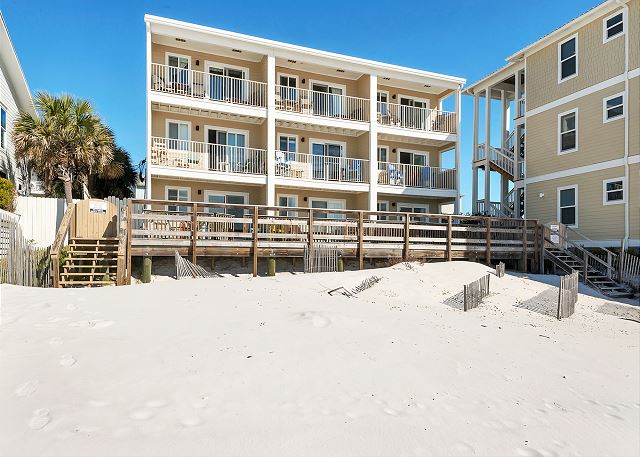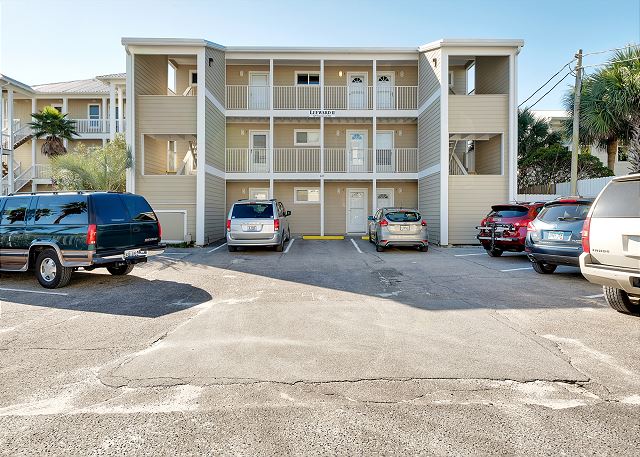 Sleeping Arrangements
1 Queen | 1 Twin Bunk Sets | 1 Sleeper Sofa
NEW hallway BUNK BEDS added in March 2015

Seagrove is one of most beautiful and beloved beach communities to dot scenic highway 30A. Unlike many of the planned communities, it has the vibe of a real, all American quintessential beach town. The best way to experience Seagrove is by staying in a quaint, cheery, beachfront low-rise one-bedroom condo like Leeward II, suite 3.

Located on the first floor, it is just steps from the sugar white sand beaches that have made South Walton famous. Take in beautiful sunrises and sunsets and barbecues on the convenient patio deck located directly on the Gulf.

This fun-loving, colorful condo has all the comforts of home and then some. The cheery kitchen is fully equipped and serves up a delicious beach view. Enjoy it with in the dining room or along with your morning coffee at the breakfast bar. A flat screen TV, CD and DVD player are sure to keep you entertained. But for the best performance by Mother Nature herself, simply slide open a window, the balcony doors or step out onto the spacious deck to hear the lulling sounds of the sea.

And for more delightful distractions, simply head out to 30A where the area's best food, boutique shopping, year-round outdoor events, outdoor recreation and family fun await.

My Vacation Haven Added Fun Discounts

My Vacation Haven has partnered with several local restaurants and merchants to offer you discounts on activities, dining and more during your stay. When you book with My Vacation Haven, you'll receive a host of free coupons for discounts on everything from bike rentals to beach portraits. So, book now and enjoy more!

An Incredible Beach Vacation is Awaiting Your Arrival.

Book online now or call!

My Vacation Haven. YOUR Vacation Spot!

Additional Rental Requirements

Must be 25 years of age or older (renter and guests) unless accompanied by guardian.

No Smoking. Violators will be fined $750.00.

No Pets. Violators will be charged a fine of $750. If a pet causes damage in a non-pet friendly property the Vacation Rental Damage Protection Plan is voided and you will be held responsible for the cost of any damage caused by a pet.

All information provided is deemed to be correct but is subject to change.
| Begin Date | End Date | Minimum Nights |
| --- | --- | --- |
| 2017-11-26 | 2017-12-28 | 3 |
| 2017-12-29 | 2018-01-01 | 3 |
| 2018-01-02 | 2018-03-09 | 3 |
| 2018-03-10 | 2018-03-23 | 3 |
| 2018-03-24 | 2018-04-06 | 3 |
| 2018-04-07 | 2018-05-18 | 3 |
| 2018-05-19 | 2018-06-01 | 3 |
| 2018-06-02 | 2018-06-22 | 3 |
| 2018-06-23 | 2018-06-29 | 3 |
| 2018-06-30 | 2018-07-06 | 7 |
| 2018-07-07 | 2018-07-27 | 3 |
| 2018-07-28 | 2018-08-03 | 3 |
| 2018-08-04 | 2018-08-17 | 3 |
| 2018-08-18 | 2018-09-03 | 3 |
| 2018-09-04 | 2018-09-28 | 3 |
| 2018-09-29 | 2018-10-19 | 3 |
| 2018-10-20 | 2018-11-02 | 3 |
| 2018-11-03 | 2018-11-16 | 3 |
| 2018-11-17 | 2018-11-24 | 3 |
| 2018-11-25 | 2018-12-26 | 3 |
Minimum Age Limit for Renters
Thank you for entering your review. The review will become available to the system shortly.
Perfect location
Rating:
Review Date: 09/07/2017
The best thing about this condo is the location. Only a few steps away from the beach! Great view, easy to find. The porch is nice and the water toys and beach chairs a huge plus! Awesome that they have hooks by back door to hang the beach towels and get cleaned up before entering the property after a day at the beach. Beds are comfortable and decorations are your typical fun Florida feel :). One thing I would suggest to the manager is to go through the pots and pans and replace with a better set. There are a lot of mismatched pots and tops and they are in poor condition/scratched. Plates, cups and silverware are in very good condition. The chairs outside are a bit rusty in some parts so be careful with your clothes/towels. The condo also has a few games and lots of kids movies to watch! Wifi and cable are good. AC works great. Overall, we are super glad we chose this place! :) Thank you!
Manager Response: 09/18/2017
Response from My Vacation Haven
Thank you for staying with us, Maria! We will absolutely check out our pots & pans & beach chairs. We are so glad you enjoyed your stay and would be honored to host your trips to the area in the future!
Fantastic location, comfortable accommodations
Rating:
Review Date: 08/16/2017
My husband and I celebrated our birthdays and a "babymoon" vacation over a long weekend in August. This property offered ideal beach access for me at 8 months pregnant and was perfectly comfortable for the two of us for the weekend. I appreciated that the unit included an assortment of beach chairs & access to water toys. The kitchen was reasonably appointed (though paper coffee filters would have been nice since we did not think to pack those!), and the bathroom was adequate - with soap, shampoo/conditioner, and body wash provided. My only complaint with our stay is that the Property Management Company refused to allow us to enter the unit 30 minutes early upon arrival: we pulled into the complex just as the cleaning crew was packing up & leaving, so we contacted the 'front desk' to ask if we could enter the property to (at the very least) put away our groceries. We were informed that this was prohibited because an inspector needed to come and check the unit after cleaning (this never happened) and that the front desk was unable to activate our access code remotely (which we learned was not true). We spent 30 minutes sitting in the breezeway - again, I'm 8 months pregnant - simply waiting for 3pm. There was never an inspection. We tried the access code provided upon check-in at 3pm and several minutes thereafter, and it didn't work. We spoke again to the front desk to notify that our code wasn't allowing us to access the unit even though it was now after 3pm, and she changed the code while we were on the phone with her and granted us access immediately. I really would have appreciated if she had allowed us to enter the property when the cleaning staff completed their turnover and felt her refusal to do so was extremely poor customer service - it was only 30 minutes, after all. Despite this extremely frustrating start to our vacation, we enjoyed this property and would consider staying here again.
Manager Response: 08/21/2017
Response from My Vacation Haven
Thank you for staying with us, Eleanor! We are honored that you chose our condo for your babymoon and that you enjoyed your stay otherwise. We are looking into your feedback (coffee filters are HUGE for us, too, as we are coffee drinkers!) and we will certainly be speaking to our housekeeping team regarding more interactive feedback. Unfortunately it is our front desk policy to not allow a guest within a unit until an inspection is logged, which can be handled virtually using our app. We hate that you had to wait to enter the unit and would love to exceed expectations should you choose to stay with us in the future. Congratulations and best of luck with your little one!
Great vacation!
Rating:
Review Date: 06/15/2017
My family stayed here for a week and we had a wonderful time. The condo was exactly as pictured and described. It was clean and well kept. Wonderful location - particularly with twin toddlers! The porch was great as well for any time we weren't on the beach - they could still play outside and we could enjoy the scenery.
Manager Response: 06/21/2017
Response from My Vacation Haven
Thanks, Allison! We are so glad you enjoyed your stay and would be honored to host your future trips to the area! Come back to see us soon!
Vacation
Rating:
Review Date: 05/13/2017
Great place to get away from everything! The decorations were a little bit too much!
Manager Response: 05/16/2017
Response from My Vacation Haven
Thanks, Jim! Our decorations are definitely lively- we're going for the cheerful Old Florida vibe we've grown to know and love here in Seagrove. We are so glad you enjoyed your stay! We would love to host your next beach escape, just give us a call!
Great!
Rating:
Review Date: 05/01/2017
Comfortable unit, great location
Manager Response: 05/02/2017
Response from My Vacation Haven
Thanks, Michael! We are so glad you enjoyed your stay and hope to see you again soon!
Perfect weekend getaway!
Rating:
Review Date: 04/19/2017
Perfect location, right on the beach... Can't ask for more than that!
Manager Response: 04/20/2017
Response from My Vacation Haven
Thanks, Kristen! We are so glad you enjoyed your stay and hope to see you again!
The little Hidden Treasure on the beach in Seagrove
Rating:
Review Date: 04/03/2017
This place was amazing! We decided last minute to come for Spring Break and this place was available for the exact dates we needed! Our whole crew did not come, unfortunately this place would not hold us all (5 kids) but it was perfect for myself and 4 of the kids! The deck was our favorite part.. Being able to walk straight onto the beach was perfection! I had 3 people message me about this place after seeing my pictures! We will definitely be back! Thank you!!
Manager Response: 04/06/2017
Response from My Vacation Haven
We are so glad you enjoyed your stay and hope to see you again soon!
Great Condo!
Rating:
Review Date: 08/11/2016
We loved staying at this condo. The location was perfect. The condo was super clean. Other than those two things the condo was perfect. We will be back!
excellent
Rating:
Review Date: 03/01/2016
Absolutely perfect for my family. Such a cute condo, loved the art. Very clean!!
Leeward II #3
Rating:
Review Date: 01/10/2016
We throughly enjoyed the location so close to the beach. I am familiar with this area, but had never stayed on Eastern Lake. We talked about wanting to come back to this same location and condo later in the year. It was perfect. We wanted a one bedroom place close to the beach and this was exactly what we wanted. We loved the restaurants in the area, especially Angelina's for seafood and tiramisu.
Perfect seaside location!
Rating:
Review Date: 09/08/2015
You can't get more beachfront than this condo. You step right off your deck onto the beach! It is a small place but was fine for only 2 of us. A family with 2 small kids would find this condo perfect as well. The keyless entry system was great - no fumbling around in your purse/beach bag for a key.Walking/biking trail made it easy to ride into Seagrove, Seaside, and all the other little towns. We rode up to the Donut Hut for breakfast and Cowgirl Kitchen for lunch. Parked right outside the condo every day with no problem. Overall a great stay.
Wonderful vacation!
Rating:
Review Date: 07/13/2015
The condo is in a perfect location right on the beach. The water and beach is amazing. We definitely recommend the condo and the location!
Your request has been sent. We look forward to meeting all your vacation needs!