Beachwalk Villa 5193 (G) - 2BR 2.5BA - (6)
Sandestin / Miramar Beach Vacation Rental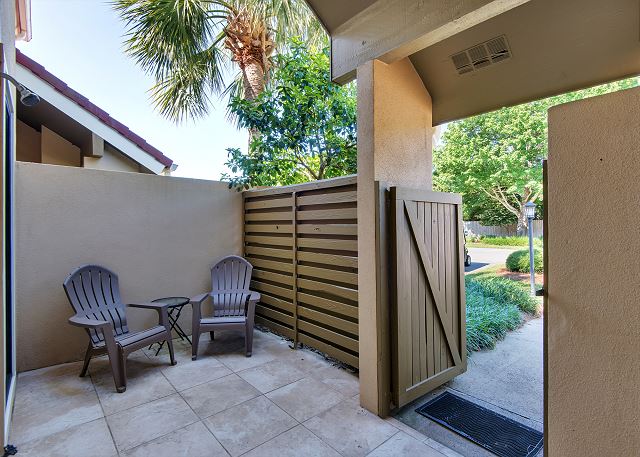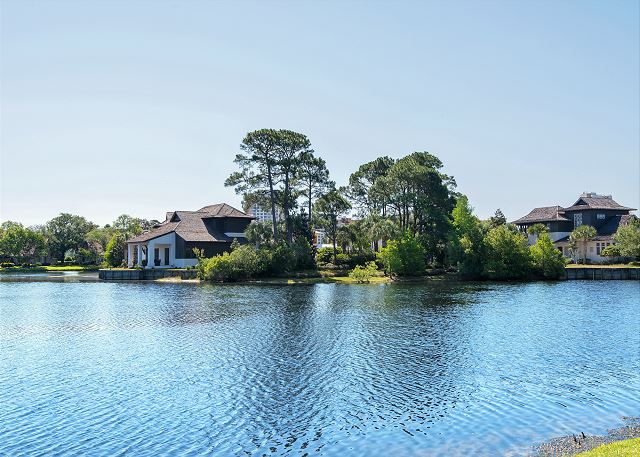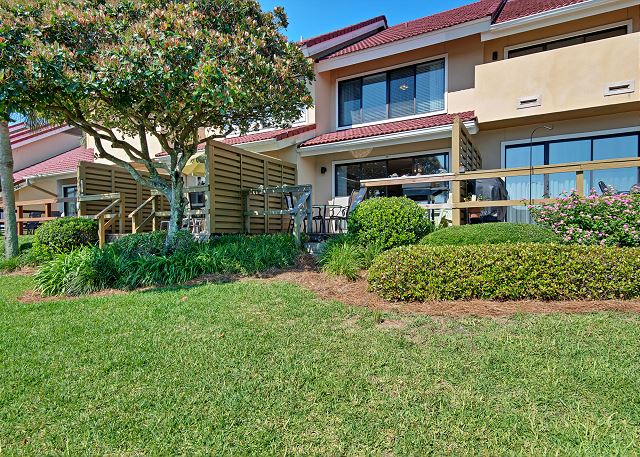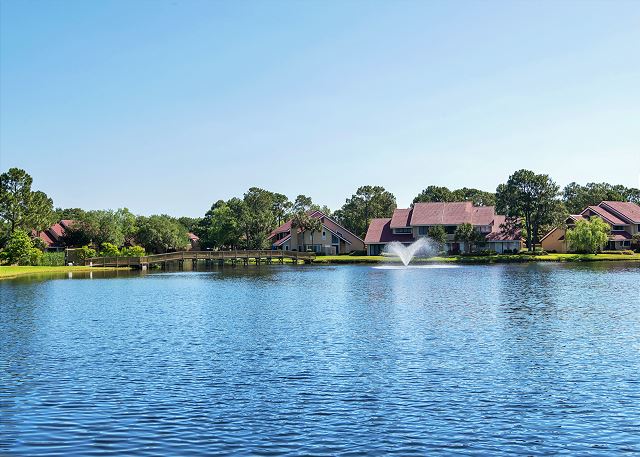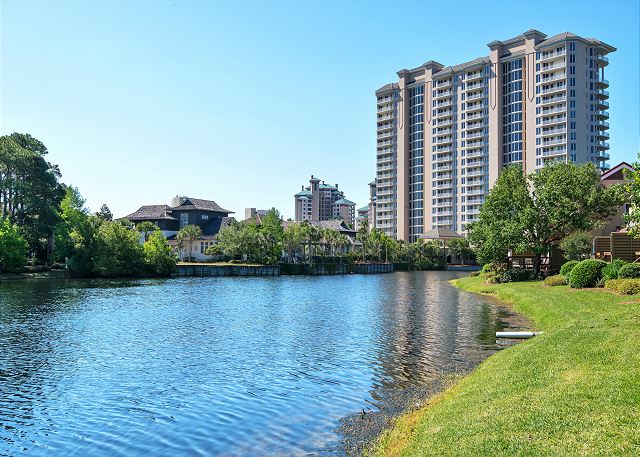 Sleeping Arrangements
This newly renovated lakefront townhome is tucked away on the Beachside of the popular Sandestin® Golf and Beach Resort. Take in the abundant views of the natural lake and test your angler's luck with a cast as you walk the lakeside path and bridge. From the property, the views continue to offer lakeside relaxation at its best from the private patio which overlooks the lake and the picturesque landscape.



Ready for charming? Let's step outside to the private and yes, truly charming outdoor space which is ideal for watching the fish bite while you sip coffee and plan your day. (Beach, pool or shopping? Tough decision!) The fully-equipped kitchen sparkles with stainless steel appliances, beautiful natural stone countertops and plenty of storage. As your guests sit down for a quick lunch or hangout for a lingering dinner on the patio, both the breakfast bar area and separate dining area will offer additional comfort for all.



Airy and spacious, this 2-bedroom and 2 ½- bathroom townhome sleeps up to six guests and offers clean and simple yet elegant décor throughout the bedroom spaces. The master suite offers the ultimate in comfort with a king bed and very well appointed private, en suite bathroom complete with double sinks and separate shower and tub. The guest suite offers two full beds and access to the second full bathroom. After an exhausting day of beach reading and wave watching, you're sure to welcome the sleeping comforts of this vacation property!

Guests can take advantage of Beachwalk Villas' nearby access to the beautiful Gulf beaches. This comfortable villa with beautiful views is an easy choice; deciding on a day at the beach, an afternoon overlooking the lake, or an evening dining and dancing in Baytowne may be a little more challenging!



Complete your vacation experience with additional amenities unique to Beachwalk Villas, like a an updated community pool, at-door villa parking, picturesque views of Horsehorse Lake, walking distance to the beach and the newly overhauled Market Shops Boutiques and Eateries.



Beachwalk Villas are located on the shores of Horseshoe Lake and on the beach side of the Sandestin® Golf and Beach Resort. Beachwalk Villas are two-story villas that have private patios overlooking the lake.



Parking available in front of the villas, beautifully landscaped pool area and fishing right out your back door. You can enjoy the wildlife from your living room sofa. Conveniently located next to The Market Shops and approximately a 5-minute walk to the Gulf beaches.



My Vacation Haven Added Fun

As a My Vacation Haven guest you will have access to Complimentary Beach Chairs, Umbrella, Boogie Board & Sand Toys (stored in the vacation rental for your use).



My Vacation Haven has partnered with several local restaurants and merchants to offer you discounts on activities, dining and more during your stay. When you book with My Vacation Haven, you'll receive a host of free coupons for discounts on everything from bike rentals to beach portraits. So, book now and enjoy more!



An Incredible Beach Vacation is Awaiting Your Arrival.

Book online now or call!

My Vacation Haven. YOUR Vacation Spot!

Additional Rental Requirements

Must be 25 years of age or older (renter and guests) unless accompanied by guardian.

No Smoking. Violators will be fined $750.00.

No Pets. Violators will be charged a fine of $750. If a pet causes damage in a non-pet friendly property the Vacation Rental Damage Protection Plan is voided and you will be held responsible for the cost of any damage caused by a pet.



All information provided is deemed to be correct but is subject to change.
| Begin Date | End Date | Minimum Nights |
| --- | --- | --- |
| 2017-11-26 | 2017-12-28 | 3 |
| 2017-12-29 | 2018-01-01 | 3 |
| 2018-01-02 | 2018-03-09 | 3 |
| 2018-03-10 | 2018-03-23 | 3 |
| 2018-03-24 | 2018-04-06 | 3 |
| 2018-04-07 | 2018-05-18 | 3 |
| 2018-05-19 | 2018-06-01 | 3 |
| 2018-06-02 | 2018-06-22 | 3 |
| 2018-06-23 | 2018-06-29 | 3 |
| 2018-06-30 | 2018-07-06 | 7 |
| 2018-07-07 | 2018-07-27 | 3 |
| 2018-07-28 | 2018-08-03 | 3 |
| 2018-08-04 | 2018-08-17 | 3 |
| 2018-08-18 | 2018-09-03 | 3 |
| 2018-09-04 | 2018-09-28 | 3 |
| 2018-09-29 | 2018-10-19 | 3 |
| 2018-10-20 | 2018-11-02 | 3 |
| 2018-11-03 | 2018-11-16 | 3 |
| 2018-11-17 | 2018-11-24 | 3 |
| 2018-11-25 | 2018-12-26 | 3 |
Minimum Age Limit for Renters

Sandestin / Miramar Beach
Thank you for entering your review. The review will become available to the system shortly.
Beautiful, Comfortable, Convenient!
Rating:
Review Date: 08/05/2017
We were staying at a property NOT managed by My Vacation Haven (but booked on Home Away), and had an electrical fire. Went back on HomeAway and found this property nearby. No kidding, 90 minutes later (thanks Hunter @ MVH!) I was in this beautiful property! The golf cart is a must have for those trips to the beach and late night tips to Baytowne! Faces east, so great morning sun and you can enjoy the lake in the late afternoon. Will definitely stay here again!
Manager Response: 08/08/2017
Response from My Vacation Haven
Thank you for staying with us, Michael! We are so glad you enjoyed your stay and would be honored to host your future trips to the area!
DESTINATION....PERFECT!
Rating:
Review Date: 08/01/2017
Condo was very modern with granite and stainless steel appliances, large flatscreen TV and awesome view of the lake. Bedrooms were spacious and comfortable. I have stayed at Sandestin plenty of times, but not in these particular units. We all agreed that we will come back next year and stay at the same place if possible. The golf cart was definitely a necessity. It ran very well and stayed charged for quite a while. Very convenient for carry beach supplies, plus 3 women! lol Wonderful experience that was destination perfect!
Manager Response: 08/08/2017
Response from My Vacation Haven
Thank you for staying with us, Lisa! We are so glad you enjoyed your stay and would be honored to host your future trips to the area!
PERFECT
Rating:
Review Date: 07/28/2017
Condo was just as described. Clean and beautiful. The golf cart was so nice to have and convenient. The lake was beautiful to look at every morning sitting out on the deck watching the kids fish as we drank our morning coffee. Absolutely love this place.
Manager Response: 07/31/2017
Response from My Vacation Haven
Thanks, Gina we are so glad you enjoyed your stay. It was an honor to host you and we would be honored to host your future trips to the area!
Great place to stay
Rating:
Review Date: 05/21/2017
We loved everything about this condo except for the noisy neighbors! The location was convenient, it was clean and decorated nicely, and the golf cart made getting to the beach, Publix, and Baytowne Wharf a blast! We just happened to have the unfortunate timing of getting some renters (or perhaps an owner) next door who liked to play their music loudly out on their back deck. It could be easily heard inside our place all (and every) evening.
We had one maintenance issue with a sink draining slowly, but the property management company quickly dispatched a repairman to fix it.
Manager Response: 05/23/2017
Response from My Vacation Haven
Thank you, Mark! We are so sorry that you experienced those hiccups during your stay. We love to hear that our maintenance team responded quickly, but would love even more to prove to you that situations like this are not the norm. Come back to see us soon!
February, home away from home!
Rating:
Review Date: 03/03/2017
Our stay was exceptional. Enjoyed the scenery from the patio each morning, seeing the ducks, pelicans, blue heron.....the weather this year was warm and sunny! Our unit was very clean. Beautiful area for walking, close to the pool and the beach. Coming back next year.
Manager Response: 03/03/2017
Response from My Vacation Haven
Thank you for such an eloquent review of our condo and the surrounding areas! We are both honored to host you and excited to see you guys again next year! Safe travels home!
Thing missing
Rating:
Review Date: 04/13/2016
Could not change tv channels, no radio, hidden wash cloths but we found them, but all in all it was a very clean and nice place and we had a very nice time.From My Vacation Haven Team: Thank you for your feedback. Please keep in mind, that we do offer 24/7 customer help line for any issues that might occur during your stay
Beachwalk Villa 5193--Excellent Choice for our Family!
Rating:
Review Date: 07/28/2015
We just spent five nights here and we had a fantastic stay. The villa was in really great condition and was beautifully decorated and exceptionally clean. My husband, father, and son really enjoyed fishing out of the backyard as well! Our only wish is that this rental came with use of the golf cart! We would definitely book again here in the future!
Beachwalk Villa
Rating:
Review Date: 03/09/2015
This was our second month in a Beachwalk Villa condo, only a different one. This one was also nice, a home away from home. We enjoyed our stay and tried out more new restaurants. We also visited the movie theater a couple times on rainy days. The rental agency was very accommodating with any problems that arose. The accessible for walking in the resort is very nice with lots of different routes to take. The Beachwalk Villa area is quiet and the lake is lovely. Watching all the water fowl was most enjoyable. Having the gulf within walking distance was very nice and Bob found fishing there fun. We met lots of nice people. We will return.
Your request has been sent. We look forward to meeting all your vacation needs!