Beachside Two 4277 - flr7 - 1BR 1BA + Bonus Room - (6)
Sandestin / Miramar Beach Vacation Rental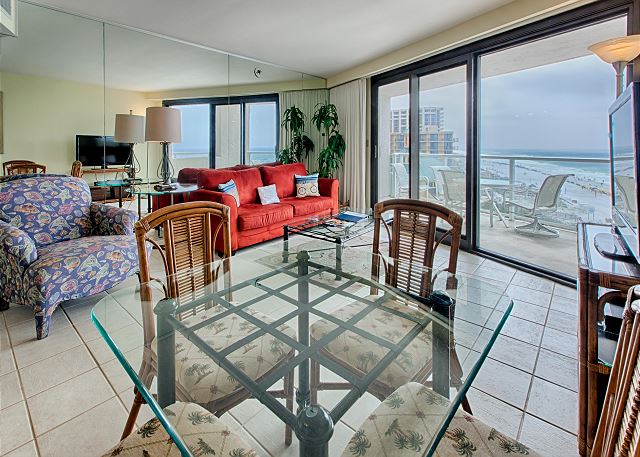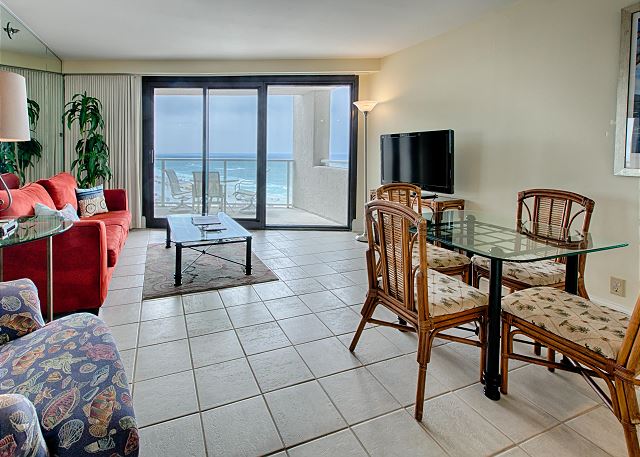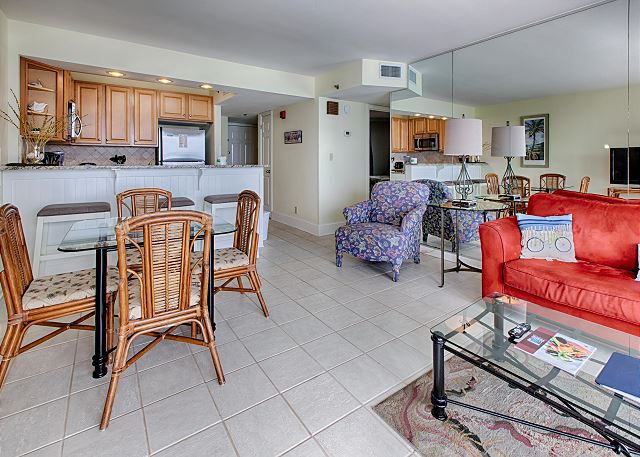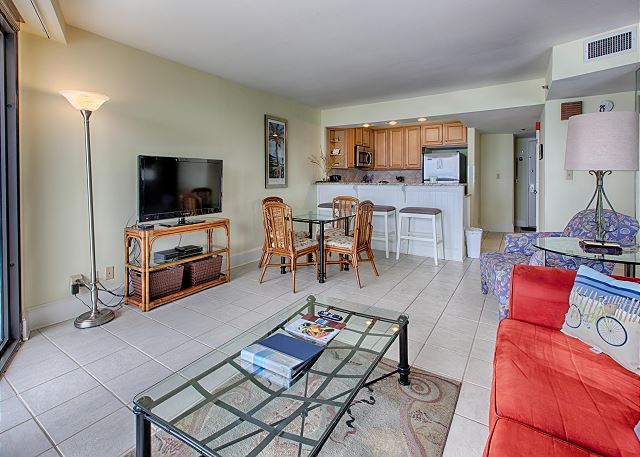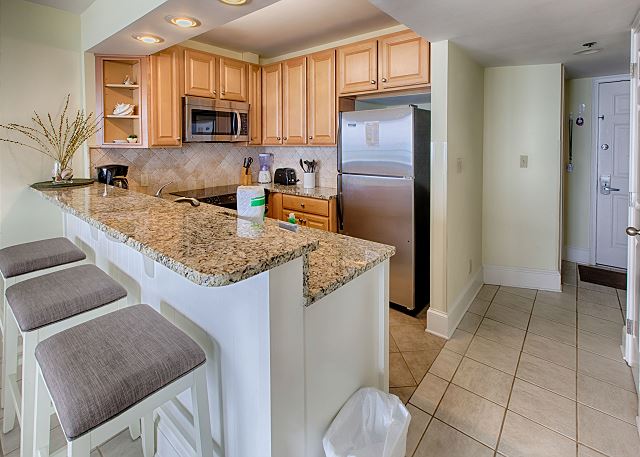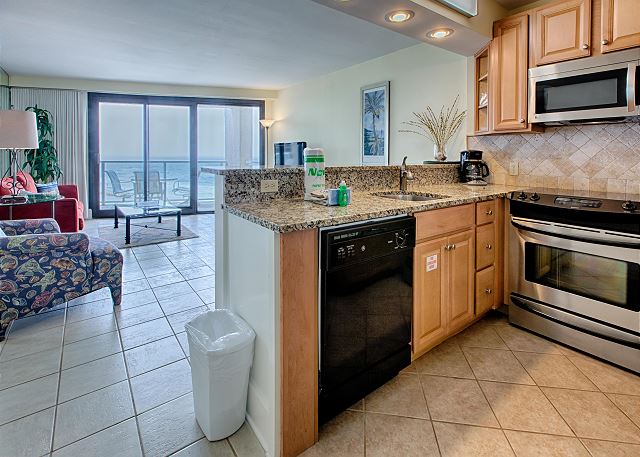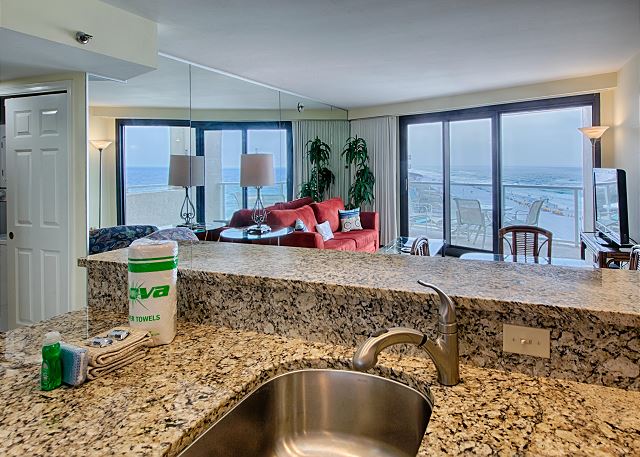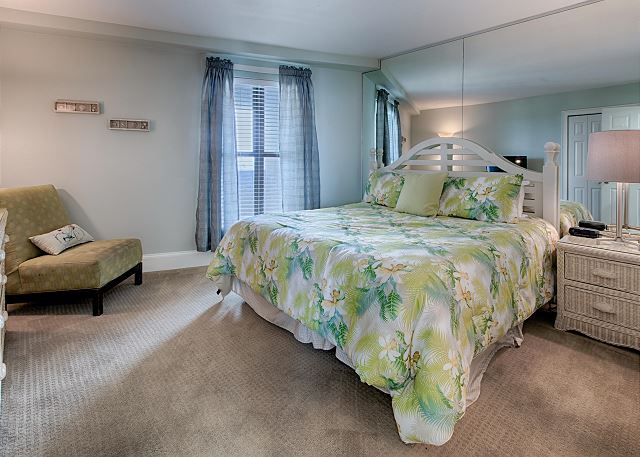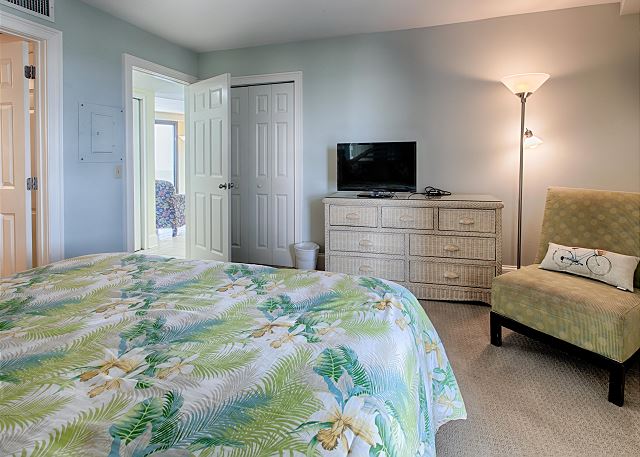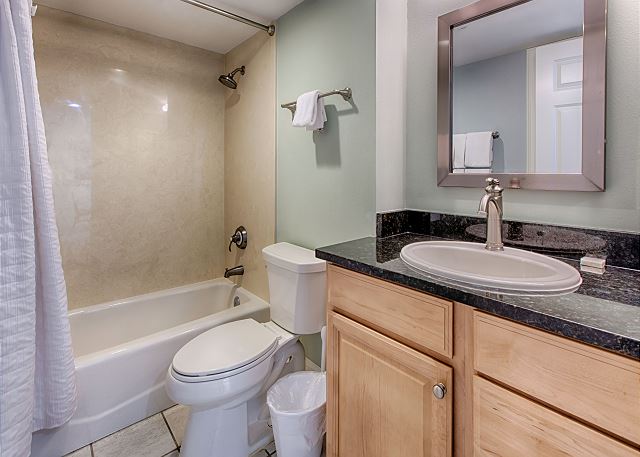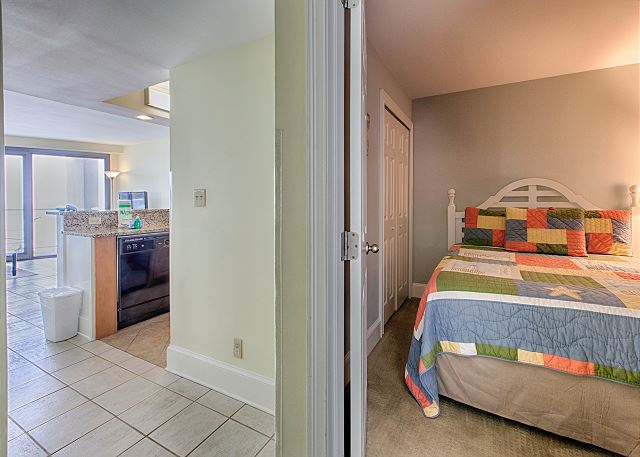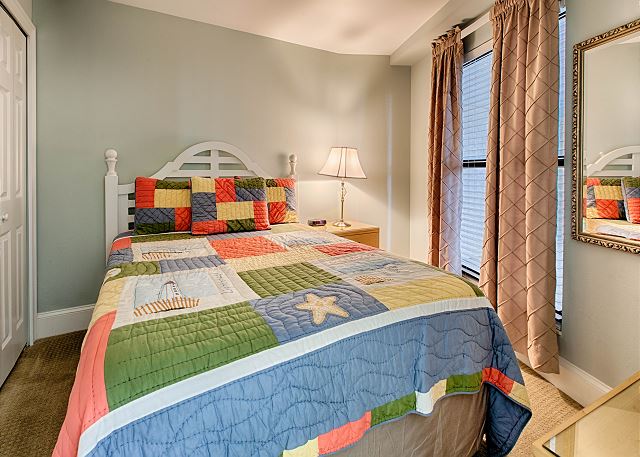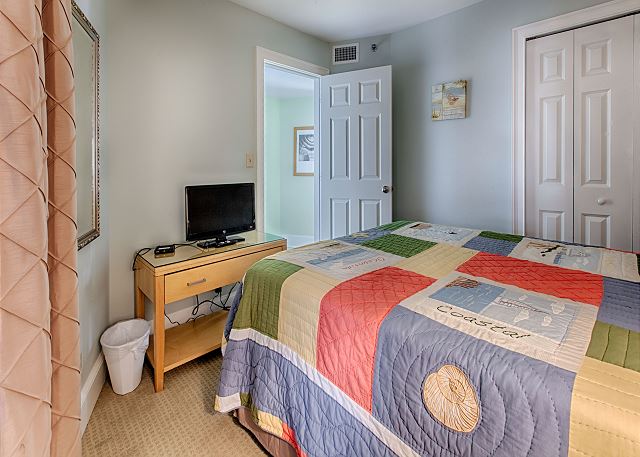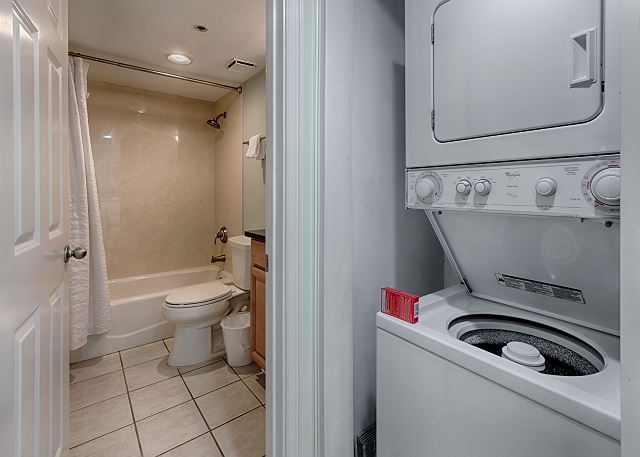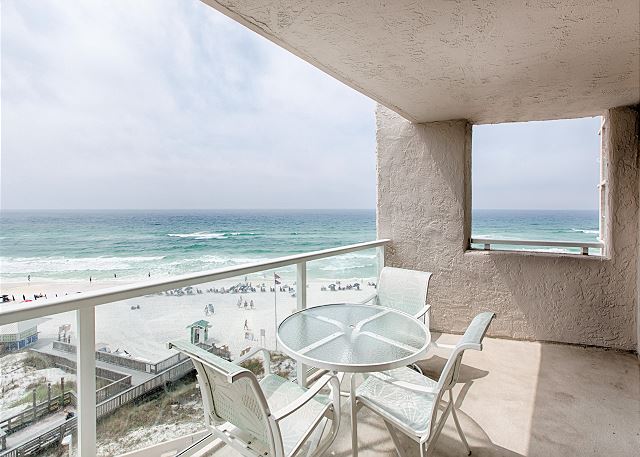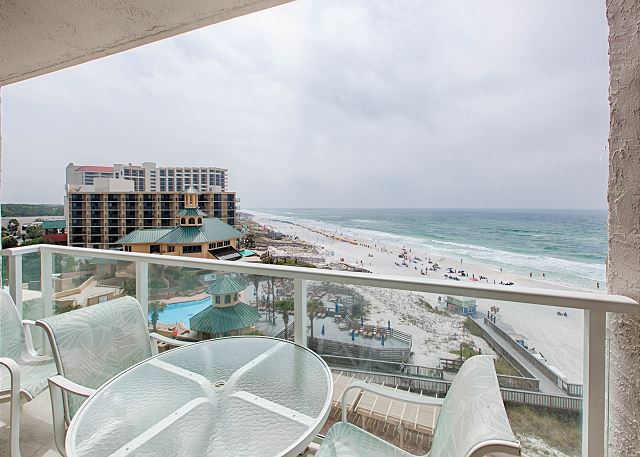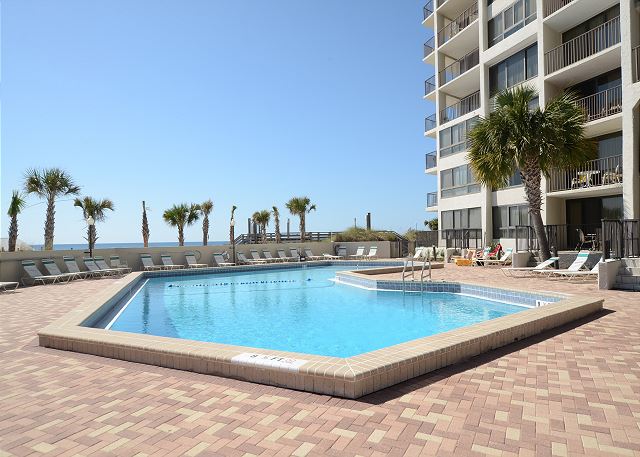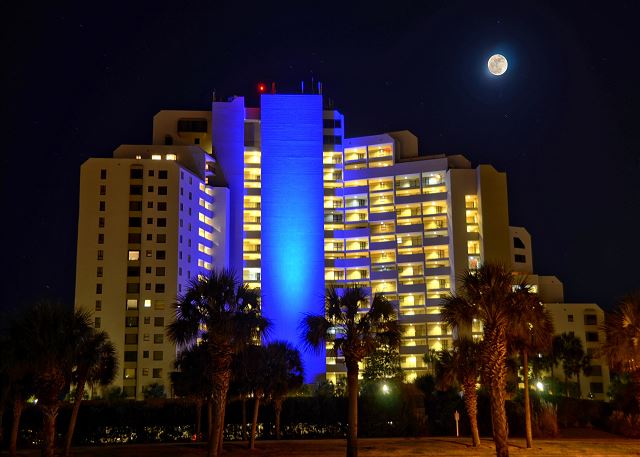 Sleeping Arrangements
1 King Bed | 1 Sofa Sleeper
This beautiful 7th floor 1 bedroom, 1 bathroom condo with will have enough space for whole family with an additional bonus room for sleeping.The condo was remodeled in 2012 to bring granite counters, and new furnishings to add to the beautiful view. The view can be seen from the living room, balcony, and the kitchen and it feels like you are right there on the beach with the view created with the mirrored wall in the living area.

The kitchen and bathrooms have been updated with sleek granite counters. The kitchen has been modernized also with stainless appliances so you can enjoy a wonderful seafood dinner after a day at the beach. To unwind before retiring to your nice king bed in the master suite, you can enjoy a movie on the large 40" flat screen TV in the living area.

Your guests will be able to relax with their own private space in the queen guest bedroom. The kids can enjoy the fun of the pullout sleeper sofa in the living area to catch a few zzzz's before waking up to hit the beach and pool again the next morning.

Beachside Two is located directly on the sugar-white sand of the Gulf of Mexico within the gated Sandestin® Golf and Beach Resort community. The multi-level condominium building is situated adjacent to the popular Elephant Walk Restaurant.

Spacious lobby, gated upper and covered parking area, gated beach access, three elevators, luggage carts, large heated pool, grilling area poolside, fitness equipment, community lounge, ice machine, trash chutes on every floor and complimentary wi-fi. During Peak Season guests are required to wear a provided pool bracelet to use the pool.



My Vacation Haven Added Fun

As a My Vacation Haven guest you will have access to Complimentary Beach Chairs, Umbrella, Boogie Board & Sand Toys (stored in the vacation rental for your use).



My Vacation Haven has partnered with several local restaurants and merchants to offer you discounts on activities, dining and more during your stay. When you book with My Vacation Haven, you'll receive a host of free coupons for discounts on everything from bike rentals to beach portraits. So, book now and enjoy more!



An Incredible Beach Vacation is Awaiting Your Arrival.

Book online now or call!

My Vacation Haven. YOUR Vacation Spot!

Additional Rental Requirements

Must be 25 years of age or older (renter and guests) unless accompanied by guardian.

No Smoking. Violators will be fined $750.00.

No Pets. Violators will be charged a fine of $750. If a pet causes damage in a non-pet friendly property the Vacation Rental Damage Protection Plan is voided and you will be held responsible for the cost of any damage caused by a pet.

All information provided is deemed to be correct but is subject to change.
| Begin Date | End Date | Minimum Nights |
| --- | --- | --- |
| 2017-08-05 | 2017-08-18 | 3 |
| 2017-08-19 | 2017-09-03 | 3 |
| 2017-09-04 | 2017-09-29 | 3 |
| 2017-09-30 | 2017-10-20 | 3 |
| 2017-10-21 | 2017-11-03 | 3 |
| 2017-11-04 | 2017-11-17 | 3 |
| 2017-11-18 | 2017-11-25 | 3 |
| 2017-11-26 | 2017-12-28 | 3 |
| 2017-12-29 | 2018-01-01 | 3 |
| 2018-01-02 | 2018-03-09 | 3 |
| 2018-03-10 | 2018-03-23 | 3 |
| 2018-03-24 | 2018-04-06 | 3 |
| 2018-04-07 | 2018-05-18 | 3 |
| 2018-05-19 | 2018-06-01 | 3 |
| 2018-06-02 | 2018-06-22 | 3 |
| 2018-06-23 | 2018-06-29 | 3 |
| 2018-06-30 | 2018-07-06 | 3 |
| 2018-07-07 | 2018-07-27 | 3 |
| 2018-07-28 | 2018-08-03 | 3 |
| 2018-08-04 | 2018-08-17 | 3 |
Minimum Age Limit for Renters

Sandestin / Miramar Beach
Thank you for entering your review. The review will become available to the system shortly.
4277 Rental Review
Rating:
Review Date: 08/08/2017
Great location, beautiful view, reasonable price for the time of year, the unit however never seemed to get cool, stayed very humid in the condo other than that it met our needs well.
Nice view
Rating:
Review Date: 06/19/2017
This unit is nice but it needs some serious air freshener. Not sure if it needs a deep cleaning or if it's something in the air conditioning. It just had a real unpleasant smell as soon as you walked in the door. I bought some air freshener and it helped a little. I did call the office and informed them as well as letting the cleaning lady know when we left.
Manager Response: 06/21/2017
Response from My Vacation Haven
Thanks, Roslyn! We are so sorry to hear that you experienced this while visiting our home! We assure you that this is not the norm and would love to prove this to you. Give us a call if you're considering vacationing in the area again... we guarantee there will be no "smelly" issues in the future!
Anniversary Getaway
Rating:
Review Date: 06/06/2017
Although listed as a 1 bedroom, this unit actually has a separate 2nd bedroom with a full-size bed and is equipped with a TV (total of 3 TVs in the unit. Nice sized balcony with a terrific view of the beach, the property's pool area, and great location for viewing the beachside fireworks display. Nice sized kitchen, stocked with all the dishware, pots-n-pans, and silverware you'll need, although the large frying pan has seen better days. The bathroom is smaller than some other Beachside II units we've stayed in, and made even smaller by its two entrance doors - one from the hallway and one from the master bedroom - that couldn't be both opened at the same time or they would be banging into each other. The banging door issue was also found in the master bedroom where the closet door had to be closed in order to open the bedroom door. The hide-a-bed couch was uncomfortable to sit in; the seat cushions were soft and "squealed" when sat on/on. Having said that, we'd probably stay in the unit again.
Manager Response: 06/06/2017
Response from My Vacation Haven
Thanks, Pete! We are so glad you enjoyed your stay in our condo and appreciated the additional bedroom we provide free of charge! Your review is very honest and depicts the size of our condo with an understanding you can only have with firsthand experience. We love our condo and spending our long days on the beach just below! We would love to host you in the future!
Great stay, even better than the pictures
Rating:
Review Date: 06/05/2017
My wife and I were very happy with our stay in this unit. The view is amazing from the balcony, everything was very clean and well stocked with extra amenities. The convenience of the location, everything from beach access to proximity to Destin and the Seaside area (one of our favorite spots) made dining out and shopping hassle free. The only "complaint" if any is that the living room couch is on its last leg, very worn out and not comfortable. Other than this, we loved everything about it and would definitely come back.
Manager Response: 06/05/2017
Response from My Vacation Haven
Thanks, Tae! We are so glad you enjoyed your visit and would be honored to host your future trips to our area!
Your request has been sent. We look forward to meeting all your vacation needs!