Bahia 4107 - flr1 - Studio - (4)
Sandestin / Miramar Beach Vacation Rental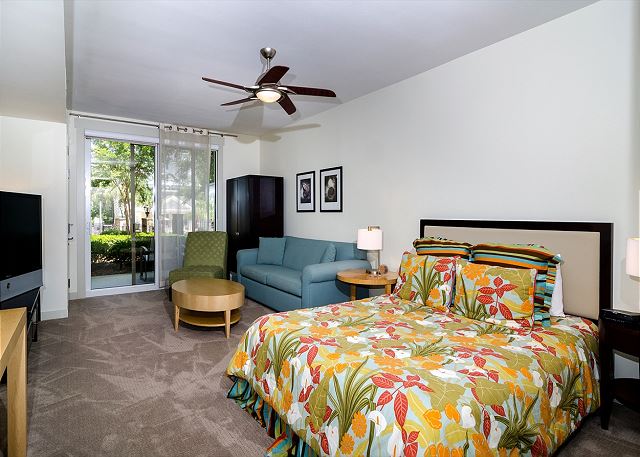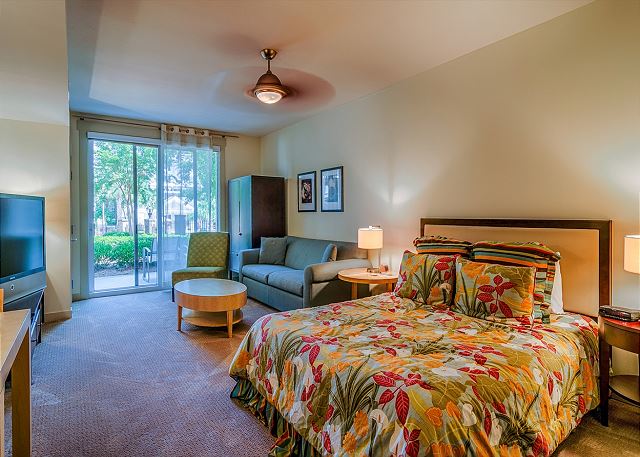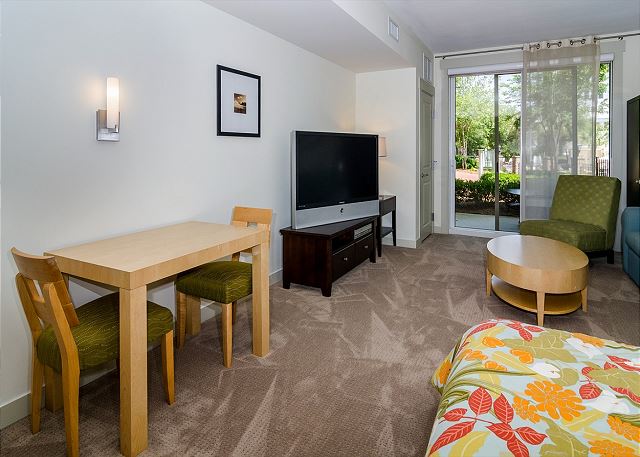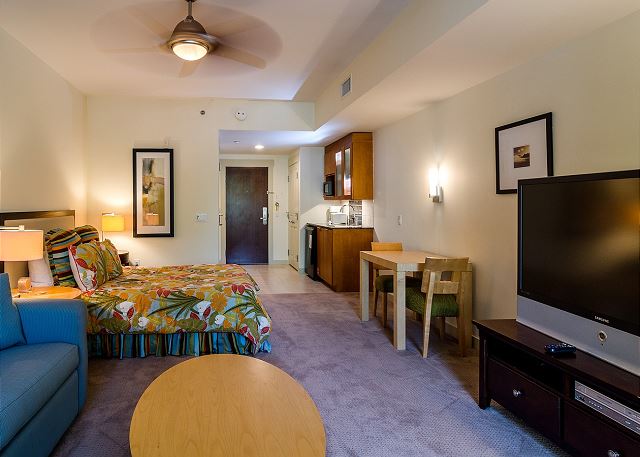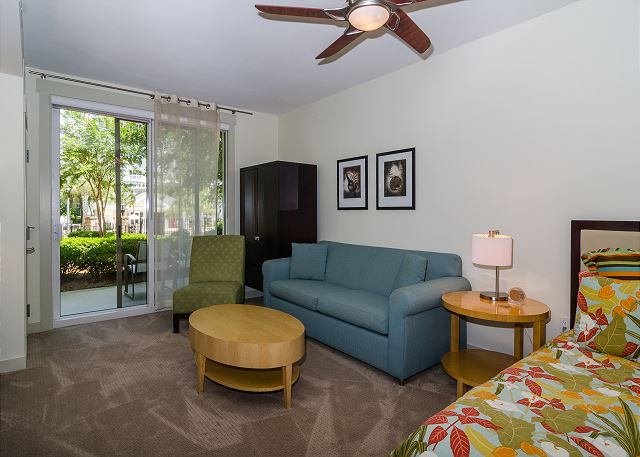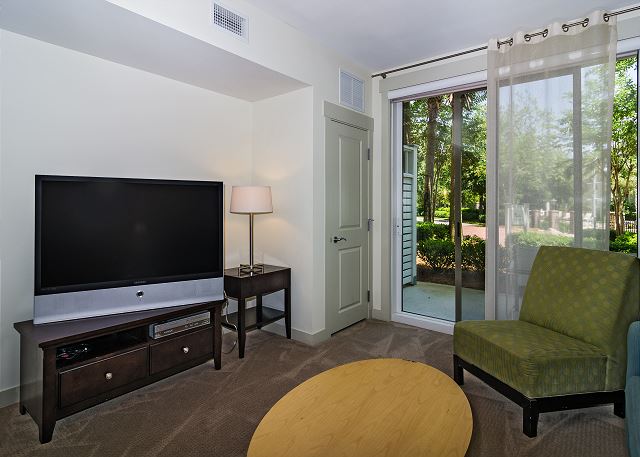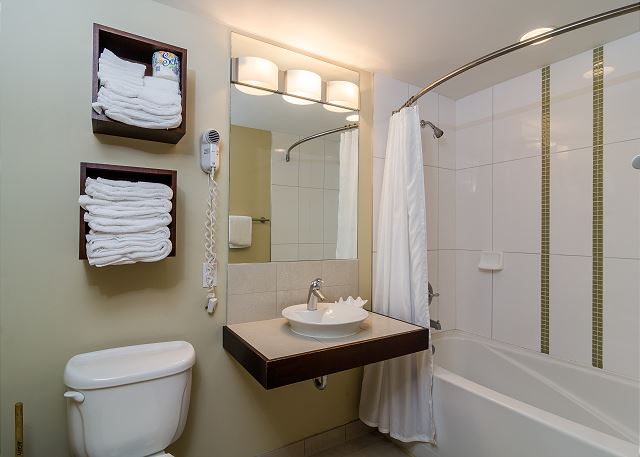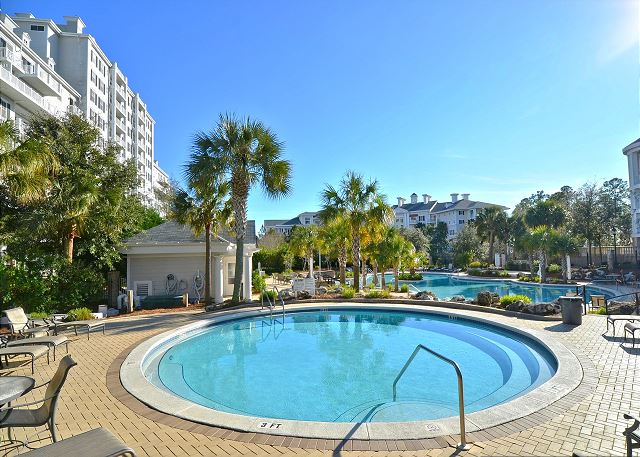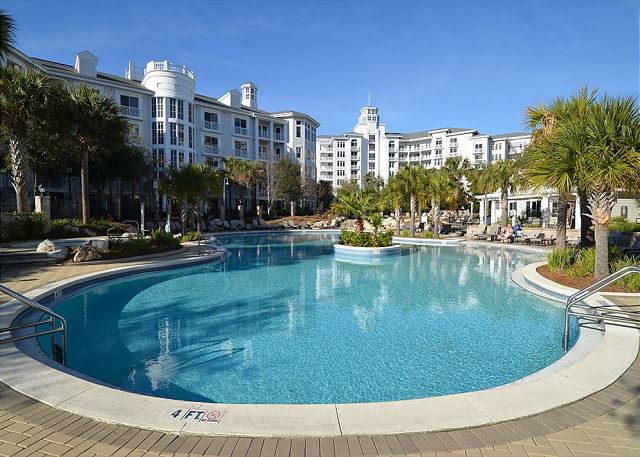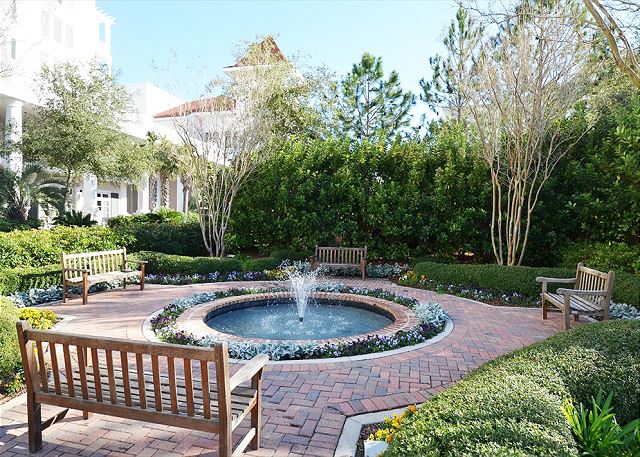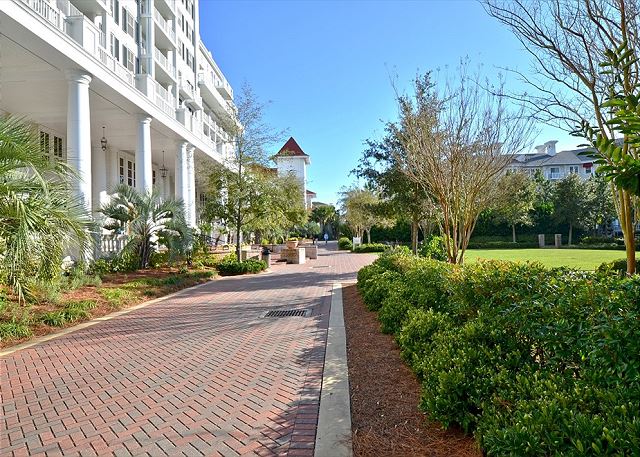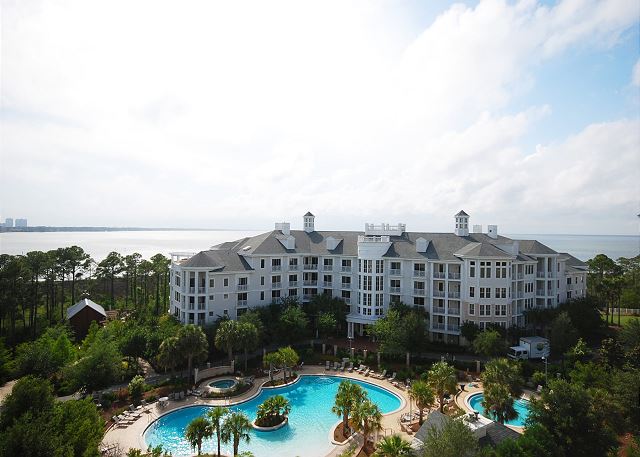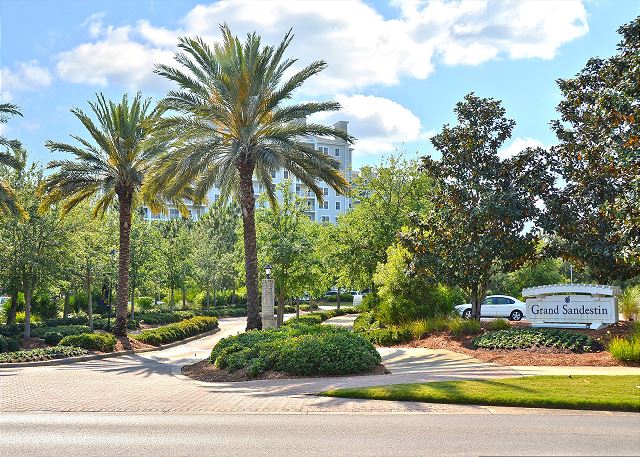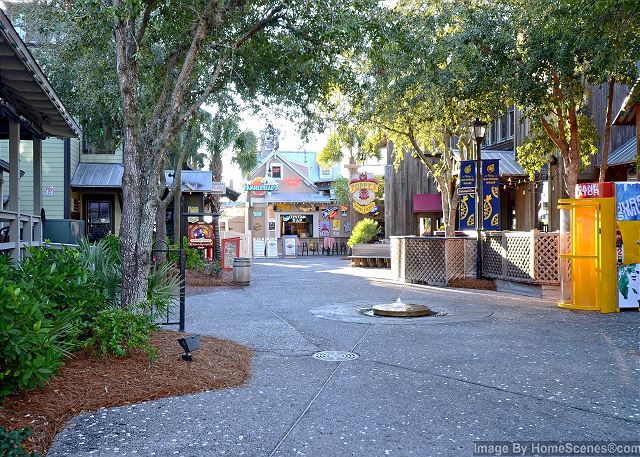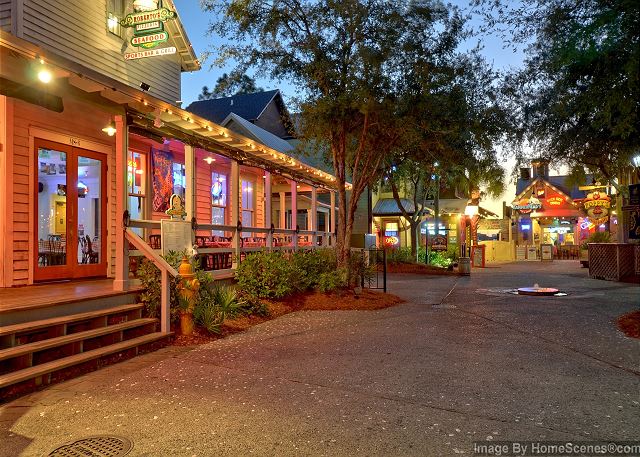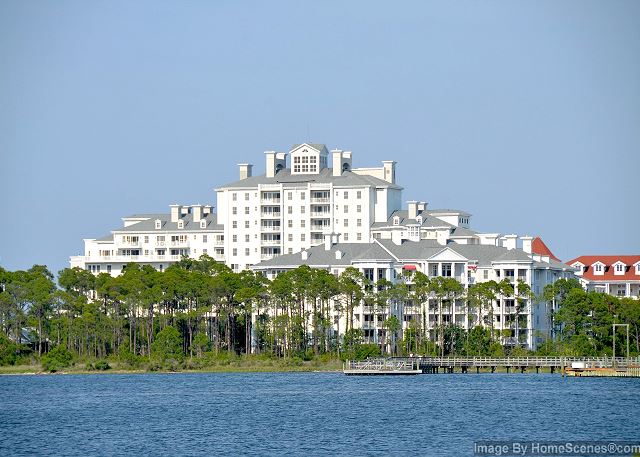 Sleeping Arrangements
1 Queen Bed | 1 Sofa Sleeper
This studio in The Village of Baytowne Wharf's elegant and contemporary Bahia accommodations is a great way to enjoy all the Village has to offer – dining, shopping, entertainment and more. The studio features a queen size bed as well as a sofa sleeper that sleeps two additional guests. The condo's sleek contemporary furniture and fixtures beautifully balanced with subtle tropical touches and soft colors invite guests to settle in for a relaxing and rejuvenating stay.

The convenient location of the studio only adds to the charms of this accommodation which has everything you need for a wonderful stay on the coast. The little extras such as a Nintendo Gamecube stored in the unit and the ground floor patio with easy access to and great views of the tropically landscaped pool area make this property an affordable, fun option for small families, couples or business travelers.

Bahia, one of the more recent additions to The Village of Baytowne Wharf community. It is located along the Choctawhatchee Bay near the Village's Elation, Lasata and Grand Sandestin properties and the resort's Baytowne Conference Center.

Just steps from the animated boutiques and eateries of Baytowne Wharf, Bahia offers its guests a luxurious private getaway with easy access to the best entertainment along the Gulf Coast. Bahia has 112 units and opened in 2005 and is built along the Choctawhatchee Bay.

Bahia features include gated underground parking, a lagoon-shaped pool with kid-friendly sloped entry, hot tub, children's pool, two elevators, ice machine and trash chute on each floor, use of fitness center at The Grand Sandestin, vending (soft drinks) pool side and laundry area on first floor. Please note there are no luggage carts provided for guest use.



My Vacation Haven Added Fun

As a My Vacation Haven guest you will have access to Complimentary Beach Chairs, Umbrella, Boogie Board & Sand Toys (stored in the vacation rental for your use).



My Vacation Haven has partnered with several local restaurants and merchants to offer you discounts on activities, dining and more during your stay. When you book with My Vacation Haven, you'll receive a host of free coupons for discounts on everything from bike rentals to beach portraits. So, book now and enjoy more!



An Incredible Beach Vacation is Awaiting Your Arrival.

Book online now or call!

My Vacation Haven. YOUR Vacation Spot!



Additional Rental Requirements

Must be 25 years of age or older (renter and guests) unless accompanied by guardian.

No Smoking. Violators will be fined $750.00.

No Pets.Violators will be charged a fine of $750. If a pet causes damage in a non-pet friendly property the Vacation Rental Damage Protection Plan is voided and you will be held responsible for the cost of any damage caused by a pet.

All information provided is deemed to be correct but is subject to change.
| Begin Date | End Date | Minimum Nights |
| --- | --- | --- |
| 2017-08-19 | 2017-09-03 | 2 |
| 2017-09-04 | 2017-09-29 | 2 |
| 2017-09-30 | 2017-10-20 | 3 |
| 2017-10-21 | 2017-11-03 | 2 |
| 2017-11-04 | 2017-11-17 | 2 |
| 2017-11-18 | 2017-11-25 | 2 |
| 2017-11-26 | 2017-12-28 | 2 |
| 2017-12-29 | 2018-01-01 | 2 |
| 2018-01-02 | 2018-03-09 | 2 |
| 2018-03-10 | 2018-03-23 | 3 |
| 2018-03-24 | 2018-04-06 | 3 |
| 2018-04-07 | 2018-05-18 | 2 |
| 2018-05-19 | 2018-06-01 | 3 |
| 2018-06-02 | 2018-06-22 | 3 |
| 2018-06-23 | 2018-06-29 | 3 |
| 2018-06-30 | 2018-07-06 | 3 |
| 2018-07-07 | 2018-07-27 | 3 |
| 2018-07-28 | 2018-08-03 | 3 |
| 2018-08-04 | 2018-08-17 | 2 |
| 2018-08-18 | 2018-09-03 | 2 |
Minimum Age Limit for Renters

Sandestin / Miramar Beach
Thank you for entering your review. The review will become available to the system shortly.
Our stay
Rating:
Review Date: 08/17/2017
Room needs some updating, especially the mattress. Bathroom Sink has hammerhead and ceiling fan has a short with fan light coming on intermittently on its own. Comforter and throw pillows need cleaning due to food and mud stains. We love the this place otherwise and would stay again. Just needs a little TLC from our past stays.
Great Location; Room Dated
Rating:
Review Date: 08/08/2017
Overall the stay was fine and the room acceptable. There are three topics that should be addressed that would have improved the lodging...
(1) The bed had no box-spring, was close to the floor, and my wife and I tended to roll to the center as the bed had a dip in the middle.
(2) The carpet was extremely stained. While it looked 'clean' there were stains everywhere and we wouldn't let the children play on the floor. We spent most time out of the room, but the carpet really needs to be cleaned.
(3) The projection TV took time to warm-up and we had to close the sliding door and blinds to see screen images properly. Being so large, we didn't want to move to face a different direction. I think a worthwhile investment.
Manager Response: 08/08/2017
Response from My Vacation Haven
Thank you for letting us know about these issues, Tristan! We will check out these problems and see if it's due time for an upgrade. We are so glad you enjoyed your stay otherwise and would be honored to host your future trips to the area to prove that an experience like this is not the norm! Come back to see us soon!
July Get Away
Rating:
Review Date: 07/05/2017
The room was very nice and clean. When we arrived, the room was very hot. The AC was not working. We immediately contacted the 24/7 maintenance number, and an AC tech cam within 2 hours to fix the AC. The manager kept us informed via text messages, which was perfect. 2 days later, the AC stopped working again. I texted the manager that previously texted me, but I did not receive a response. I called the 24/7 number and was told a manager would contact me. My family and I went to the beach and never received a call or text from anyone with updates. Luckily, when we returned to the room, the AC had been repaired, but it would have been nice to have been kept in the loop of what was happening. Besides AC issues and lack of communication, the room was nice and met our needs. The location of the property is perfect.
Manager Response: 07/18/2017
Response from My Vacation Haven
Thanks, Sharina! We are so glad you enjoyed your stay and would be honored to host your next trip to the area!
Over whelming
Rating:
Review Date: 06/28/2017
Manager Response: 07/18/2017
Response from My Vacation Haven
Thanks, Vernard! We are so glad you enjoyed your stay and would be honored to host your next trip to the area!
Good stay
Rating:
Review Date: 06/21/2017
Location is pleasant and convenient. Right outside of the pool. I used the app to locate the facility and access the pool. Unfortunately the pool code was incorrect and I did need to call someone. I believe her name was Maria. She was nice, professional and very helpful. On the app it said one of the items provided was laundry detergent. Which turns out wasn't provided and must have been an error. But Maria took care of us and had the cleaning crew drop a box off. The AC system was a bit loud but we are just happy there was ac. Which was nice. Plenty of bath towels for a family of three. The bedsheets were not the prettiest and made me feel like I was in a cheaper motel but was comfortable. Maybe invest in some prettier sheets? But that's just aesthetics
Manager Response: 07/17/2017
Response from My Vacation Haven
Thank you, Naly! We are so glad you enjoyed your stay and would be honored to host your future visits to the area!
Great Time
Rating:
Review Date: 05/02/2017
Great place to stay. Excellent location with numerous stores, restaurants, pubs, etc.
Had a great time.
Manager Response: 05/02/2017
Response from My Vacation Haven
Thanks, Arthur! We are so glad you enjoyed your stay and hope to see you again soon!
Best Customer Service
Rating:
Review Date: 09/10/2016
Best customer service of any rental company that I've dealt with (It's been many). They genuinely care that you have the best experience possible.
Nice getaway
Rating:
Review Date: 09/07/2016
We thoroughly enjoyed our trip to Sandestin during Labor Day weekend despite our car breaking down on our way down and us losing a night of our mini-vacay. The village of Baytowne Wharf quickly took our mind off our "losses" though. There was so much to do right outside our front door.... live music, good food and drinks, the arcade was perfect for the kids! Parking was crazy but overall, I loved this area.I would have given this experience a 5 but the bed in the room was extremely low and so uncomfortable. We slept on the sofa bed the entire stay, which was surprisingly comfortable. (Sofa/pillows on sofa need to be cleaned...(Stains and something yucky on the on the bottom right side of sofa).. Since our time was limited we didn't spend much time in the room though. Room was stocked with enough towels, dishes, and beach supplies (although we didn't make it because of the rain) to accommodate our stay. My overall experience with my vacation haven was awesome and I will book again through them. Everything was so easygoing and I absolutely love the app!!
Superb Location
Rating:
Review Date: 06/16/2015
The studio is located on the first floor of the Bahia with quick and easy access to the pool area (and it has a pool view as well)! It's also a quick walk to the Baytowne Wharf Village and Marina, so shops, restaurants, and water activities are just minutes away. The Sandestin resort has lots to offer for family or romantic getaways. My Vacation Haven keeps you informed of everything you need to know to make the best of your stay and they give you coupons for lots of local businesses. The facility also has garaged parking, so you don't have to worry about your vehicle while you're having fun in the sun. The bed is the only reason I'm not giving 5 stars. The mattress needs to be replaced. Other than that, I would highly recommend this location for your stay. We plan to stay here again for annual trip next year.
Great Time
Rating:
Review Date: 05/29/2015
We thoroughly enjoyed our stay at Sandestin Bahia 4107. Everything in the room was as advertised and the location was great.
Your request has been sent. We look forward to meeting all your vacation needs!