3441 Scenic Hwy 98 'Summer Sun' | Destin Luxury Rentals
Destin Vacation Rental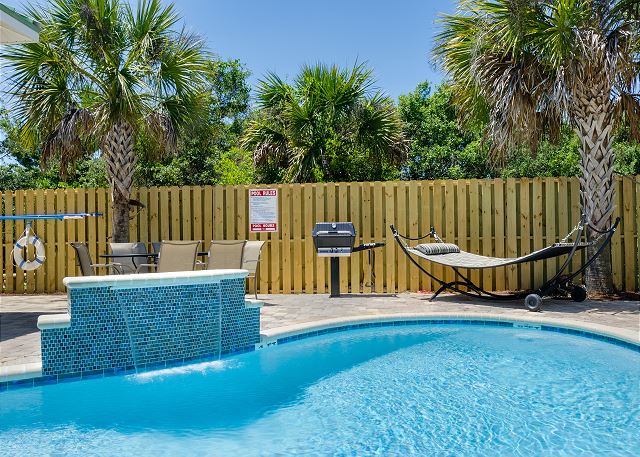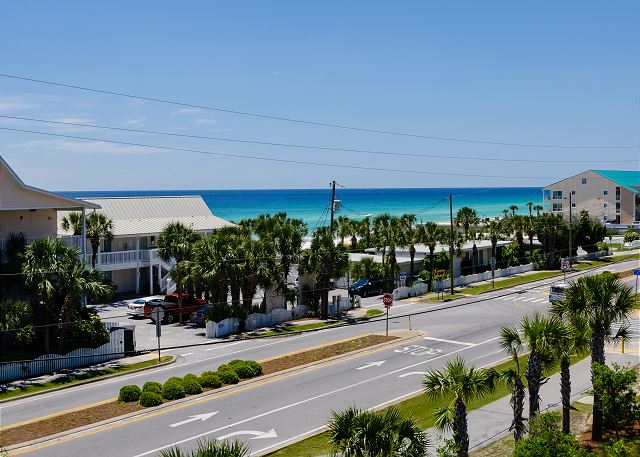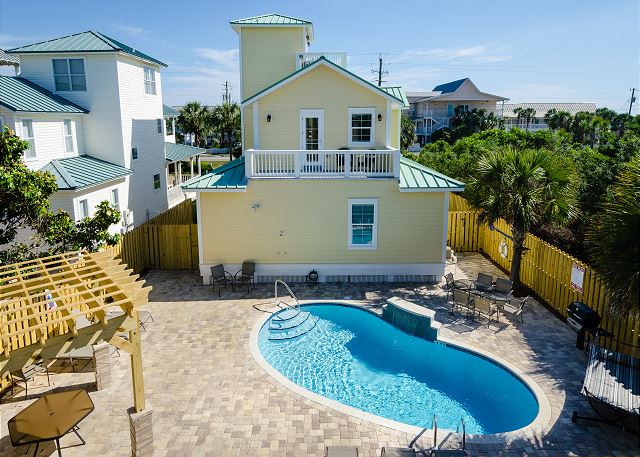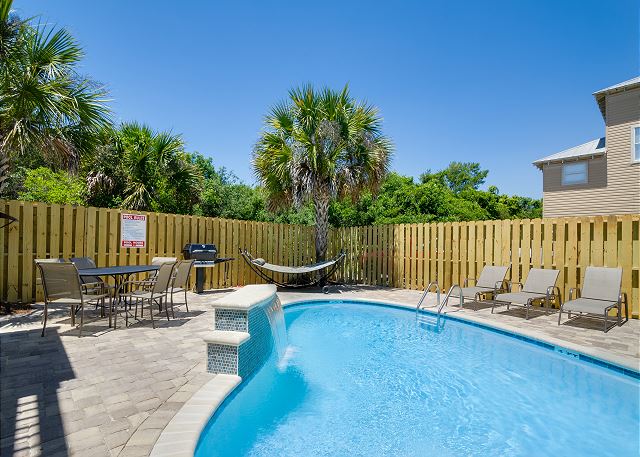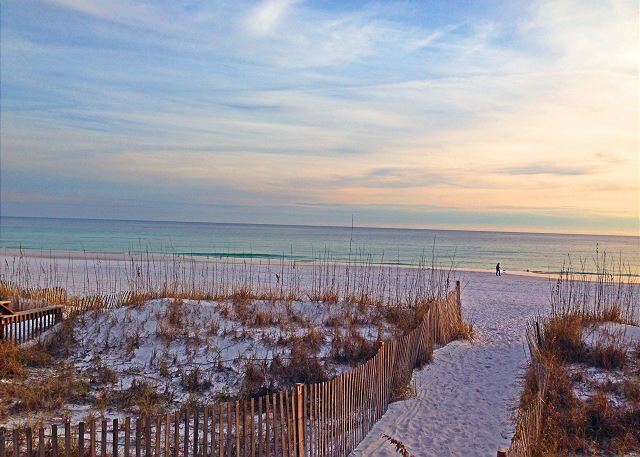 Sleeping Arrangements
2 King Beds | 4 Queen Beds | 1 Single | 2 Twin Beds | 3 Twin Bunk Sets | 1 Sofa Sleeper
This 5 Bedroom/5 Bath Beach Home was COMPLETELY REMODELED this past year. Every square inch, both inside and outside, was redone and upgraded with owners investing over $250K to update absolutely every feature. Home also has all brand new furniture and bathrooms, all new TV's - including a 65" in living room, new stainless appliances, flooring, windows & doors, built-in's and a beautiful new private backyard - with heated pool*, pergola and natural gas grill (no worries over empty propane tanks!!).



Summer Sun resides in the distinguished neighborhood of Crystal Beach on Scenic Hwy 98, directly across the street from the beautiful emerald green waters of the Gulf. Destin Commons, with loads of shopping and dining options is conveniently located within biking distance. Prefer to stay home? Relax in the privacy of your own backyard paradise, complete with grill, private pool, small waterfall and pergola. Parking accommodates up to five cars, and is conveniently located behind the home.



Every aspect of this beach home has been designed with you in mind! The first floor features an open floor plan, with a brand new well equipped kitchen, great for cooking meals. Gather in the open dining room with a table that seats 10, along with an island and breakfast bar that will seat an additional 10. The living room includes 2 comfortable full size couches and 1 loveseat, with plenty of space to watch your favorite game or movies on the large 65" LED TV! The living room also features a queen sleeper sofa for any extra sleeping arrangements needed. Wrap around porches outside provide plenty of space to spread out and relax while enjoying your favorite beverage.



The first floor also features a kids room with built-in bunk beds - 2 Queens and 2 Twins & a X-box gaming system, and an additional 1st floor master/king bedroom--perfect for those not wanting to climb stairs. Each have their own bathroom, as well as an additional full bathroom - so no one has to share!!

The second floor features a grand and spacious master/king suite, luxurious bathroom with dual sinks and both shower and soaker tub, as well as access to a large front balcony. A rear bedroom, with 2 Queen beds also accesses a balcony, overlooking the backyard and pool. A full bathroom along with an additional bunk room, with two Twin beds, completes the second floor.

The third floor features the kid-friendly "tower" room, with a built in boat-shaped loft bed. There is also a beautiful balcony with gulf-views, a great place to unwind and enjoy the gulf breezes!



Beach amenities abound with toys, chairs, umbrellas, etc. provided for your families convenience.

*An additional pool heat fee is required.

Crystal Beach Community

Crystal Beach entwines everything we love about the beach and everything we love about vacationing in Destin into one cozy Gulf-side community. Tucked away along Old Highway 98, Crystal Beach is situated in what many consider to be the heart of Destin and is home to a delightful assortment of cottage-styled homes which run right along the Gulf coast and its neighborhoods. Residents and guests walk and bike along the dedicated paths to many of the nearby Gulf-front seafood restaurants and "dives" before hitting the beautiful beaches. Nearby, shopping and family fun is always an option at Destin Commons and is perfect when the beach day has come to an end. Crystal Beach takes you back to the easy life of vacationing at the beach and is sure to offer plenty of memories and relaxation.

My Vacation Haven Added Fun

As a My Vacation Haven guest you will have access to Complimentary Beach Chairs, Umbrella, Boogie Board & Sand Toys (stored in the vacation rental for your use).



My Vacation Haven has partnered with several local restaurants and merchants to offer you discounts on activities, dining and more during your stay. When you book with My Vacation Haven, you'll receive a host of free coupons for discounts on everything from bike rentals to beach portraits. So, book now and enjoy more!

All information provided
| Begin Date | End Date | Minimum Nights |
| --- | --- | --- |
| 2017-11-26 | 2017-12-28 | 3 |
| 2017-12-29 | 2018-01-01 | 3 |
| 2018-01-02 | 2018-03-09 | 3 |
| 2018-03-10 | 2018-03-23 | 7 |
| 2018-03-24 | 2018-04-06 | 7 |
| 2018-04-07 | 2018-05-18 | 3 |
| 2018-05-19 | 2018-06-01 | 1 |
| 2018-06-02 | 2018-06-22 | 7 |
| 2018-06-23 | 2018-06-29 | 7 |
| 2018-06-30 | 2018-07-06 | 7 |
| 2018-07-07 | 2018-07-27 | 7 |
| 2018-07-28 | 2018-08-03 | 7 |
| 2018-08-04 | 2018-08-17 | 3 |
| 2018-08-18 | 2018-09-03 | 3 |
| 2018-09-04 | 2018-09-28 | 3 |
| 2018-09-29 | 2018-10-19 | 3 |
| 2018-10-20 | 2018-11-02 | 3 |
| 2018-11-03 | 2018-11-16 | 3 |
| 2018-11-17 | 2018-11-24 | 3 |
| 2018-11-25 | 2018-12-26 | 3 |
Minimum Age Limit for Renters
Thank you for entering your review. The review will become available to the system shortly.
Fall Break 2017 - Best Stay Ever!
Rating:
Review Date: 10/16/2017
Clean. Spacious. Great wrap around front porch. Great balcony's with tanning chairs or benches available.
Well stocked and labeled cabinets - 3 drawers of eating utensils. Spacious bedrooms rooms, great sleeping arrangements for multi-family stay. Plenty of bathrooms, and TV's in each bedroom. Awesome 3rd floor ship bed, kids play area w/TV, and balcony access for ocean view.
Great layout for Kitchen w/island and impressive Dining seating including bar stool seating for larger groups.
Backyard pool and patio area great space for kids to play, outside eating, pool fun, etc. Loads of seating, 2 table/chair areas, lounge chairs. Fence great for privacy and to cut down the wind on any poor weather days - aka Hurricane Nate - Oct. 2017.
Management company extremely responsive and helpful. Beach access about 200-300' in either direction. House comes with plenty of beach chairs, boggy boards, and sand ready wagon - no need to bring any.
Washer/dryer great, large food pantry, great reference books for in-house "how to guide" and "departure instructions".
Overall Great home in a good location. "Best overall house we've stayed at in Destin area" as commented by my wife on our 3rd trip to area together with family(s) in the past 5 years.
Great for large families, multi-family events. Great areas inside and outside to spread out, but still come together for meals or other activities.
Highly Recommend this house to other travelers - 5+ stars. Requests are considered along with recommendation, so ask the management company if you have some.
I know we'll be back on another trip to enjoy this space again.
Manager Response: 10/23/2017
Response from My Vacation Haven
Thanks for staying with us, Keith! It is an honor to host you. Please come back to see us soon!
Wonderful Beach House!
Rating:
Review Date: 08/28/2017
There were 17 of us in total - 8 adults and 9 kids. The house was beautiful and was fully equipped to accommodate us. The pool was a little on the small side, but the convenience was great and kids didn't seem to mind. Having the beach in close proximity was also a plus. The washer and dryer were of extra capacity which was very useful as well with so many people. We had some minor ant problems, but the maintenance team was quick to respond. All in all it was a great place to stay!
Manager Response: 09/07/2017
Response from My Vacation Haven
Thank you for staying with us, Kim! We are so glad to have the opportunity to host your trip and would be honored to host your future visits to the area! Come back to see us soon!
Family Vacation 2017
Rating:
Review Date: 08/01/2017
House was perfect for our Family. We had twelve folks and everyone had their space. Loved the pool and easy access to beach. Easy to get to house. I would stay there in the future.
Manager Response: 08/08/2017
Response from My Vacation Haven
Thank you for staying with us, Eugene! We are so glad you enjoyed your stay and would be honored to host your future trips to the area!
Second time staying in this home
Rating:
Review Date: 06/27/2017
We love this house. We stayed here last year with my husband's family. We had 18 people and there is plenty of room in this beautiful home. We love the location.
Manager Response: 07/18/2017
Response from My Vacation Haven
Thanks, Amber! We are so glad you enjoyed your stay and would be honored to host your next trip to the area!
Great vacation spot
Rating:
Review Date: 04/03/2017
We just returned from staying at Summer Sun over spring break. We had 4 families. 8 adults and 5 boys!! From the first impression we loved the fact that there was room for 4 cars and the golf cart. This is so rare and we needed the space. The house was absolutely perfect. WE loved everything about it. It was clean and has every single thing we needed. We loved that the house also provided enough chairs and toys so we didn't bring our own. We were so thankful that there was an option to heat the pool because this was key as it still got a little cold at night. We would totally stay here again.
Manager Response: 04/04/2017
Response from My Vacation Haven
Thank you for your excellent feedback! We are so glad you enjoyed your stay and hope to see you again soon!
Would love to go back!
Rating:
Review Date: 03/20/2017
Beautifully decorated and comfortable. You can tell the owner loves this house and it is not just an investment to then. Everyone who stayed there had a great time. We even donated a few items when we left, as we feel we just might go back there next year! :)
Rating:
Review Date: 07/03/2016
We absolutely loved this house. We had 18 people from our family. This was the first time in 10 years we had gotten to vacation all together and this house was perfect. We all loved the open kitchen and living room area. The kids loved the bunk bed room and xbox. We are all talking about booking this house again next year if we can coordinate our schedules. We were all grateful for this wonderful week of vacation with family! Thanks for making this such an amazing experience!
Destin vacation
Rating:
Review Date: 06/27/2016
My family of 15 all had a great time on the beach and at the facility pool. The home was magnificent with all up to date appliances and bedding. We enjoyed the attraction; The outlet mall,zip lining, Dolphin excursion,Kahlua water park and the track. The weather was great compared to Memphis. Our dining experience undeniable great at the home and restaurants. There is no tax on food. My family is looking forward to visiting again
Small Problem
Rating:
Review Date: 06/10/2016
You may already be aware of this little problem but we wanted to let you know that the downstairs bathroom in the room with the bunk beds leaks when it rains. Other than that the house is PERFECT!!!From My Vacation Haven Team: Thank you for your feedback. We will send our maintenance team to take a look at the problem mentioned. Make sure to sign up for our beach bonus member program to get a discounted rate for your future stays!
Awesome Vacation!
Rating:
Review Date: 10/01/2015
My family, which consisted of myself as well as 14 additional family members ranging in age from 8 weeks to 50 yrs , recently stayed in this home as we travel to Destin for my son"s wedding. I researched for months before finally deciding on this house and it was perfect in every way! Perfect location, less than two minutes to anything needed such as shopping, supermarket, restaurants. I was concerned having to cross the street for beach access, no problem at all. Actually can see ocean from several areas inside house. The house was well stocked plenty of dishes, bath linens, and the beds super comfy! The pool in the back area super nice, enjoyed at night with family as we would wind down from busy day! The rental company super easy to work with and even meet the owner which relieved any reservations we had. Our beach umbrella wasn't working properly within 30 minutes of notifying the owner one was delivered! I can't say enough good things about this home and the very nice neighborhood located in. We are already planning on returning next summer! ,
Awesome Vacation!
Rating:
Review Date: 09/28/2015
My family spent time in Destin for my son"a wedding. This was the perfect place for our family, that included our extended family for a total of 14 people. The house is very spacious, modern, and perfect location. I was concerned having to cross street for beach access but was no problem. We could actually see the ocean from the house. We have temper-pedic mattress at home and usually have difficulty sleeping when away but these beds so comfortable. Kitchen/Dining area great, lots of seating for large family, as well as adequately stocked! . Plenty of bath towels/bath cloths. The outside pool area awesome, we spent our night"s enjoying the pool area . Has two outside shower that was big help with removing sand, as well as toys for kids. I really can't say enough about this vacation home. We definately will return!
Lovely home
Rating:
Review Date: 06/29/2015
I was a little apprehensive when booking because the house was being renovated. What the owners did was absolutely wonderful. The décor was beautiful and all new appliances. The pool had a small waterfall that the kids loved to be under while still having enough room for a water volleyball tournament. Beach toys and plenty of chairs at the pool was a nice addition. They even included beach chairs enough for everyone! The folks at Vacation Haven were there for every question we had and very,very accommodating. Can't say enough about the way we were treated. Will definitely use their services again. Camille's was just a few blocks away and became a favorite for sushi and a glass of wine. Needless to say our family had a fantastic time all due to this wonderful house and Vacation Haven for making it all possible. Thank you Destin! Can't wait till next year!
Memories that will last a lifetime
Rating:
Review Date: 06/18/2015
I will start this email with your ending to your lovely letter left in our instruction book. Our family's stay was one filled with warm and wonderful memories. Last year was the first year I decided to start renting a vacation for my entire family. I save all year to pay for these rentals as long as my family makes there travel arrangements to get here. This year I told them all I want to go to Florida. My husband and I love the Gulf side of Florida. I looked and looked for a place, waiting until the last minute to book and then I seen your rental. I just knew this was the one my family would enjoy, love and allow us to bond together as a family.When my dad passed away seven years ago, I knew if I could ever afford too, I would promise to keep this family together- we would have family vacations. Never would I have imagined that we would be arriving at such a Grand house. Not only was I in awwww of your gorgeous home, I was actually able to afford this rental for my family. It is perfect!! Every detail of this home is inviting. The house had everything we needed. Even the wheeled cart helped so much to take all the chairs down to the beach.You left nothing to spare, you opened up a piece of your home and hardwork to my family. These memories will last a lifetime!
Your request has been sent. We look forward to meeting all your vacation needs!